Marina Bay Sands SkyPark offers a taste of the high life with views of Singapore from above. This large wooden decked area is on top of the iconic Marina Bay Sands hotel, at the edge of the city's harbour. SkyPark offers a 360-degree panorama, with nothing but a sheet of glass and a few wires between you and the dramatic view.
Sitting on top of the massive, 3-pronged hotel that overlooks the bay and which practically puts Singapore on the map, Marina Bay Sands SkyPark and Observation Deck offers an impressive bird's eye view of Gardens by the Bay – Singapore's futuristic park with its magnificent metal tree-like structures.
Marina Bay Sands SkyPark - one of the highlights of 16 Best Things to Do in Marina Bay (Read all about Singapore here)
The guided tours of the SkyPark are worthwhile, held at 10am, 2pm, and 9pm daily. Instead of just gazing at the city, you can get a much deeper insight into all the amazing sights together with a potted history of Singapore. You also get access to the pool that's usually reserved for guests only. Sadly, you don't get enough time for a quick dip!
Each tour can only take a limited number of people around and registration starts from 9.30am on a first-come-first-served basis. Don't worry too much if you don't manage a tour, there's plenty to look at – be sure to bring your camera so you can take plenty of Instagram-worthy shots.
This may not be the highest view that you can get of the city but sitting atop such a famous hotel with the double view of the downtown skyscrapers and the boats below is well worth the trip up. The best time to come up to the SkyPark is early evening, meaning you get to see Singapore by both day and night, and if you are lucky perhaps even a sunset.
Entrance for adults starts at S$23 and S$17 for kids aged between 2 and 12 years. To get here you can take the MRT and stop at Bayfront, from where you can walk via the luxury mall directly into the hotel's gigantic lobby. From the registration desk at the bottom of tower 3, a separate lift takes you to the 56th floor and the outdoor viewing area.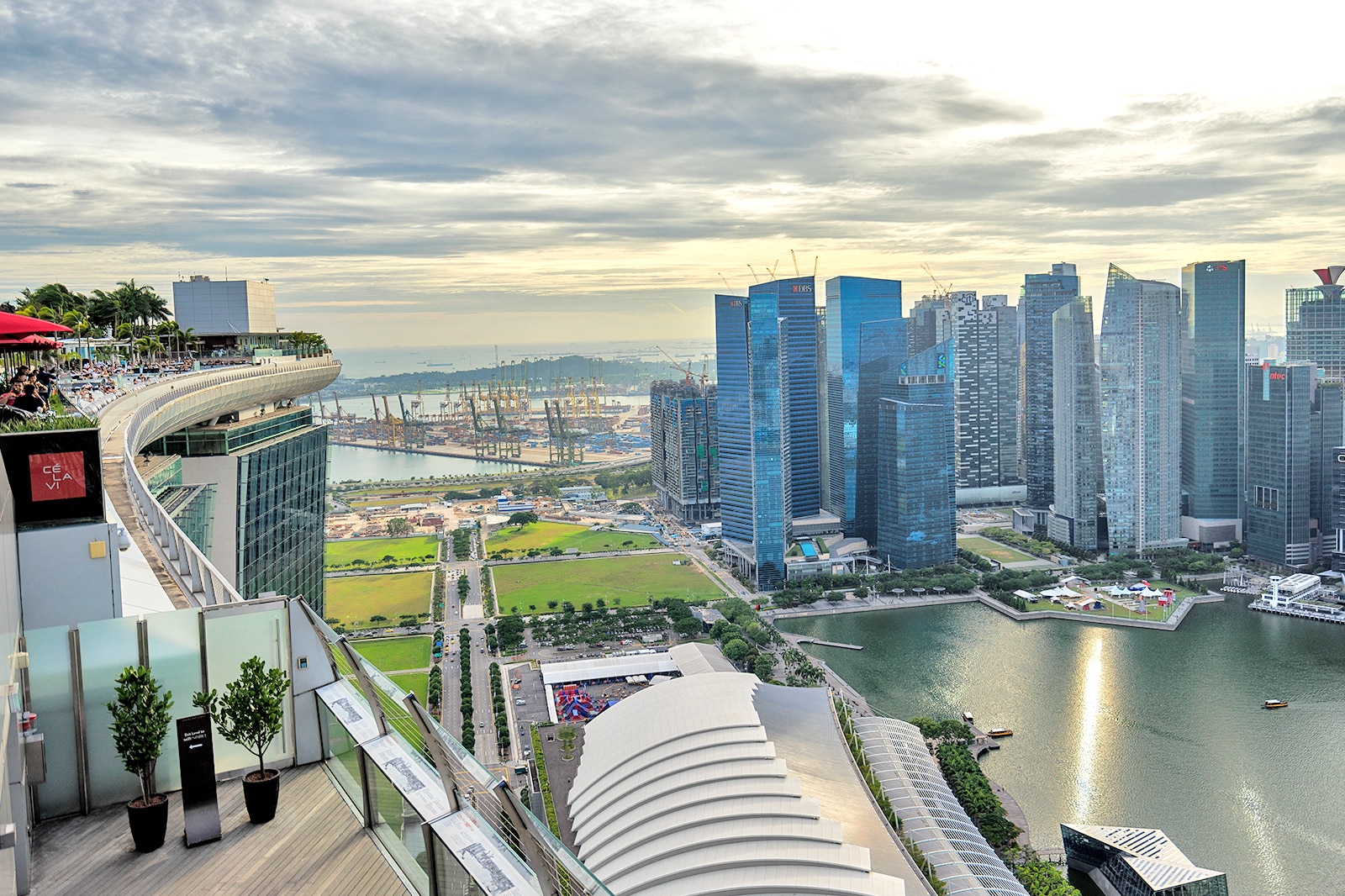 Marina Bay Sands SkyPark
Location: Marina Bay Sands, 10 Bayfront Avenue, Singapore 018956, Singapore
Open: Daily from 9.30am to 10pm (Saturdays and Sundays until 11pm)
Phone: +65 6688 8826
Back to top