Changi Airport Singapore is considered by many to be among the best in the world. Indeed, Singapore Airport has claimed many prestigious prizes, including World's Best Airport in the Skytrax World Airport Awards. A truly modern marvel, Changi's cutting-edge services and facilities make the experience of being in an airport not only a bearable experience for travellers but even a pleasurable one. The airport has 4 main terminals and an additional luxury terminal. All terminals are connected by travellators and a free skytrain system that runs from 5am to 2.30am every day.
More than 300 retail and F&B shops operate at Changi Airport Singapore, and there are plenty of amenities that will keep you busy including movie theatres, free PlayStations with a range of games, playgrounds for kids, spas, free internet stations, even a 'nature trail' and gardens. An excellent range of public and private transport options connect Changi Airport with Singapore's city centre, with trips taking from 30 minutes by MRT or taxi and 60 minutes by bus.
Changi Airport in Singapore - one of the highlights of Getting Around Singapore (Read all about Singapore here)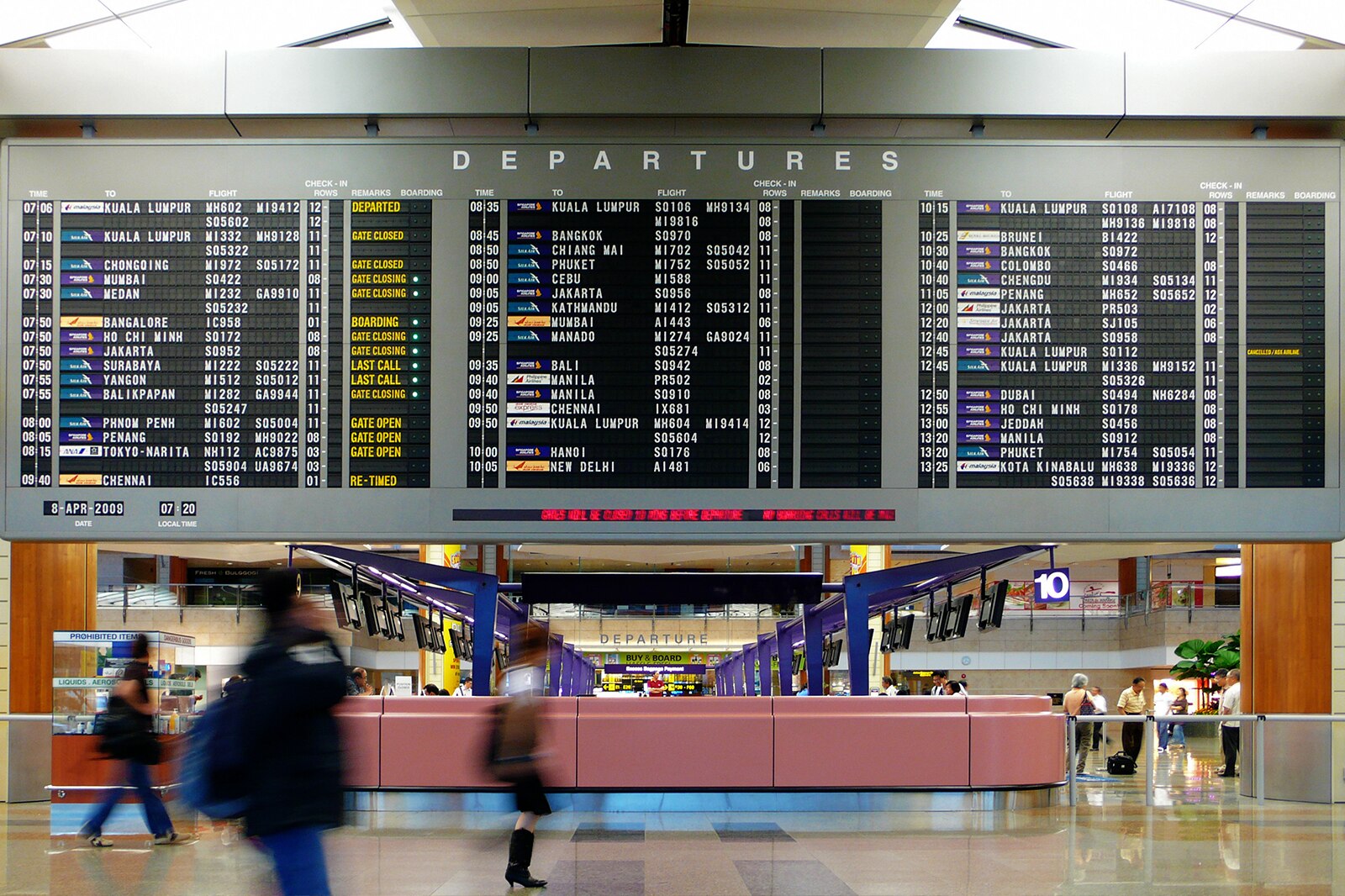 Terminal 4 (Budget Terminal)
Terminal 4 at Singapore Airport has been purpose-built for handling the growing number of low-cost airlines that serve the region. It is the most recently built section of the airport so everything is bright and modern, with a large selection of retail outlets and duty-free shops. It is easily accessible to them by free shuttle for those seeking a wider range of facilities/services.
It's easy to organise transport from Sinagpore Airport's Terminal 4 into the city, and there's free Wi-FI, internet kiosks, currency exchanges, convenience stores and food and beverage outlets in arrivals and departures. It also has its own immigration/customs desks.
Transport Options
Taxi
Taxis are available at the pick-up points at the arrival levels. Fares range from S$18-$38 for the 30-minute trip to the city.
Public Bus
Catch a bus at the bus stops under Terminals 1, 2 , 3 and 4. Operating from 6am to midnight daily with a fare of up to S$2; it takes about an hour to reach the city centre.
Train (MRT)
Changi Airport MRT Stations are found under Terminals 2 and 3, with the first train arriving at 5.30am and the last leaving at 11.18pm. Fares are about S$2.70 for the 30-minute journey into the city.
Airport Shuttles, Limousine Taxis & Large Taxis
The airport's Ground Transport Desk offers a shuttle bus and a limousine taxi transfer service with rates from S$9 for the bus to S$50 for a 7-seat taxi.
Car Rental
Avis and Hertz car rental counters are found in the arrival halls of all four terminals. Hours of operation are 7am to 11pm.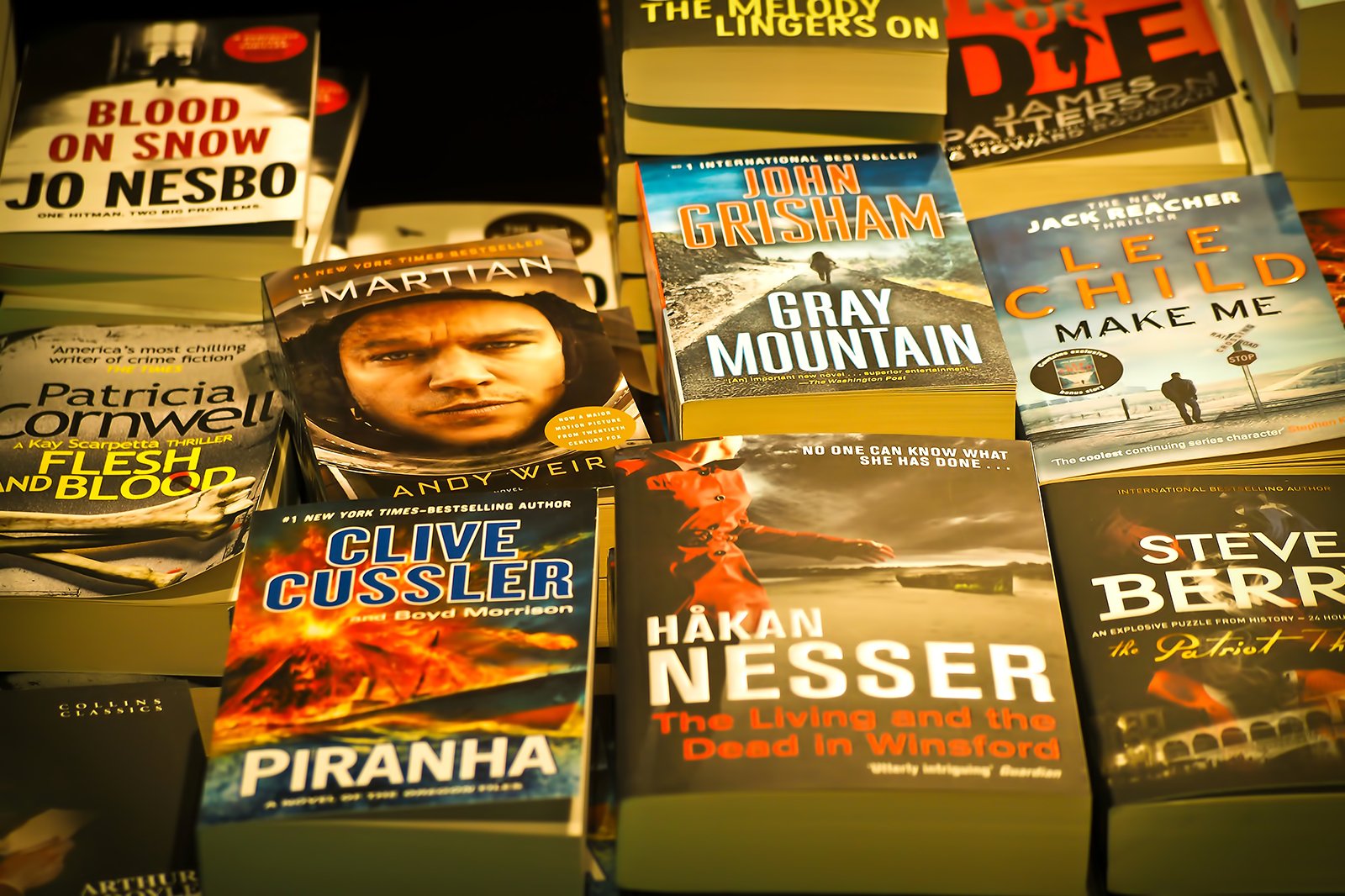 Shopping
Changi Airport is retail heaven for those with the time and dollars to spend here. And spend they do! By some estimates, the airport's retail revenues are larger than the more famed shopping centres of Singapore including Orchard Road. A major upgrade in recent years added brands such as Prada, Gucci, Bulgari and Hermès to the mix, while the opening of Terminal 3 brought the world's first FIFA Official Store and Asia's first Ferrari travel retail shop to Changi.
Other shops have candies, chocolates, souvenirs and gifts, clothing and accessories, jewellery, perfumes and cosmetics, health products, electronics and cameras, computers, books and magazines, sporting goods, children's clothes and toys, watches, wine, liquor and cigarettes.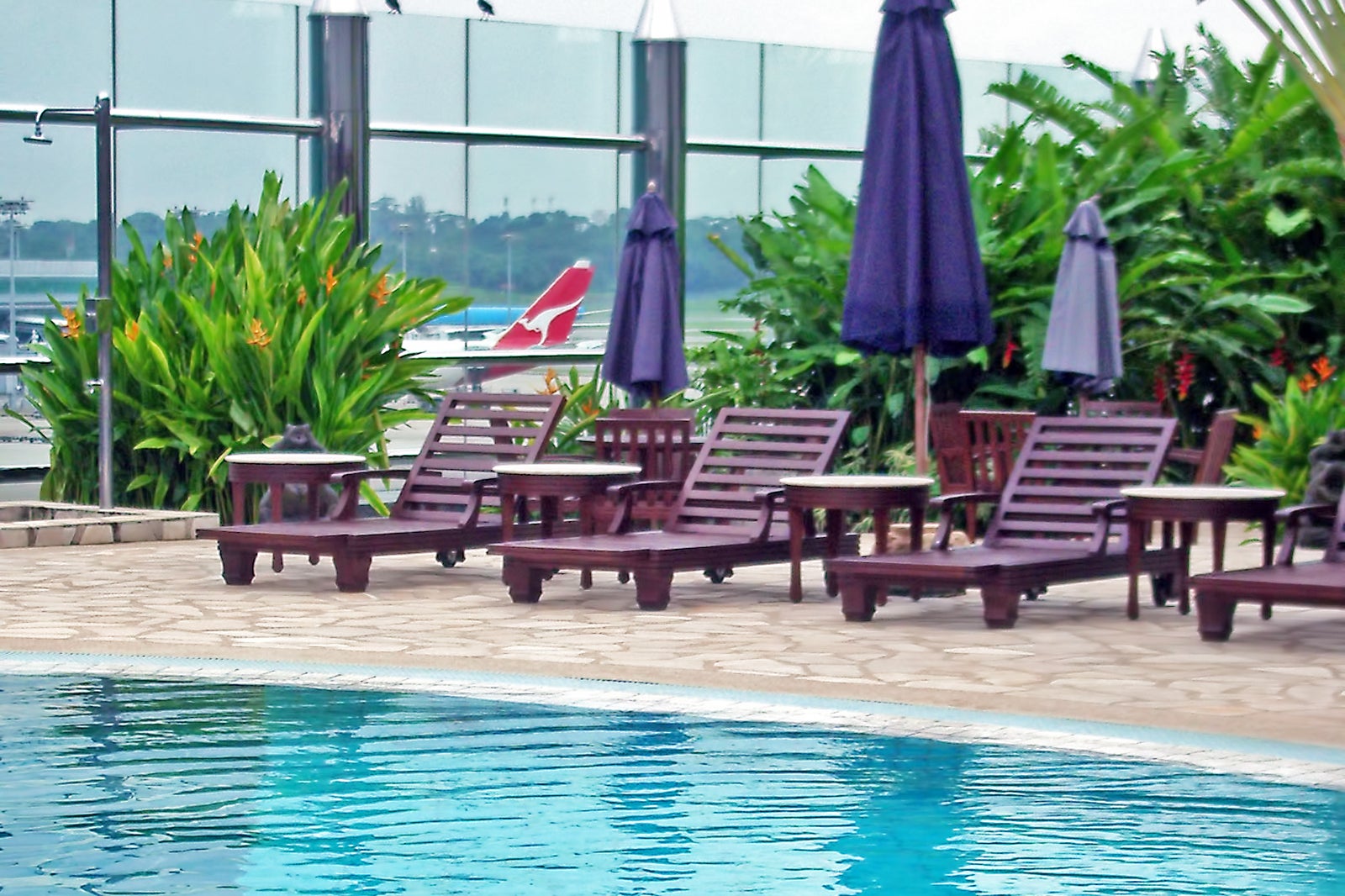 Facilities and Services
Hair and Beauty Salons
Napping Areas (rates from S$10/hour single occupancy)
Rest Areas ('snooze chairs' with head and leg rests, available for free)
Information/Customer Service Desks
Left Baggage Counters
Medical Services and Pharmacies
Passenger Meeting Services
Prayer Rooms
Smoking Areas
Special Needs Facilities
Transit Hotels
JetQuay - A separate, luxury terminal for members or available on a one-off basis for a fee, featuring meeting rooms, dedicated customs/immigration counters, personal concierge services, mini gym and spa, tabletop PCs and luxury retail outlets.
Family/ Kids Facilities
Playgrounds
There are five separate play areas for children aged 1-12 at Terminals 1, 2 and 3.
Parents' Rooms
A total of 24 Parents' Rooms in all three terminals offer private diaper changing stations and other baby-friendly facilities including a hot water dispenser for bottle warm-ups.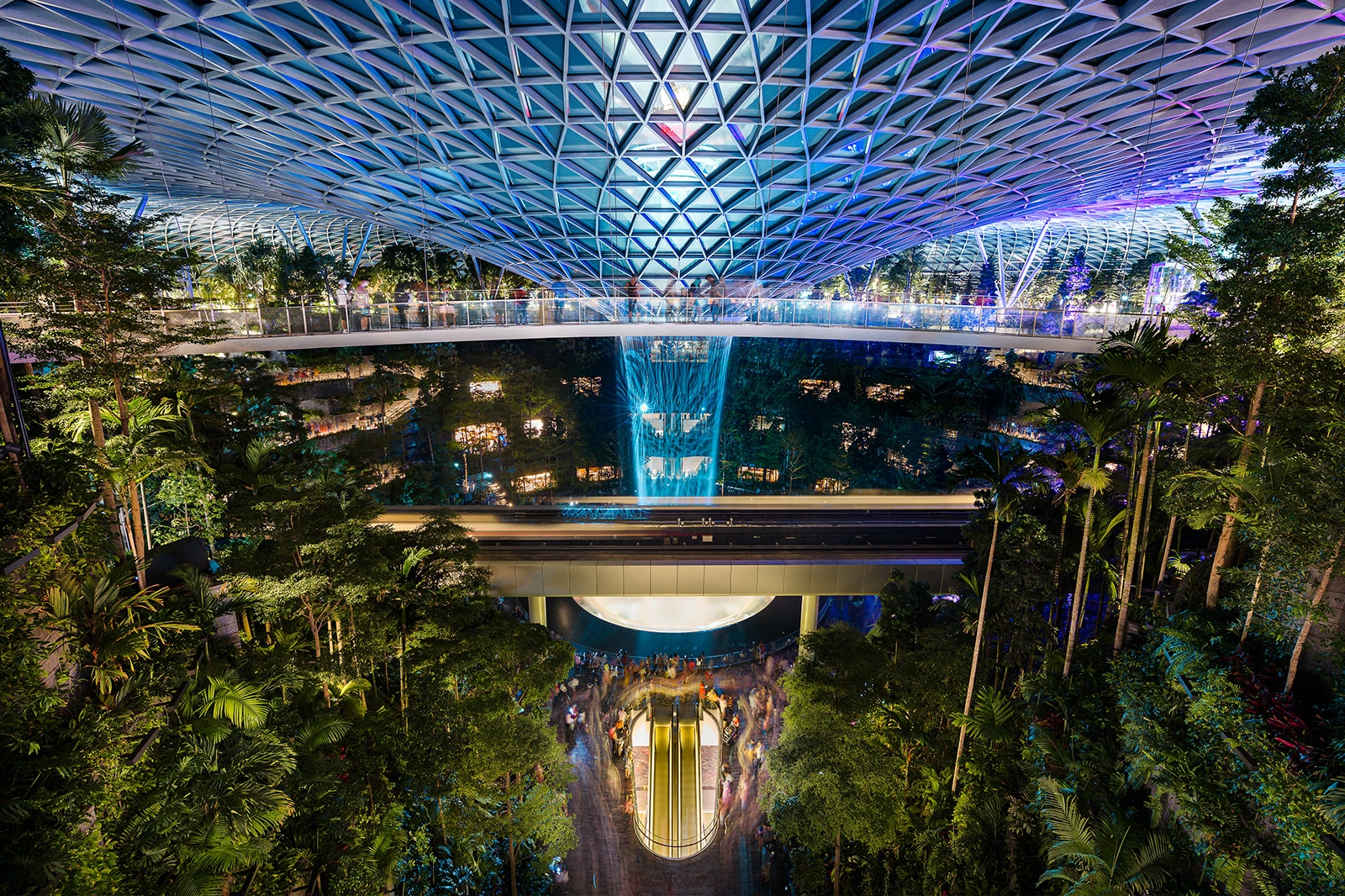 Entertainment/Activities
Changi offers pretty much the whole gamut of things to do for everyone from the nature-loving health nut to the gadget-and-game freak, from the active toddler to the stressed-out executive to the travel-worn elderly seeking a respite.
There's a Nature Trail with six themed gardens, 24-hour fitness and spa facilities, a swimming pool (at Terminal 1 Transit Hotel), plasma TVs showing cable news programmes and financial information, movie theatres/lounges, an entertainment deck (Terminal 2) with games, music and movies, and the Changi Aviation Gallery featuring aviation history information and displays and models of aircraft.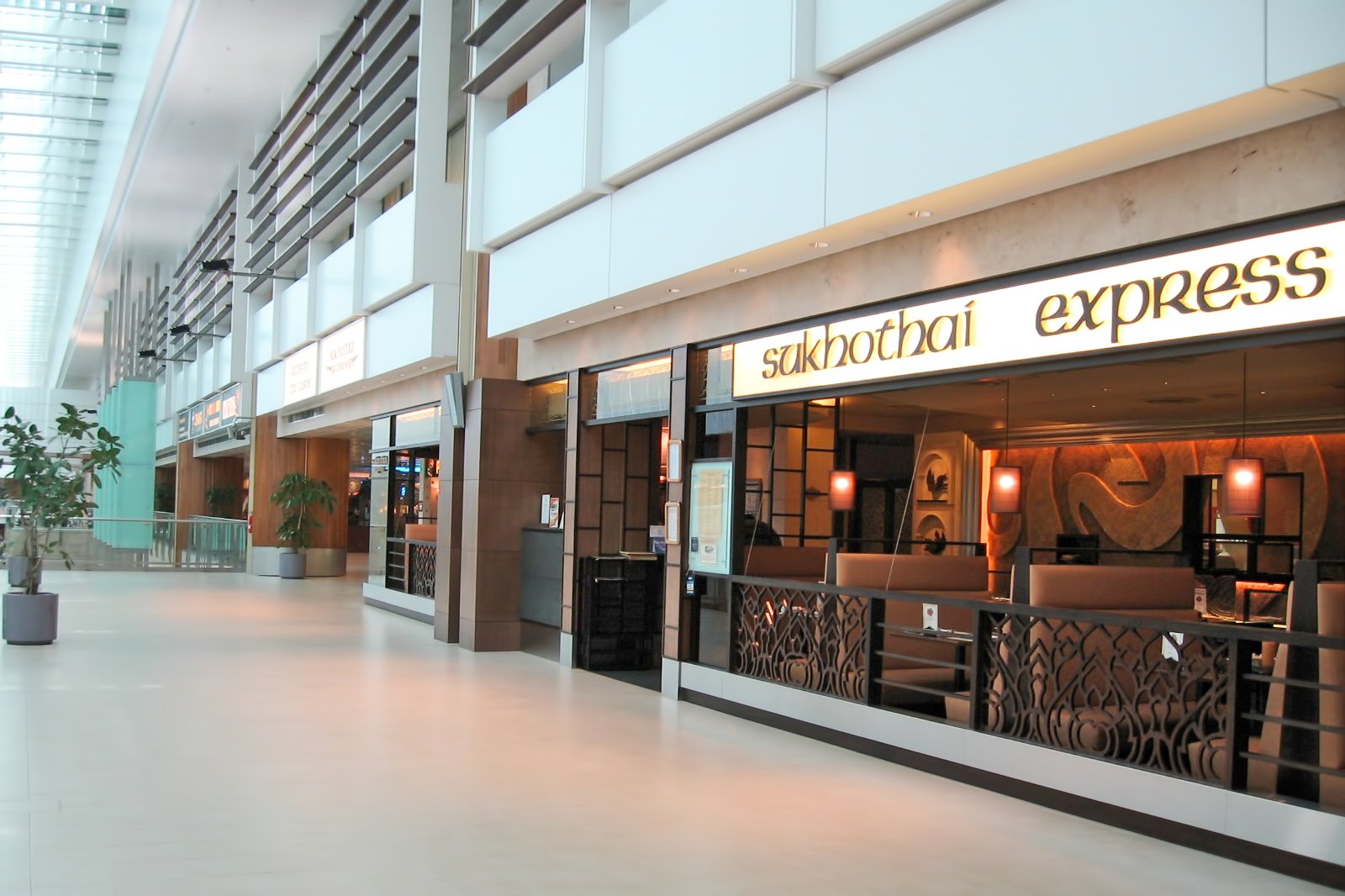 Eating & Drinking
Whether you need a quick snack, a coffee, a fast-food burger or a gourmet meal, there are dozens of outlets serving up a large variety of food and beverages. Each terminal has a food court area complemented by restaurants, cafes and kiosks.
Vegetarian and halal food choices are readily available. Terminal 2 has two music bar lounges open in the evening hours with live acoustic performances.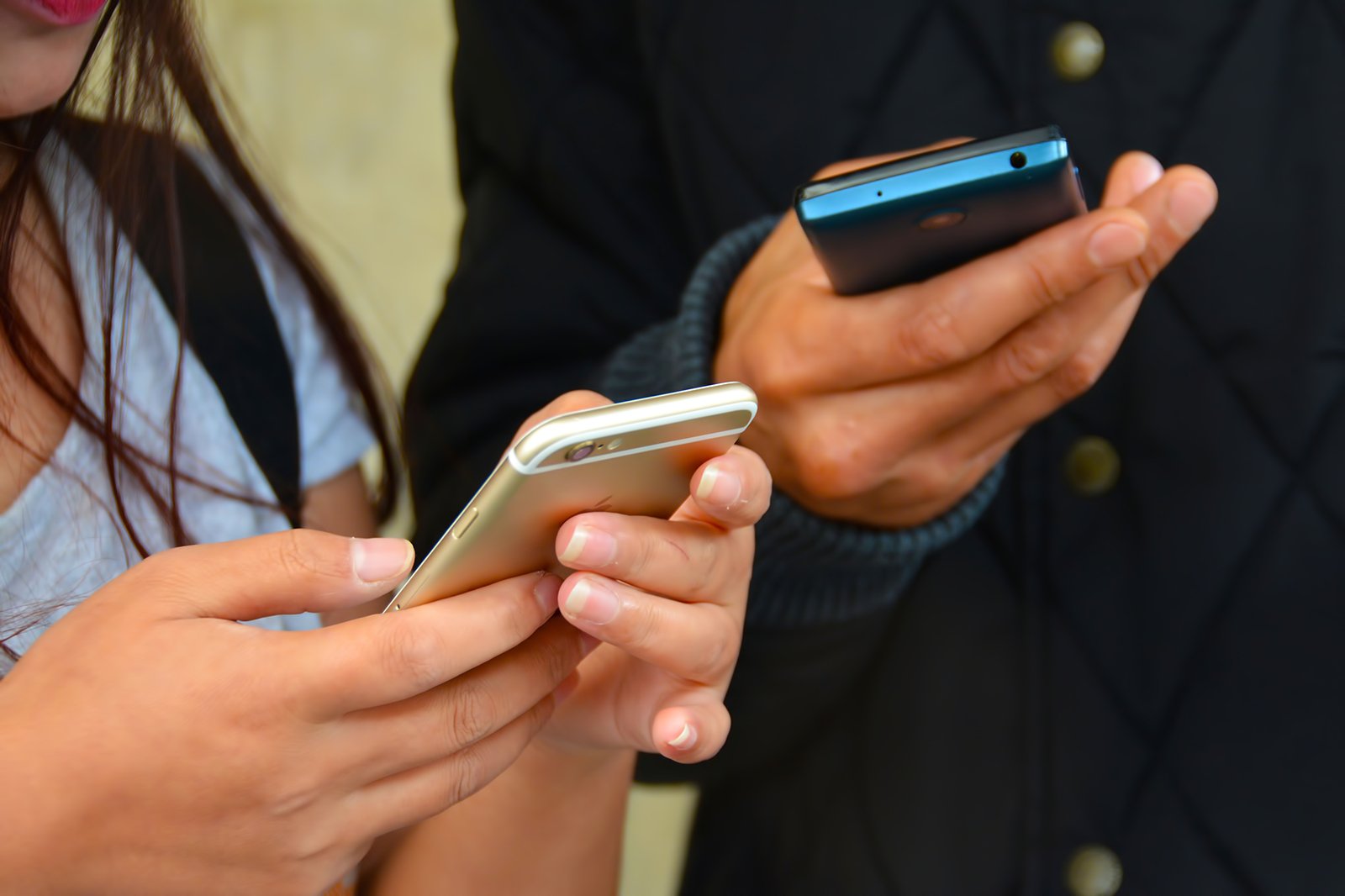 Communications, IT & Postal Services
Telecommunications Services
Free local calls are available within the Transit Malls. For overseas calls, international phone cards are available at the airport's 7-Eleven and Left Luggage outlets.
Internet Services
Free internet kiosks are available in the Departure/Transit lounge of Terminals 1 and 2. Free Wi-Fi is also available throughout Changi. Select WiFi@Changi and follow the instructions.
Postal Services
Two postal service kiosks are found at Terminal 2 and a mobile postal service called Post-on-Wheels is set at various locations around the airport.
IT and Business Services
Business services including typing, mailing of documents, photocopy and fax are available at the Business Centres located at the Transit Hotels in Terminal 1 and Terminal 2.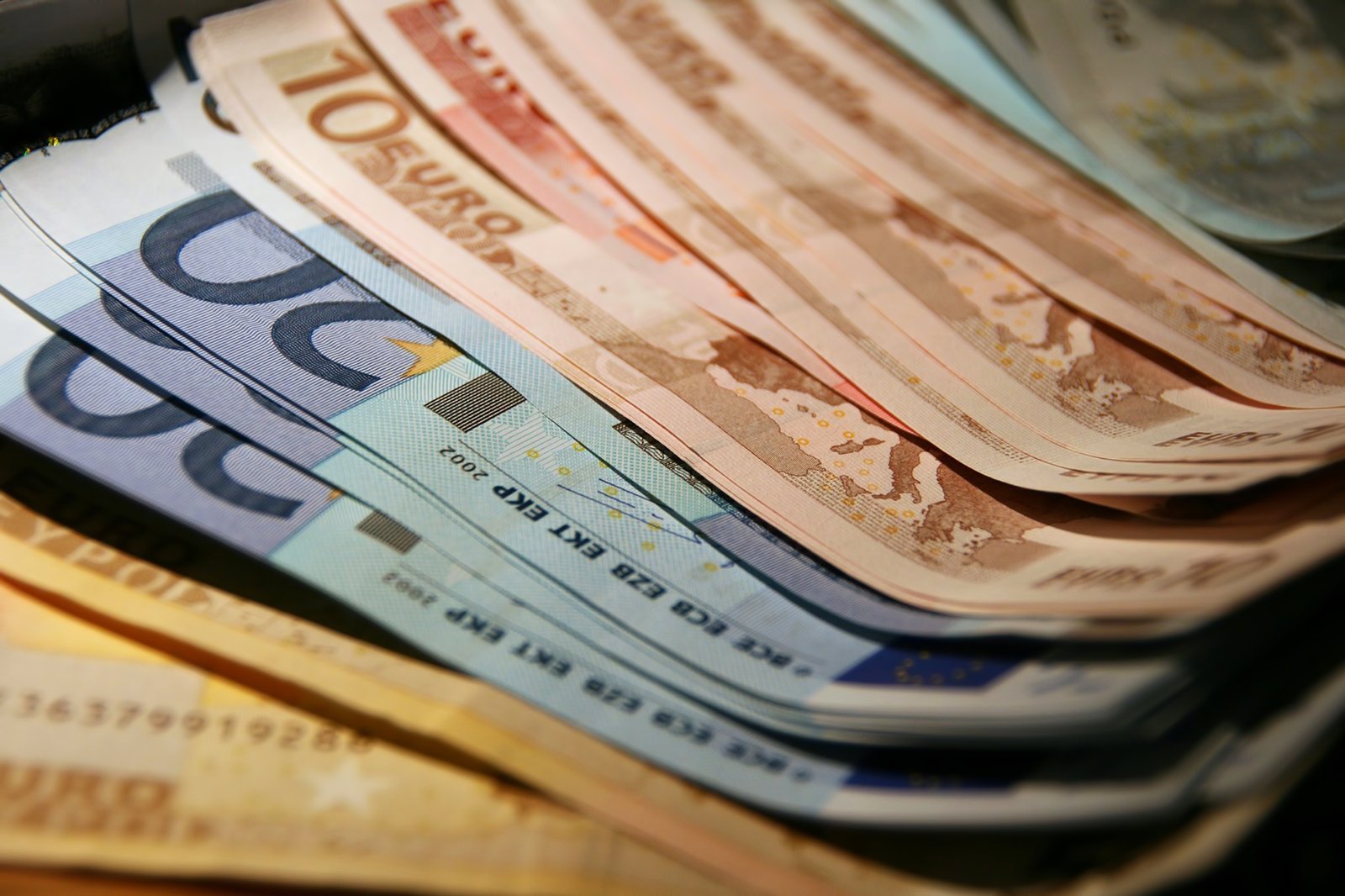 Changing Money
There are two or three currency exchange desks located at each of the three terminals, open 24 hours a day. ATMs are found everywhere throughout the airport.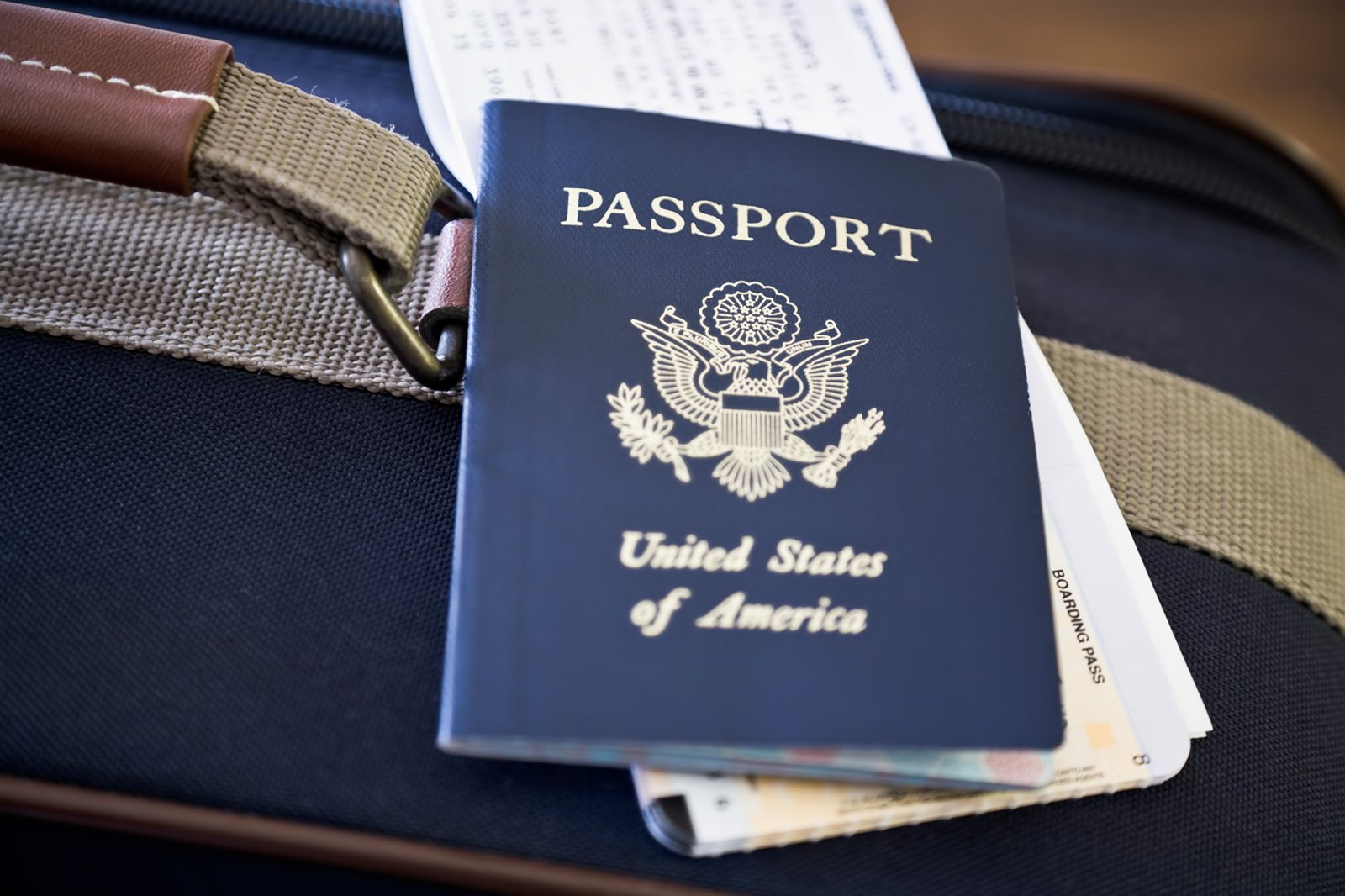 Immigration
Immigration Halls are found at the ground floor of each terminal's arrivals areas. Forbes magazine, which rates Changi as one of the best airports in the world, says, "Singapore Changi Airport is known for high standards of service efficiency in immigration and security processing areas."
Changi Arrival and Departure - What to Expect
Flying into Changi Airport offers a bird's eye view of Singapore's vibrant and vital transport industry, from its large port dotted with ships from around the world to the airport itself with its gleaming terminals standing as a symbol to the city-state's high aspirations as a global centre for trade and travel.
When departing from Singapore, Changi offers an "off-airport" check-in service, where you can check in using the phone, internet, fax or SMS before arrival to the airport, then, after coming to the airport, simply pick up the boarding pass and drop your baggage at a designated airport counter. For airport check-in, it is recommended to arrive at least 2 hours before flight departure.
Changi Airport in Singapore
Back to top