10 Best Places to Find Local Food in Okinawa
Okinawa's Best Restaurant-lined Streets and Foodie Areas
Okinawa Island has so many foodie areas to get your teeth into. Kokusai Street is one such place, where you can nibble and taste all kinds of interesting foods, while in resort areas such as Onna Village you can enjoy sea views while trying out high-quality dishes. Makishi Public Market and Sakaemachi Market have 2 sides to what they offer: in the daytime they serve as Okinawa's kitchen, and at night they become drinking districts.
If you're a fan of western food, make sure you visit the exotic Mihama American Village and Shinkaichi area in Kin Town. If you want to enjoy tasty foods while taking a leisurely stroll, Tsuboya Yamuchin Street and Minatogawa StateSide Town should be at the top of your list. Don't forget to drop by the local supermarkets in Futenma to pick up some souvenirs. Before heading to the airport, why not take one last chance to enjoy the island's resort vibes by stopping off at Senagajima Umikaji Terrace?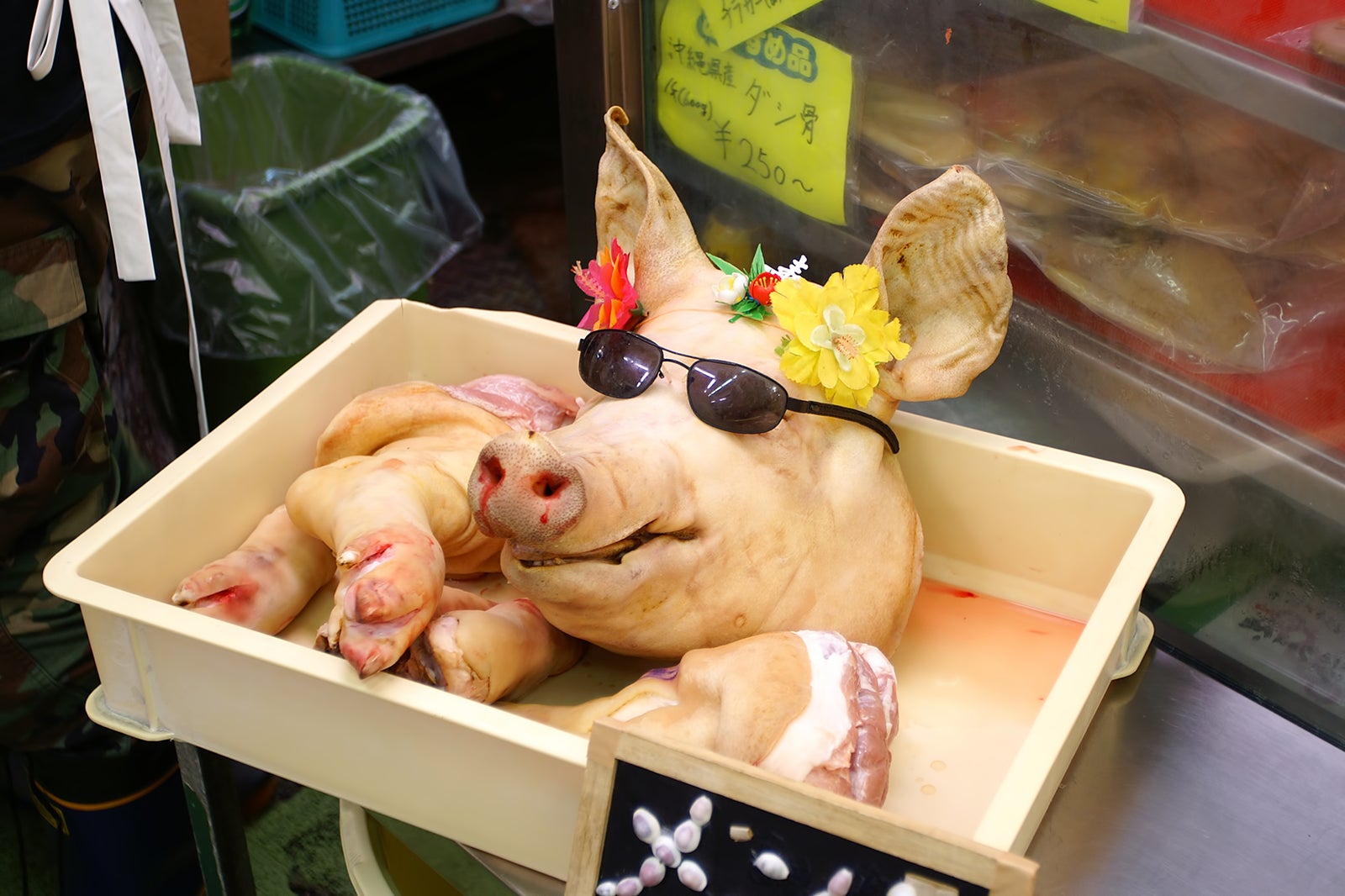 Naha City Makishi Public Market
Located a 10-minute walk from Makishi Station, accessible via the Yui Rail line, Makishi Public Market opened as a black market after World War II and is the stock cupboard of the Okinawans. This is the kind of market you can enjoy simply by looking, whether at the fruit stalls selling colourful tropical fruits, the interesting meat shops selling local pork, or the fresh fish stalls where locally-caught, brightly-coloured fish dazzle on display. The great thing for fish-lovers is that if you buy a fish on the ground floor, you can then take it upstairs where they will cook it for you to eat. Fish such as Akamachi, Akazin Mibai, and Makubu, the 3 most expensive fish in Okinawa, are well worth looking out for.
Of course, you can eat the fish raw, or you can just tell them how you would like to have it cooked – perhaps in the Masuni style, which is simply boiled with salt and sake – and you can enjoy the whole fresh Okinawan fish right there on the spot. At night, the area around the market is transformed into a bar area that is invariably full of locals. In the alley lined with red lanterns are Izakayas and small restaurants where you can enjoy food and drink at reasonable prices.
Location: 2 Chome-7-10 Matsuo, Naha, Okinawa 900-0014, Japan
photo by Hideyuki KAMON (CC BY-SA 2.0) modified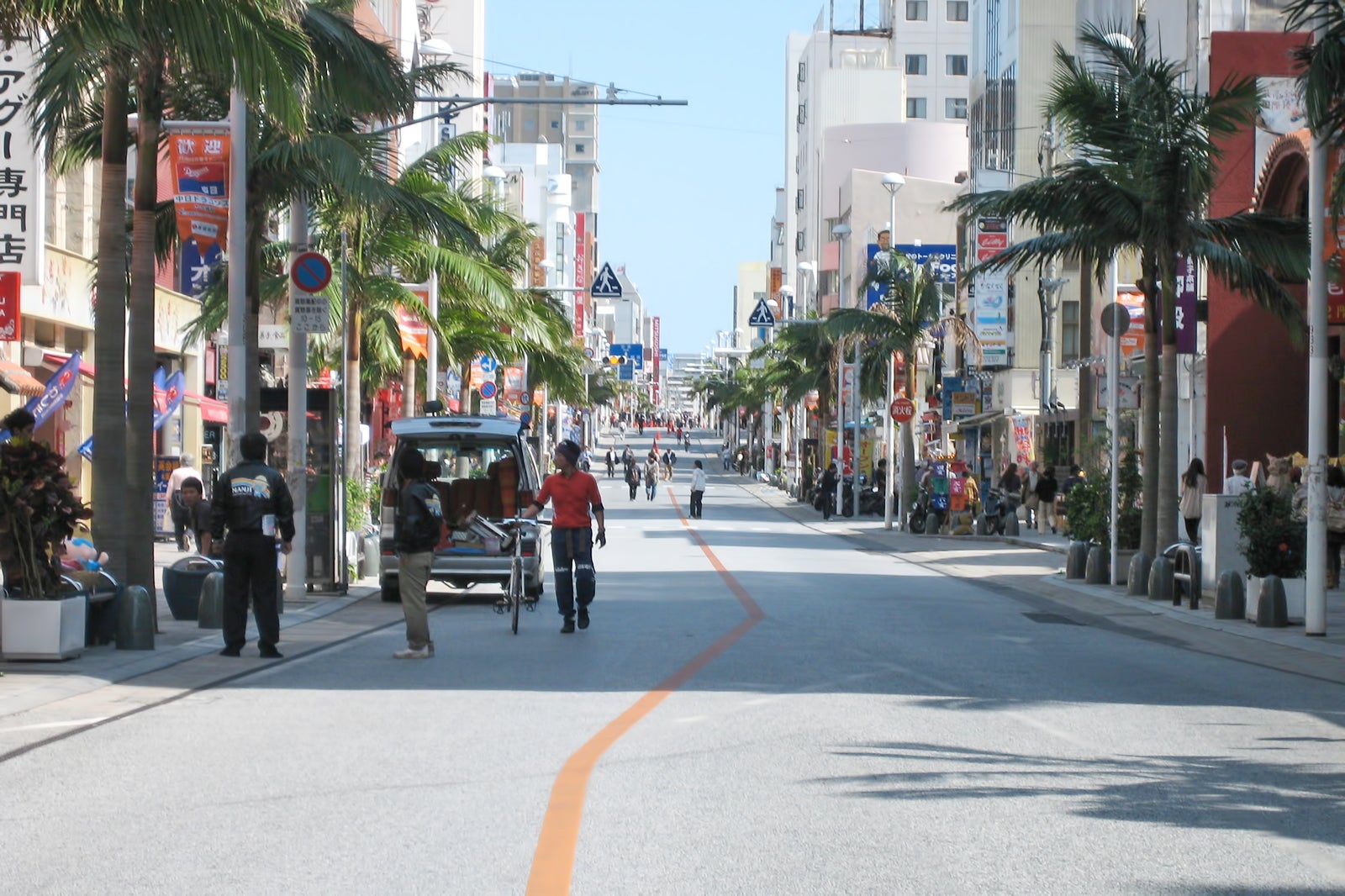 Kokusai Street is the most significant foodie spot in Okinawa, and it's pretty much unmissable if you come to the main island of Okinawa. This celebrated street is a foodie heaven during the day. On a hot day, make sure you sample the Okinawan flavours of the island's famous "Blue Seal" ice cream, including red sweet potato (beni-imo), Okinawan salt shortbread (shio-chinsuko) and Taiwanese tangerine sherbet (shekwasha sherbet).
Feeling a bit peckish? Then try the bite-sized Okinawan soul food of rice balls with pork and egg (pork-tamago onigiri). Okinawan tofu (jimami tofu) with peanuts and the traditional rice cake snack known as "muchi" should also be on your list. At night, head to the food stall village (Kokusai Street Yatai Mura). There are 20 stalls here where you can enjoy great Okinawan food. There is also a stage where you can enjoy local performing arts such as Okinawan island songs (Shimauta) and dances, so get ready to experience Okinawa with all of your senses.
Location: 3 Chome-2-10 Makishi, Naha, Okinawa 900-0013, Japan
photo by 妖怪軍団ドローン (CC BY-SA 3.0) modified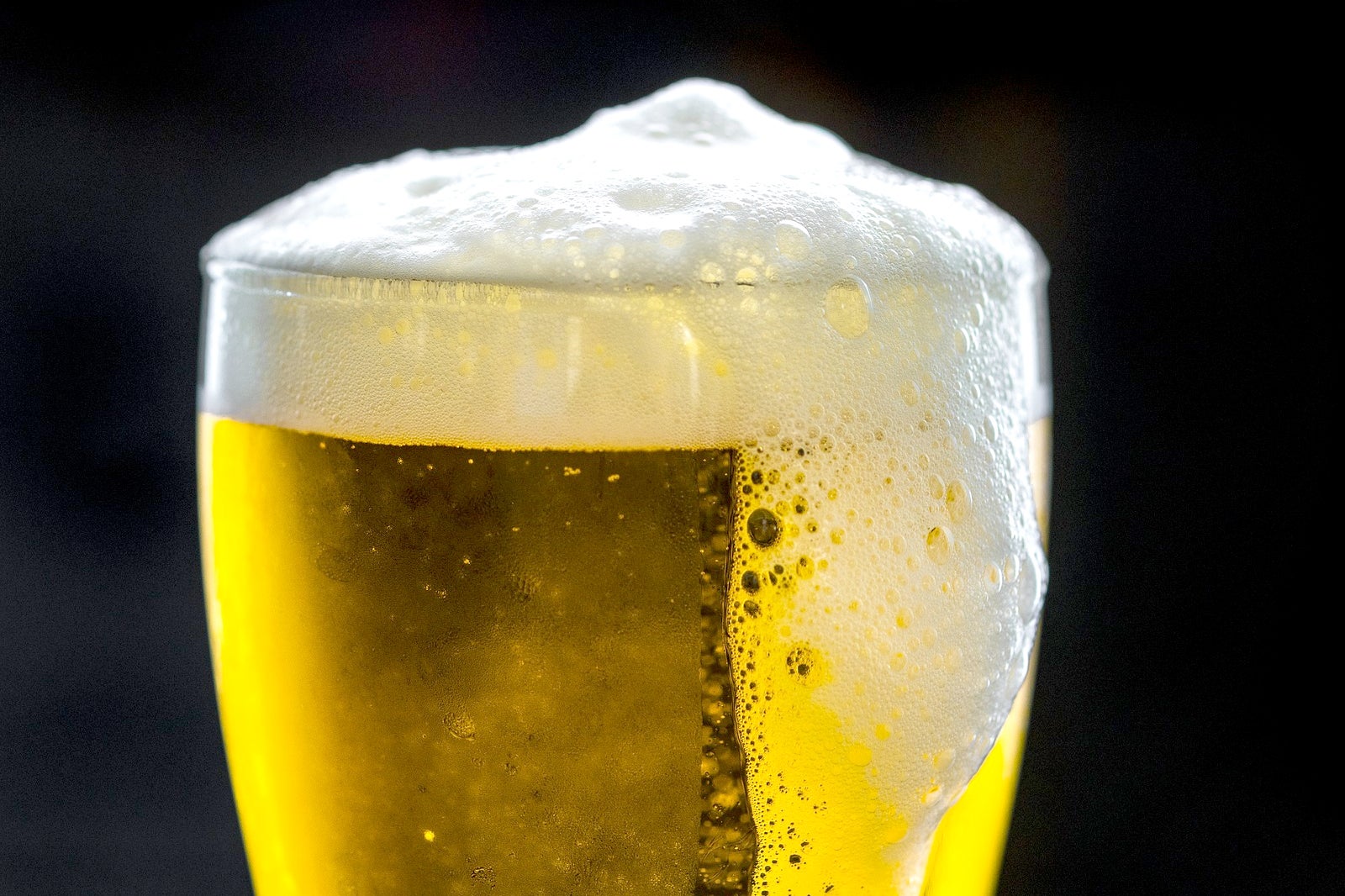 Futenma in Ginowan City, Okinawa Prefecture, is where the U.S. Marine Corps Air Station Futenma is located. The American vibes are everywhere, with many American-style shops serving foods such as hamburgers and tacos. There are also many small restaurants and diners serving Okinawan cuisine, so you'll definitely be able to find something that is to your taste.
It's all well and good eating at restaurants, but if you want to explore the daily food culture of the people of Okinawa, why not visit a local supermarket? There are several supermarkets in Futenma that are open late at night, so you can drop by even at the end of a busy day spent sightseeing. If you're looking for souvenirs to take back for your friends, look no further than Orion, the definitive Okinawan beer, or some Okinawa soba instant noodles. Pick up a boil-in-the-bag dish of pig's feet (tebichi) or Okinawa-style mixed rice (juicy) to recreate the taste of Okinawa at home.
Location: Ginowan, Okinawa 901-2202, Japan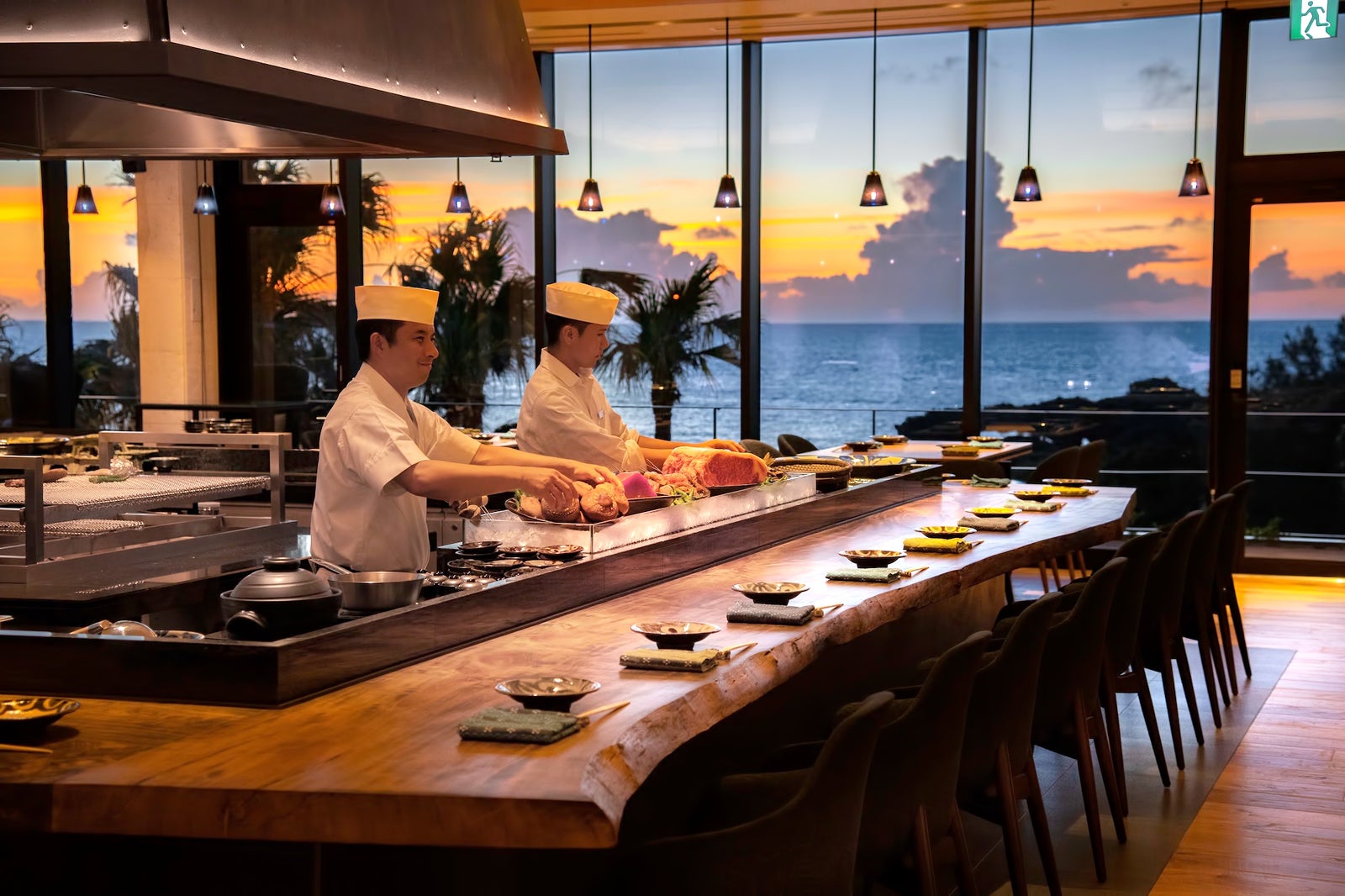 Onna Village, located on the western coast of the main island of Okinawa, is one of Okinawa's most famous resorts. The area has a huge selection of large resort hotels along its coastline. For a fine food experience in Onna Village, there is nothing better than an elegant dinner seated on the terrace of a hotel dining room while watching the sun go down.
Many stylish restaurants serve fresh dishes like the Okinawan Agu breed of pork in shabu-shabu or charcoal-grilled, creative dishes based on Okinawan cuisine, broiled sushi, and steak made with high-quality Japanese beef from Okinawa. For casual meals, there are local drive-in restaurants too. You can always enjoy filling up at a reasonable price with the famous soup and sandwich for breakfast, hamburger for lunch, and steak for dinner!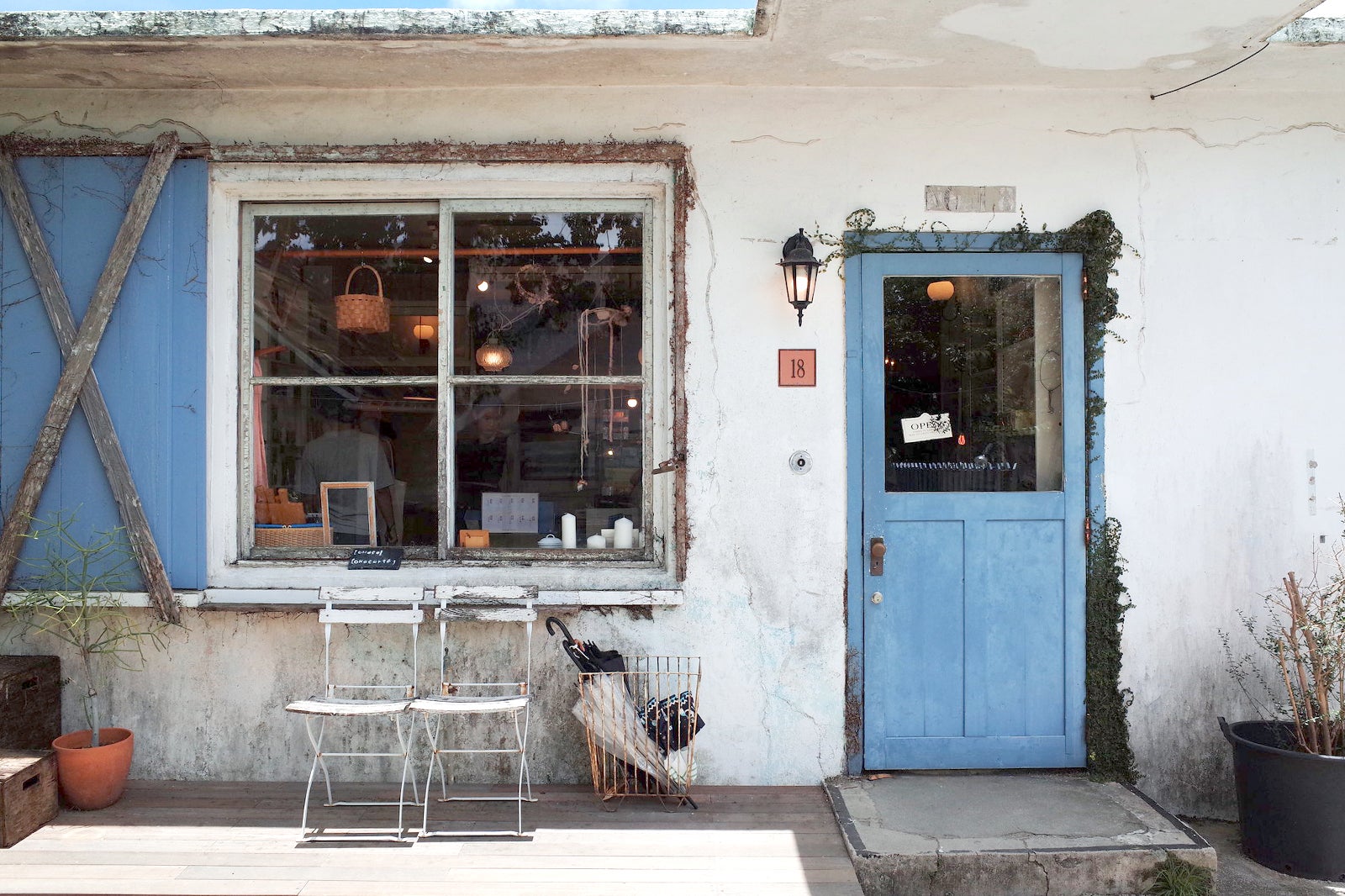 Minatogawa Foreigner Residential Area
The Minatogawa foreigner residential area is a great place for foodies in Okinawa as it's lined with shops based in the renovated houses of foreigners who used to work at the U.S. military base. Around half of the approximately 60 houses in the Minatogawa Stateside Town area are now used as shops. They each have a stylish look with colourful doors and window frames in blue, green and red. Not to be missed are the shops for local people, like the natural yeast bakery and the popular ingredient-focused tart shop.
There are also coffee shops that give advice on which beans you should select and how to brew them for the perfect cup. There are restaurants where you can eat lunch made with carefully selected Okinawan ingredients, an Italian cafe that's famous for its stone oven pizza, and some celebrated Okinawan soba noodle restaurants. This foodie quarter has a fairly unique line-up.
Location: Minatogawa, Urasoe, Okinawa 901-2134, Japan
photo by SHANGCHIEH (CC BY-SA 2.0) modified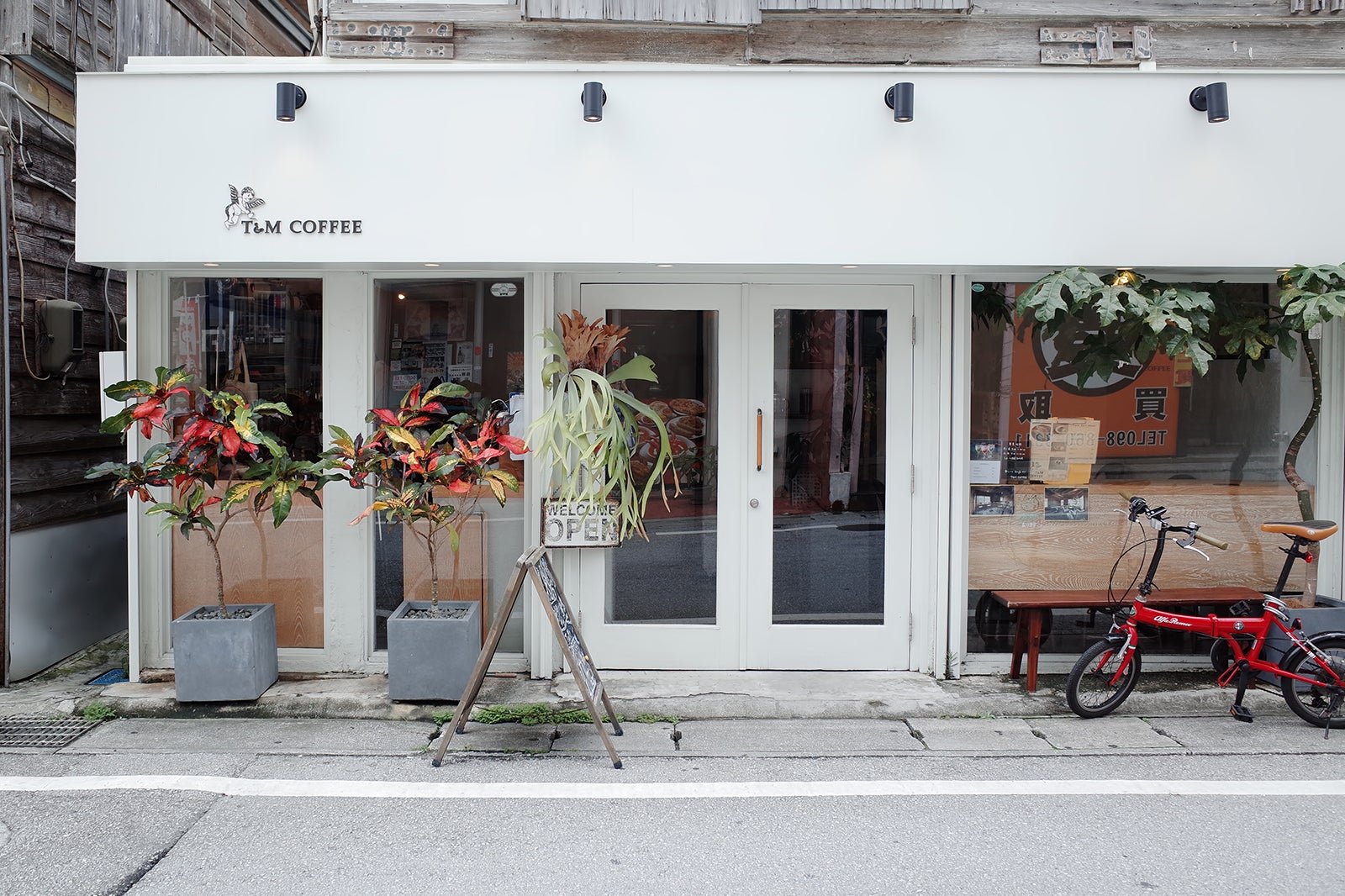 From the bustling Kokusai Street, take a 5-minute walk down a side road until you reach Tsuboya Yachimun Street, which is full of pottery workshops. In the Okinawan dialect, the term "yachimun" means pottery. Tsuboya is a kiln that has been open since the Ryukyu Kingdom era, and there are currently about 20 workshops producing Tsuboya ware.
On the stone-paved streets, there are tea-houses (chaya) with galleries, and fancy cafes, making this a great spot to check out the excellent pottery and take a break whenever you like. Here you can enjoy gastronomic delights such as Okinawa's famously foamy "bukubukucha" tea, Okinawan shortbread (chinsuko), freshly ground coffee and handmade sweets.
Location: 1 Chome-16 Tsuboya, Naha, Okinawa 902-0065, Japan
photo by SHANGCHIEH (CC BY-SA 2.0) modified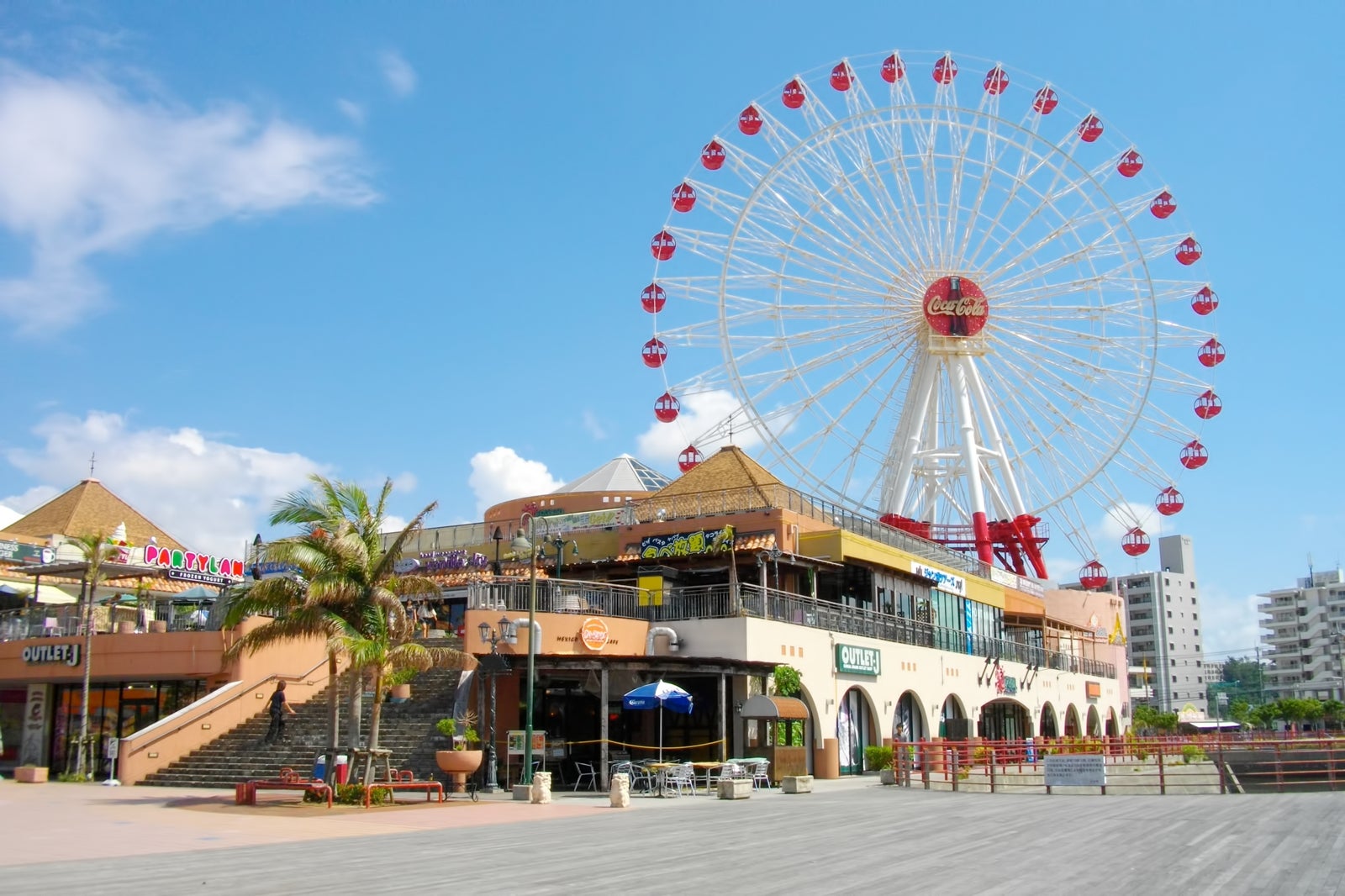 Mihama American Village, located in Mihama, Chatan-cho, is an entertainment complex consisting of hotels, shops, amusement facilities and more than 60 restaurants. As you would expect, the large steaks and hamburgers here are particularly well regarded. Mexican tacos and Okinawa's famous taco rice are also popular.
There's a wide range of restaurants where you can enjoy local Okinawan dishes, including standard meals such as Okinawan soba noodles and stir-fried bitter melon (goya champuru) in a homely atmosphere. There's even a restaurant that offers a famous buffet for families, so there's something for every occasion. The adjacent Sunset Beach is perfect for picnics and watching the sun go down. Another good idea is to buy some takeaway food and eat it on the beach.
Location: Mihama, Chatan, Nakagami District, Okinawa 904-0115, Japan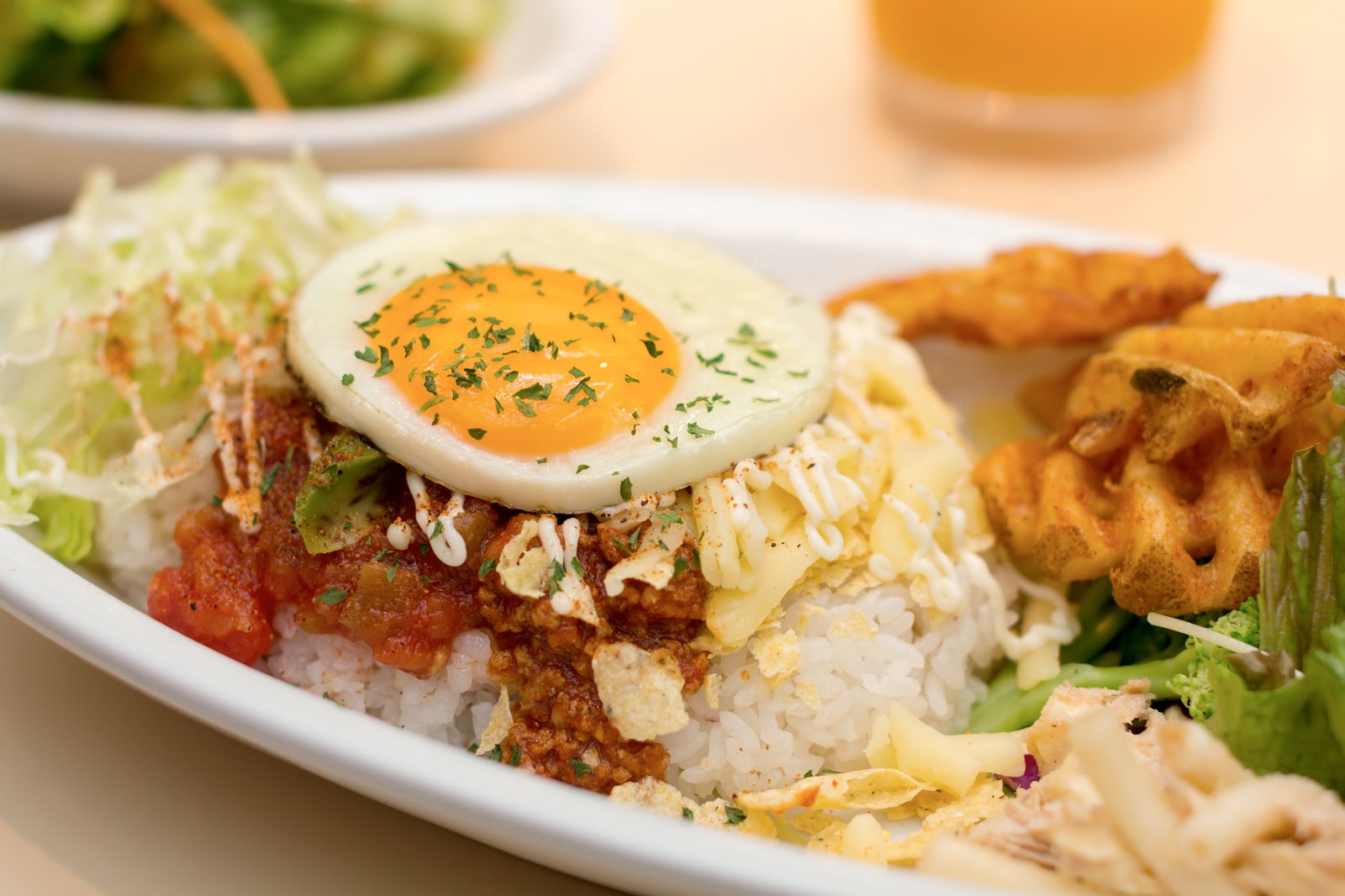 Located almost in the middle of Okinawa Island, Kin-Cho Shinkaichi prospered as an entertainment district for American soldiers. With colourful concrete buildings remaining, the attractive streets are like something out of a film set. Kin-cho is famous as the birthplace of taco rice, an Okinawan soul food. Created in 1984, this is a dish of rice topped with octopus, cheese, julienned lettuce, diced tomato and other items.
To find it, head to a parlour or a restaurant where they serve snacks and sweets. Kin-cho is also famous for its taro, which is called "taimo" here. You can try it in taimo cheesecake, taimo pie, taimo manju, and other snacks. At night, the bars here are positively bursting with exotica. Definitely something to experience!
Location: Kin, Kunigami District, Okinawa 904-1201, Japan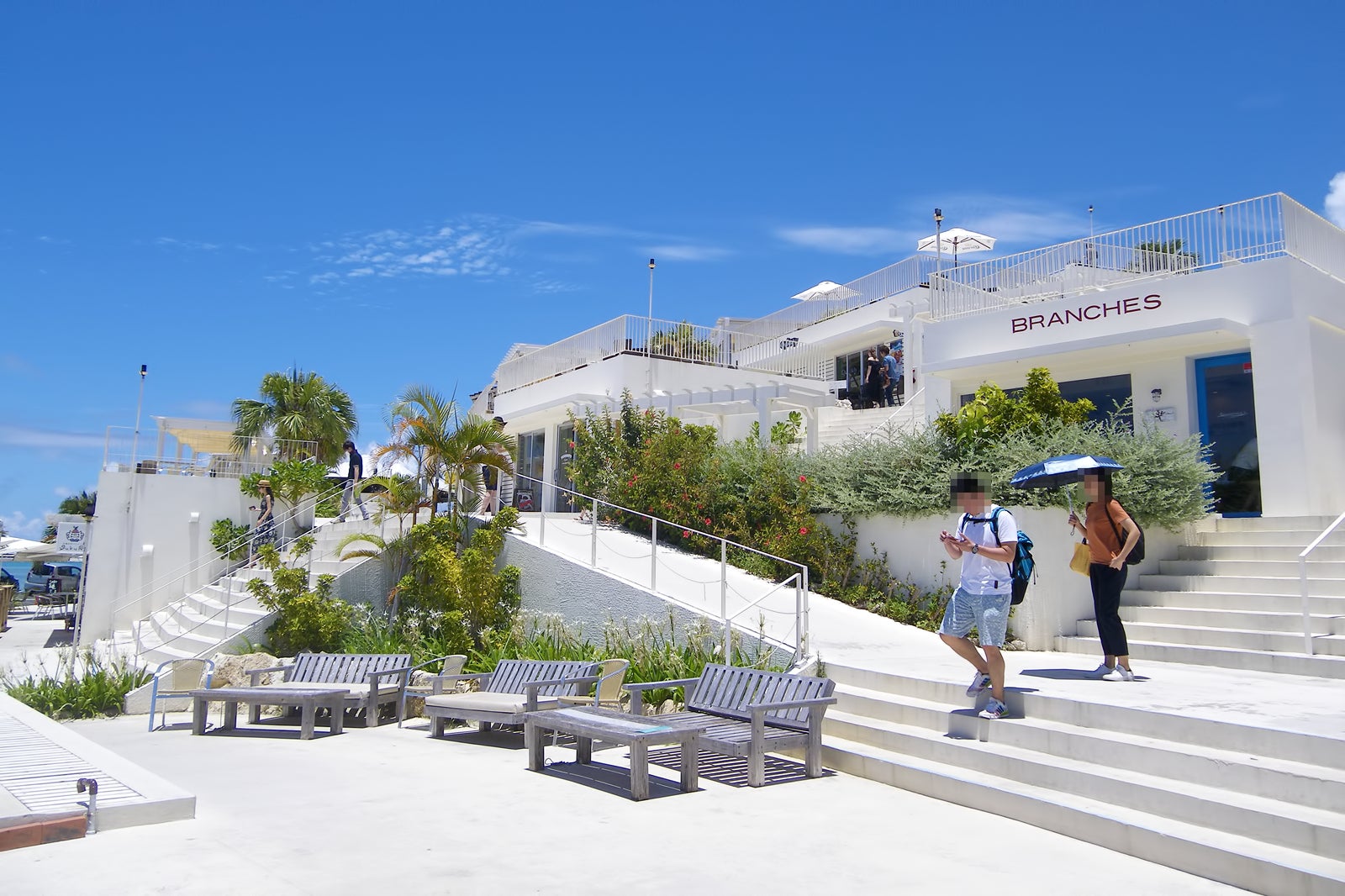 Senagajima Umikaji Terrace
Just 6 km from Naha Airport, Senagashima Umikaji Terrace is the ideal foodie stop-off if you want one last taste of Okinawa right before boarding the plane. On the slopes facing the crystal-blue western coast, there are about 40 shops and restaurants with Mediterranean-style white walls, creating a resort atmosphere. How about tasting some local cuisines such as deep-fried gurukun, an Okinawan fish, or stir-fried grated carrots (ninjin shirishiri), at a cafe-style restaurant?
Gazing at the sea, there's nothing better than eating freshly fried Okinawan doughnuts (sata andagi) and spending a cool and relaxed cafe moment with some mango juice or sweet azuki bean soup (Okinawa zenzai). Take a fish burger on the terrace and enjoy that unmistakable feeling of being on a tropical island resort.
Location: 174-6 Senaga, Tomigusuku, Okinawa 901-0233, Japan
photo by Kugel~commonswiki (CC BY-SA 4.0) modified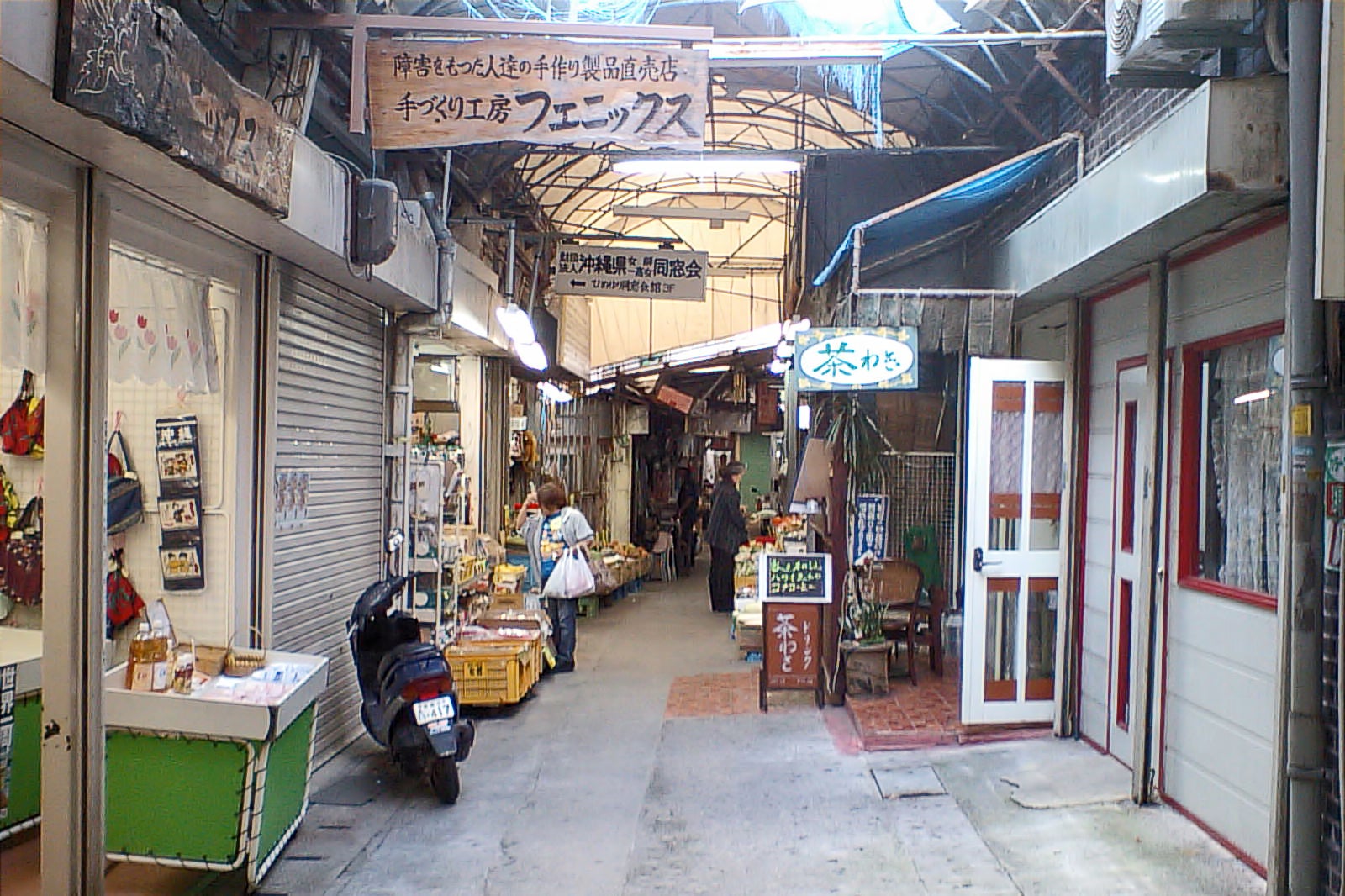 Sakaemachi Market is a short walk from Asato Station on the Yui-Rail monorail line, and has more than one hundred stalls that preserve the atmosphere of the Showa period. If you visit in the daytime, you can find shops selling fresh local meat and vegetables as well as handmade side-dishes. Okinawa-style tempura, with its thick and fluffy batter coating, is perfect if you want to eat something while walking. Also great to try is the soup of taros and Okinawan-style tofu (Muji-jiru), a traditional dish enjoyed at celebrations, that some of the restaurants serve.
Once night falls, shutters along the narrow alleys that were closed are opened, and the market comes to life again with people arriving for drinks. Here, you'll find various restaurants, from stalls that have been in business for more than 50 years to long-established Japanese-style bars where you can have your fill of Awamori liquor and Ryukyuan cuisine. It's the kind of well-kept secret which, once discovered, means you have found the real Okinawa.
Location: Asato, Naha, Okinawa 902-0067, Japan