10 Best Things to Do in Amalfi
What is Amalfi Most Famous For?
Amalfi, the namesake town of Italy's famous coast, is a gem with old-world charms. Once the capital of a powerful maritime republic, this Italian town is a combination of centuries of intricate history, dramatic natural scenery, and delicious fresh seafood.
The picturesque Amalfi Coast is at its best in its capital, where you'll find yourself surrounded with winding streets, colourful buildings, and sun-filled squares. The pace of life is slower than other towns along the Sorrentine Peninsula, so take your time to explore hidden alleys or relax with a glass of limoncello and admire the breathtaking sea views. Check out our list of things to do in Amalfi to make the most out of your holiday.
What are the best things to do in Amalfi?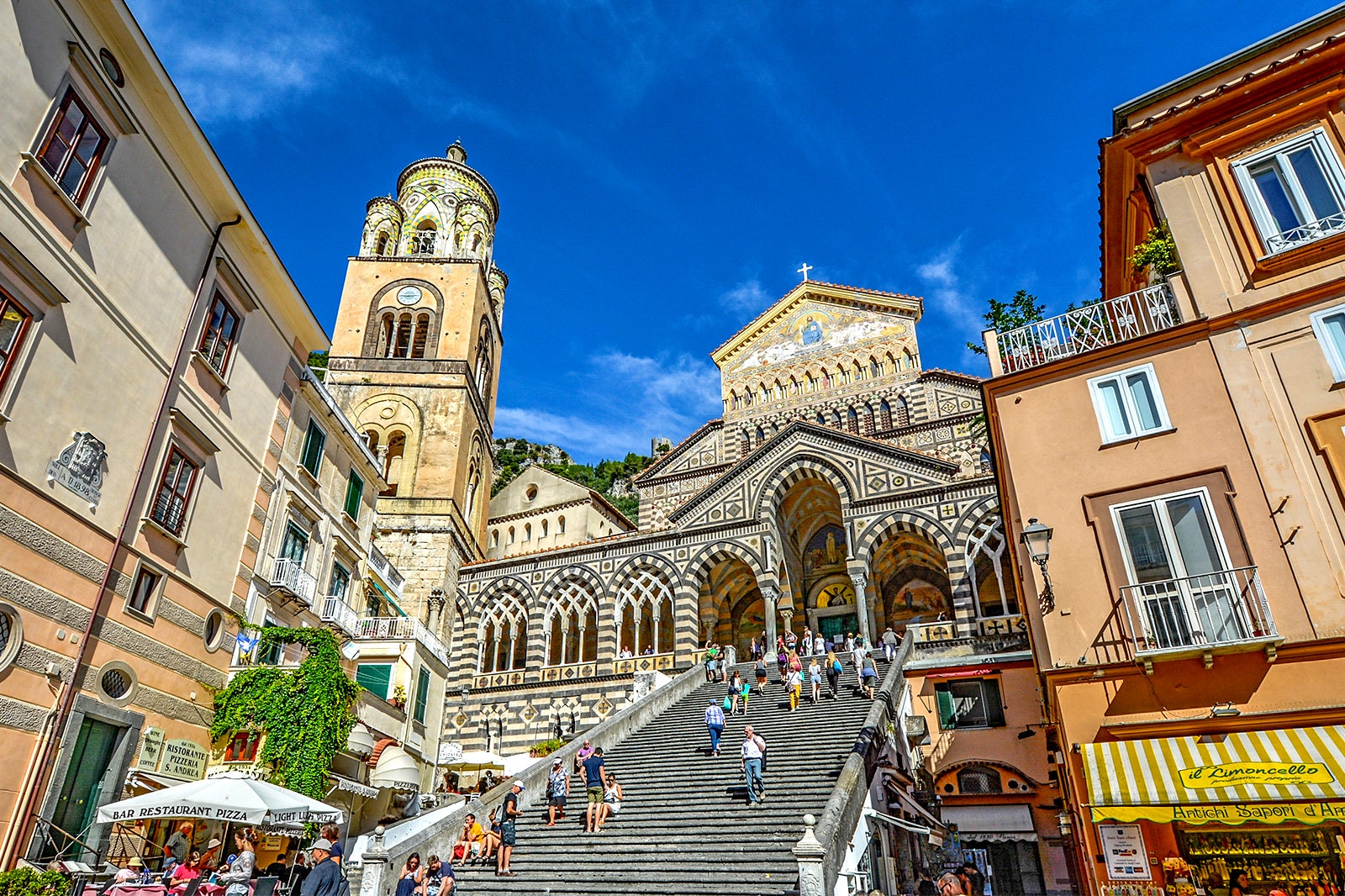 Start the day at Piazza Duomo
Get a feel of local Amalfi life
Piazza Duomo is a bustling square that leads off Via Lorenzo, one of the main thoroughfares in Amalfi. It's a popular meeting spot in the city, with plenty of shops, cafes and restaurants. The elegant facade of the Cathedral of Saint Andrew is on the eastern edge of this medieval square.
Grab a seat at one of Piazza Duomo's pavement cafes to enjoy a cup of Italian coffee as you watch the world go by. The middle of the square has a marble fountain dedicated to Saint Andrew, the patron saint of Amalfi.
Location: Piazza Duomo, 84011 Amalfi SA, Italy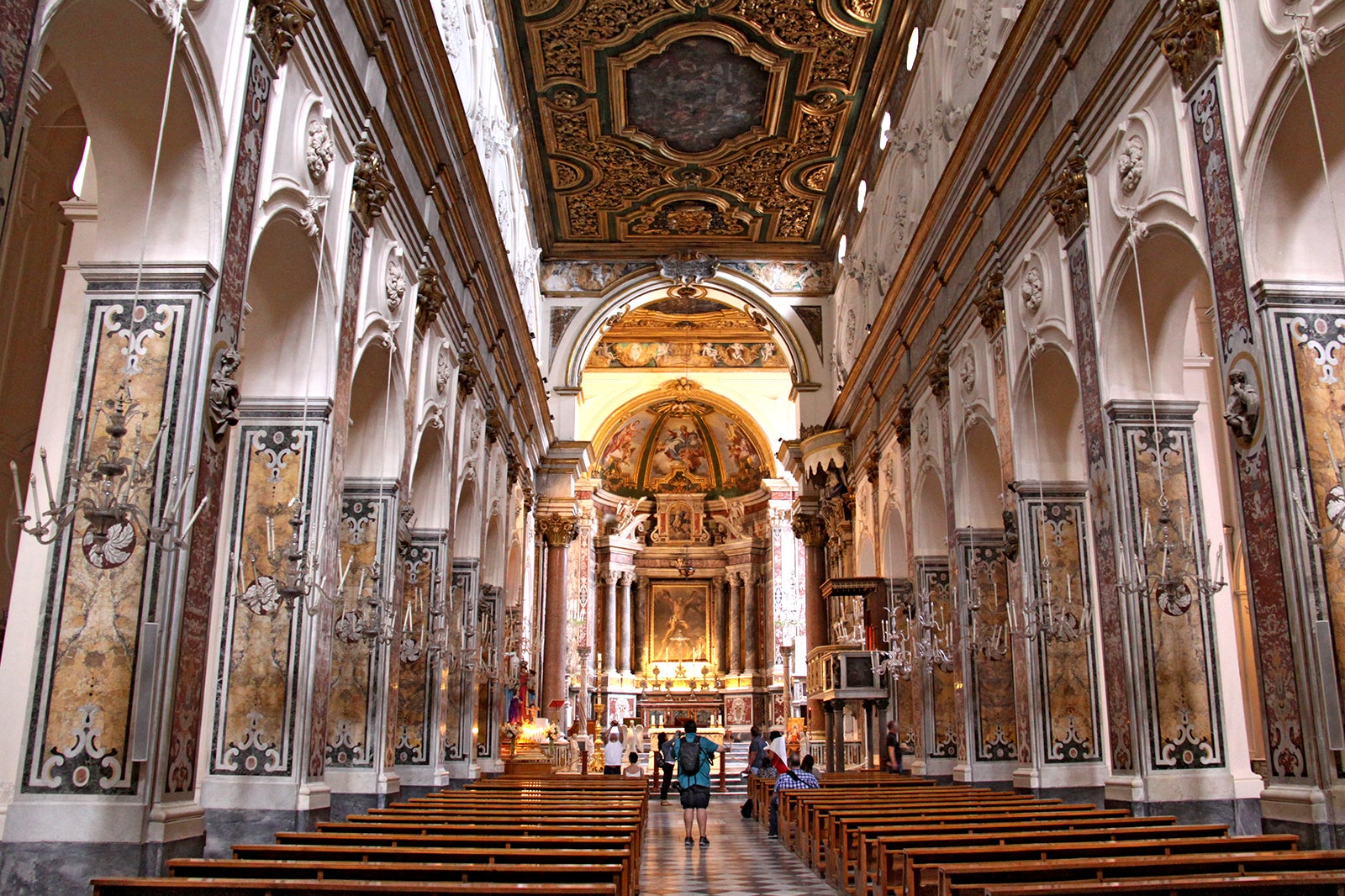 Must-See: Cathedral of Saint Andrew
An ancient cathedral showcasing the city's changing history
The Cathedral of Saint Andrew (Duomo di Sant' Andrea) is an imposing 9th-century building with a colourful past. It was built to house the relics of St. Andrew the Apostle, which were brought to the city from Constantinople in 1208. The city's history as a maritime port can be seen in the church's international influences, such as the Arabian-style towers and huge bronze doors from Syria.
Artefacts of interest inside the Cathedral of Saint Andrew include glorious medieval mosaics, a mother-of-pearl crucifix brought from the Holy Land, and the 13th-century sarcophagus of Archbishop Pietro Capuano. Prepare for a steep 62-step stairway that leads to the church entrance.
Location: Piazza Duomo, 84011 Amalfi SA, Italy
Open: Hours vary by season
Phone: +39 089 873 558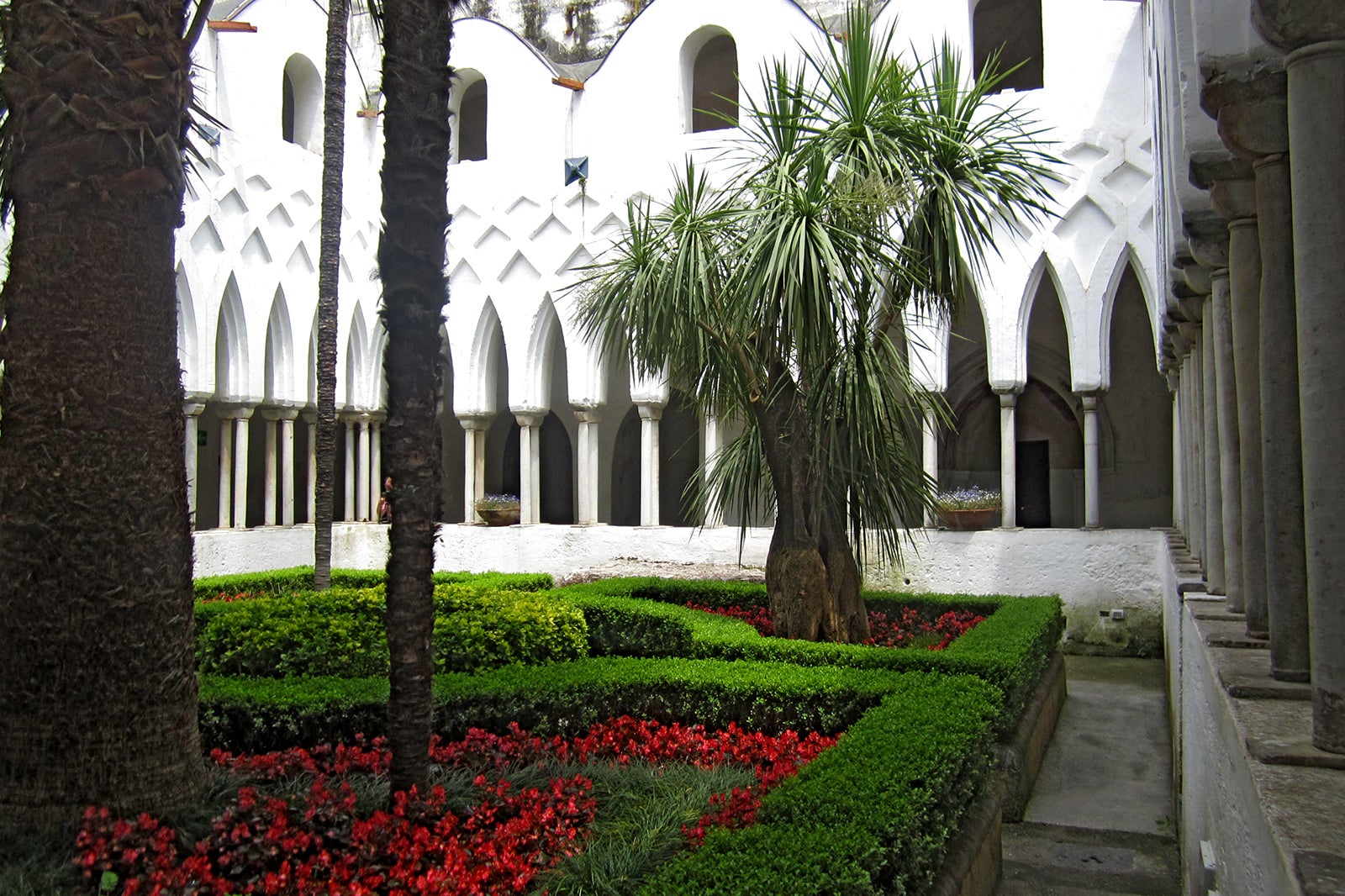 Cloister del Paradiso
Browse religious treasures in this Moorish-style cloister
The Cloister of Paradise (Cloister del Paradiso) is a Moorish-style open arcade attached to Duomo di Sant' Andrea in Amalfi. Built to host the tombs of Amalfi's noble citizens, its whitewashed arches lead you into a beautiful courtyard with palm trees and sculptures.
Frescoed chapels containing sarcophagi depict famous stories from Greek and Roman myths. The Cloister of Paradise also houses the relics of St Andrew the Apostle, along with a giant bronze statue of the saint. An ancient mitre decorated with seed pearls and gems, and an 18th-century bishop's sedan chair from Macau, and 2 silver-embossed reliquary heads are highlights among a huge collection of artefacts in the Cloister of Paradise.
Location: Via Salita Episcopio, 1, 84011 Amalfi SA, Italy
Open: Daily from 9.30am to 5.30pm (hours may vary)
Phone: +39 089 871 324
photo by Luca Aless (CC BY-SA 3.0) modified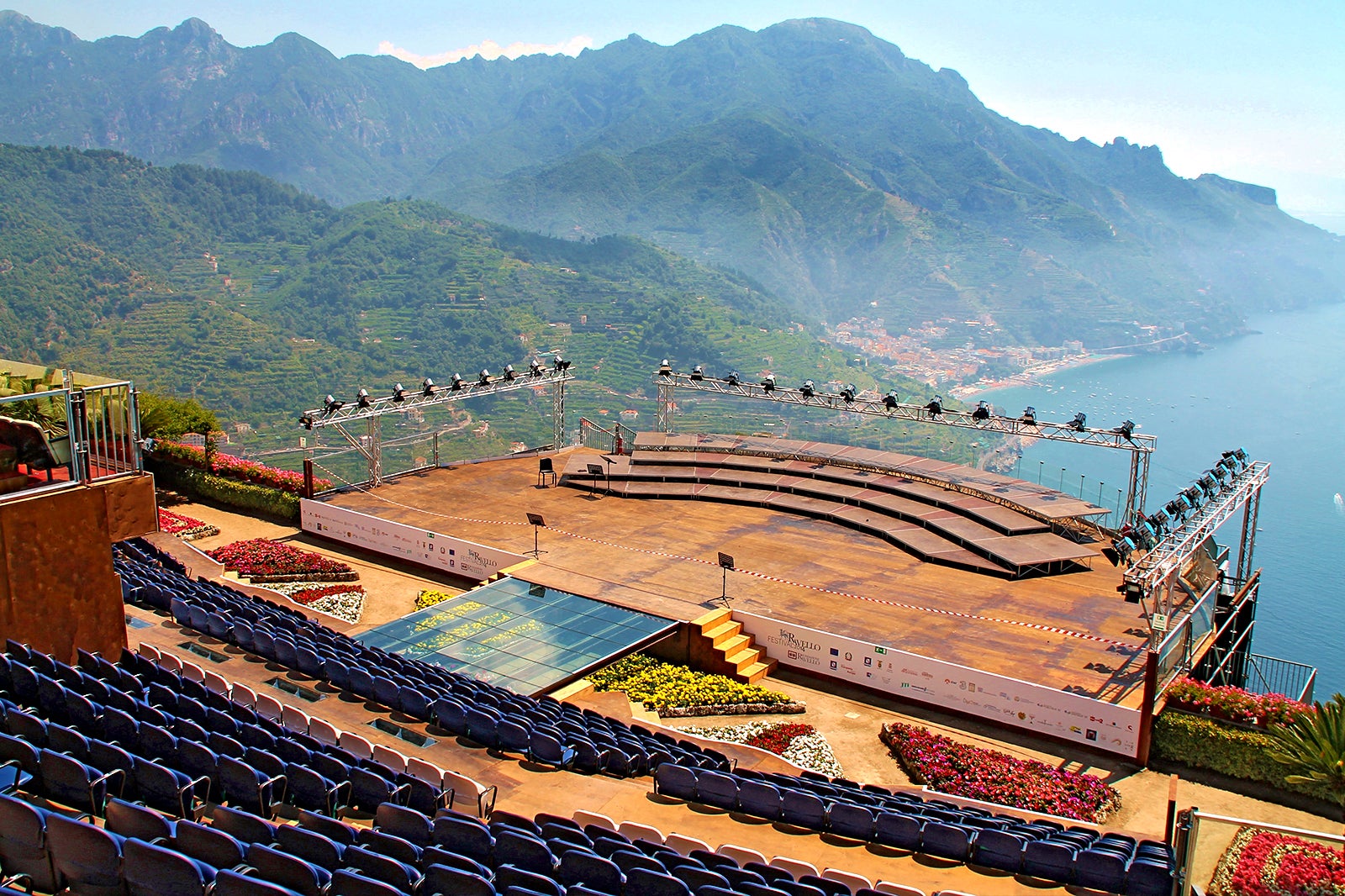 Villa Rufolo
Admire lovely gardens at this magnificent historic mansion
Villa Rufolo is one of the largest villas in Ravello, making it a worthwhile day trip from Amalfi. It was built by the powerful Rufolo family in the 13th century, with Neapolitan royalty, Renaissance poets, and the composer Richard Wagner among some of its previous visitors.
The villa's architecture shows Moorish inspirations, especially in the superb cloisters and Turkish baths. Villa Rufolo has a small museum showcasing art and archaeological findings. The luxurious gardens are laid out in a series of terraces. Hundreds of flowers bloom most of the year thanks to Amalfi's mild climate. Guided tours in English and Italian are available with advanced reservation.
Location: Piazza Duomo, 84010 Ravello SA, Italy
Open: Daily from 9am to 7.30pm
Phone: +39 089 857 621
Couples
Families
History
Photo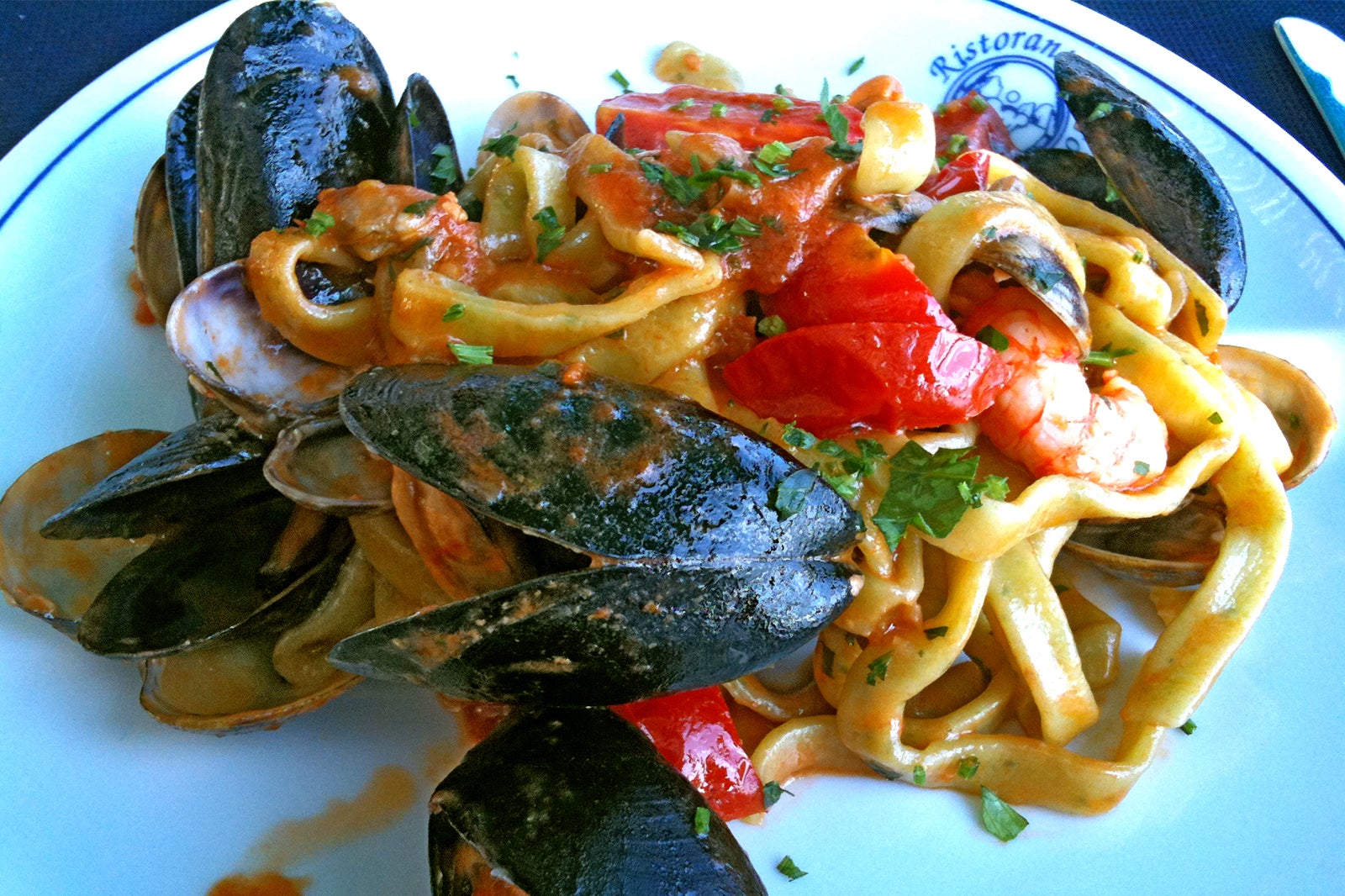 Eat scialatielli ai frutti di mare
Taste some of the area's local delicacies
Scialatielli ai frutti di mare is a pasta seafood dish made with fresh local seafood and scialatielli – a linguine-like pasta variety from the Amalfi region. The dish has heavy flavours of basil and pecorino, as well as fresh prawns, scallops and mussels.
You can find scialatielli ai frutti di mare in many Amalfi restaurants – Marina Grande is a popular restaurant on the waterfront that pairs artfully presented food with exceptional sea views. Hidden in a beautiful courtyard off Via dei Prefetturi. Taverna Buonvicino serves delicious fresh seafood in a romantic atmosphere. For simple, good quality food in a cosy setting, you can't beat Ristorante il Tarì on Via Pietro Capuano.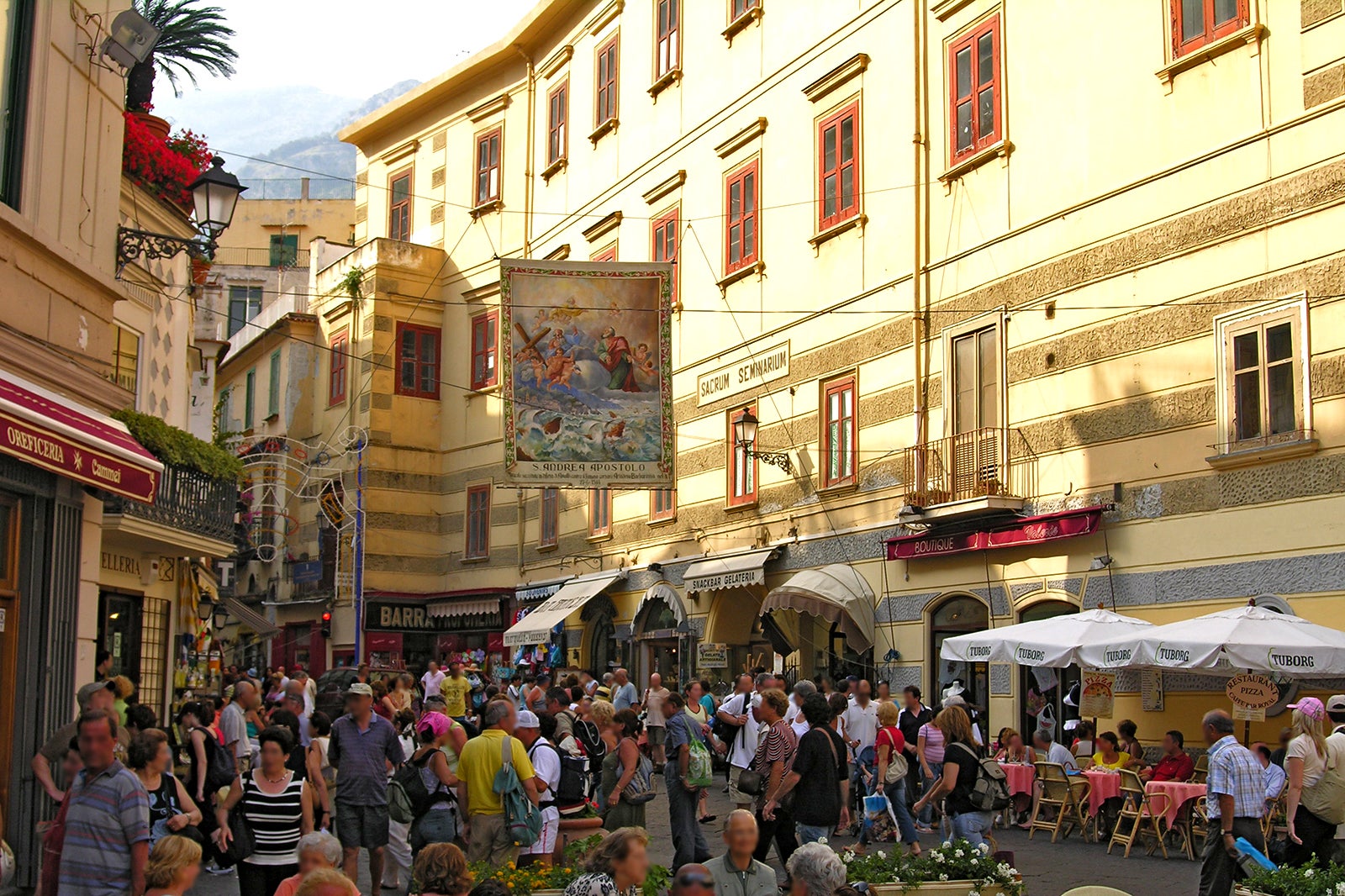 Shop at Ruga Nova Mercatorum
Take a stroll down Amalfi's main shopping street
Ruga Nova Mercatorum (Via dei Mercanti) is one of Amalfi's busiest shopping streets, which stretches from the waterfront to the iconic Cathedral of Saint Andrew. The walkway has plenty of historical buildings, as well as quaint cafés and shops selling souvenirs. It's quite easy to explore the entire street length on foot, as motorised vehicles rarely pass through Ruga Nova Mercatorum.
Papermaking has been a popular industry in Amalfi for centuries, so you'll find many shops selling handmade paper and beautiful stationery. There are also lots of places to buy local herbs and spices, including Amalfi's ubiquitous and delicious limoncello. Street concerts or light shows occasionally take place in the evenings.
Location: Ruga Nova Mercatorum, 84011 Amalfi SA, Italy
photo by Sudodana2048 (CC BY-SA 3.0) modified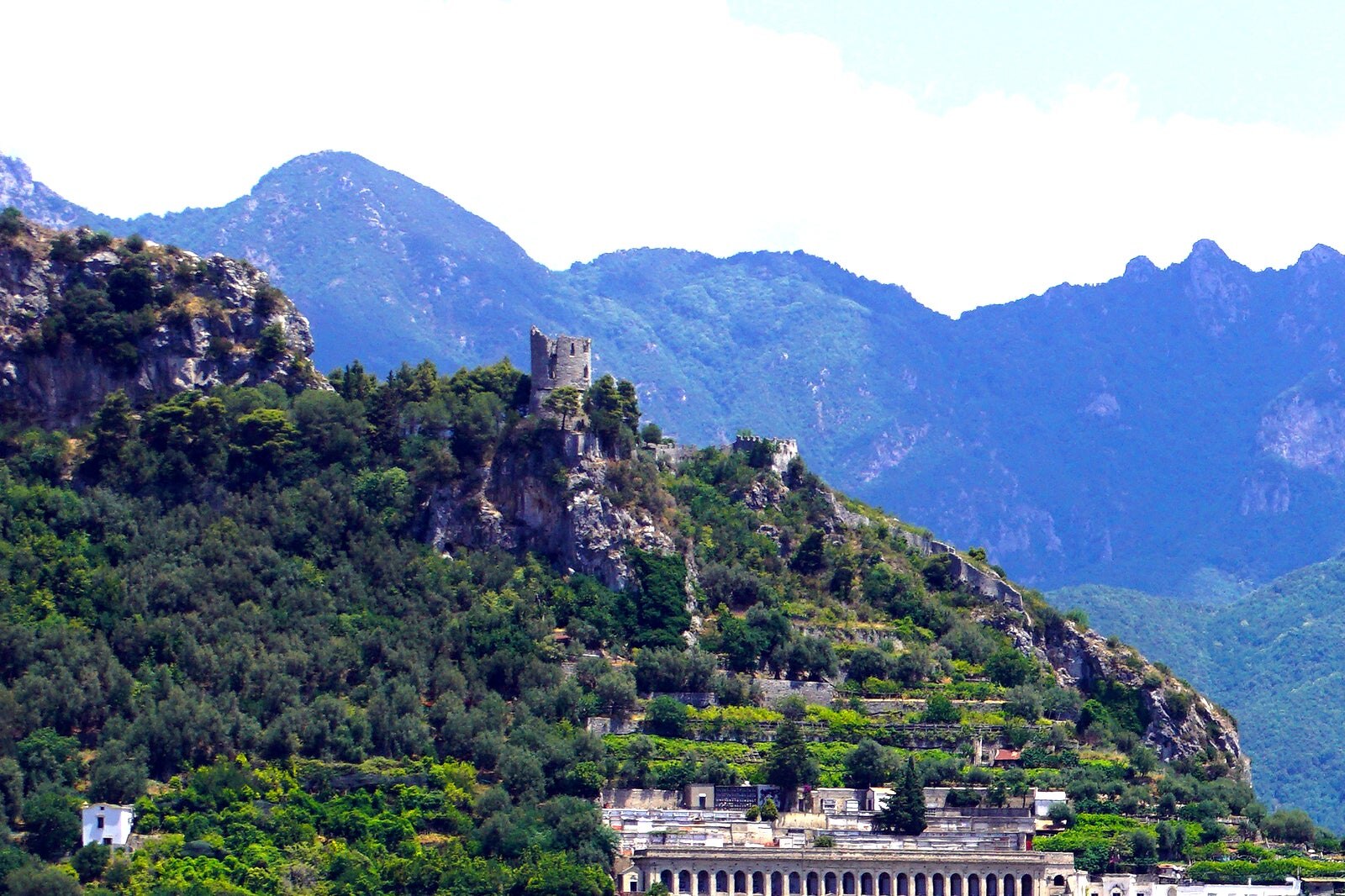 Must-See: Torre dello Ziro
This challenging walk rewards you with panoramic views
The Torre dello Ziro watchtower is a part of a stone fortress that was once used to spot pirate ships in the 15th century. It overlooks the Gulf of Salerno and down to the terracotta rooftops of Amalfi below. Locals believe that it's haunted by the ghost of the Duchess of Amalfi, who was imprisoned for infidelity.
Hiking to the top of Torre dello Ziro from Amalfi is a scenic but steep experience, taking around 2 to 4 hours (depending on your pace). You can also catch a bus to the nearby town of Pontone, which has an easier walk that takes less than 3 hours to reach this watchtower.
Location: Via Valle delle Ferriere, 36, 84010 Pontone SA, Italy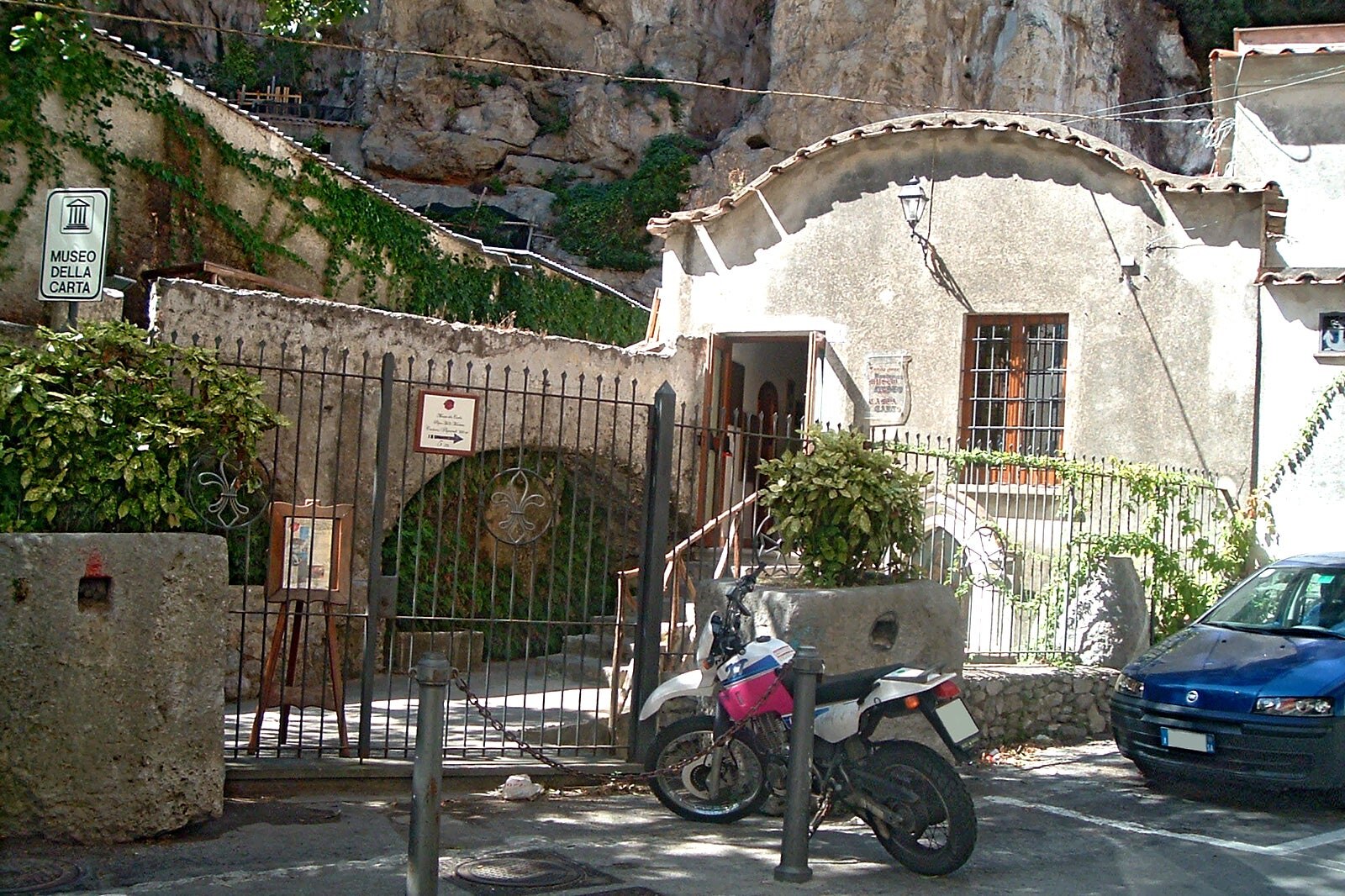 Paper Mill Museum
Visit one of the oldest paper mills in Europe
The Paper Mill Museum (Museo della Carta) occupies old stone paper mill in Amalfi, where you can see original machinery and instruments dating back to 13th century. Check out restored printing machines, paper presses, and ancient wooden mauls, many of which are still functioning. The museum also displays old documents and manuscripts, along with a dedicated library.
30-minute guided tours in English demonstrate how the machines work and let you have a go at making your own handmade paper. Museo della Carta's onsite gift shop offers gorgeous writing sets, calligraphy supplies, and flower-pressed paper at reasonable prices.
Location: Via delle Cartiere, 23, 84011 Amalfi, Italy
Open: Daily from 10am to 6.30pm
Phone: +39 089 830 4561
photo by Mess (CC BY-SA 3.0) modified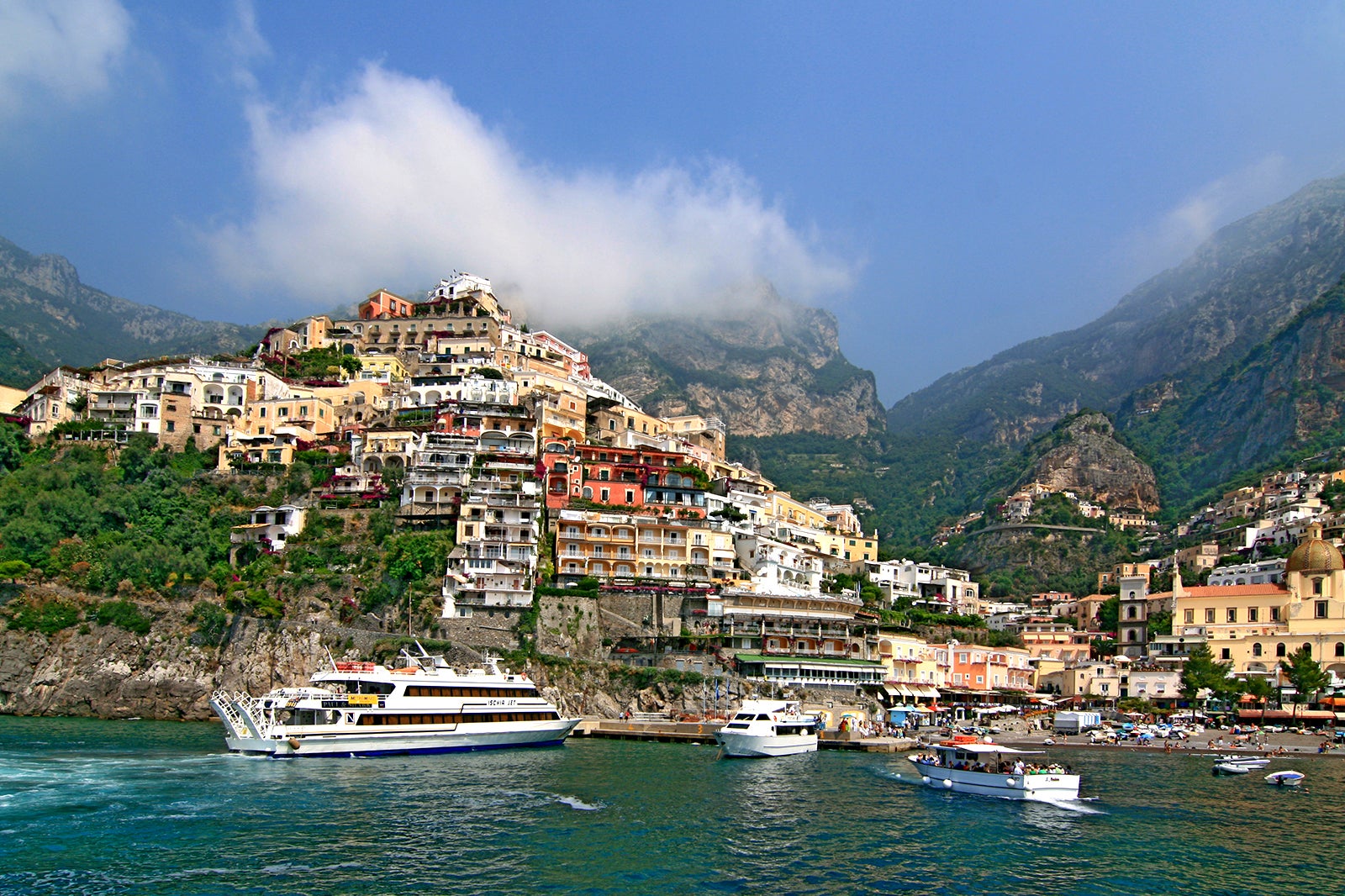 Take a boat trip
See another side to the Amalfi coast
Some of the best views of Amalfi Coast's steep cliffs and colourful buildings are from the sea. Many boat companies leave from Amalfi Harbor Marina Coppola every day, taking you out to swim in the bay of Salerno or sunbathe on the boat deck.
Tours along the Amalfi Coast stop often at caves, grottoes, waterfalls and ancient sites, as well as small villages that may be inaccessible by road. See the diverse ocean life on a diving or snorkelling trip or join a sunset cruise for dinner under the stars.
Location: Piazzale dei Protontini, 6, 84011 Amalfi SA, Italy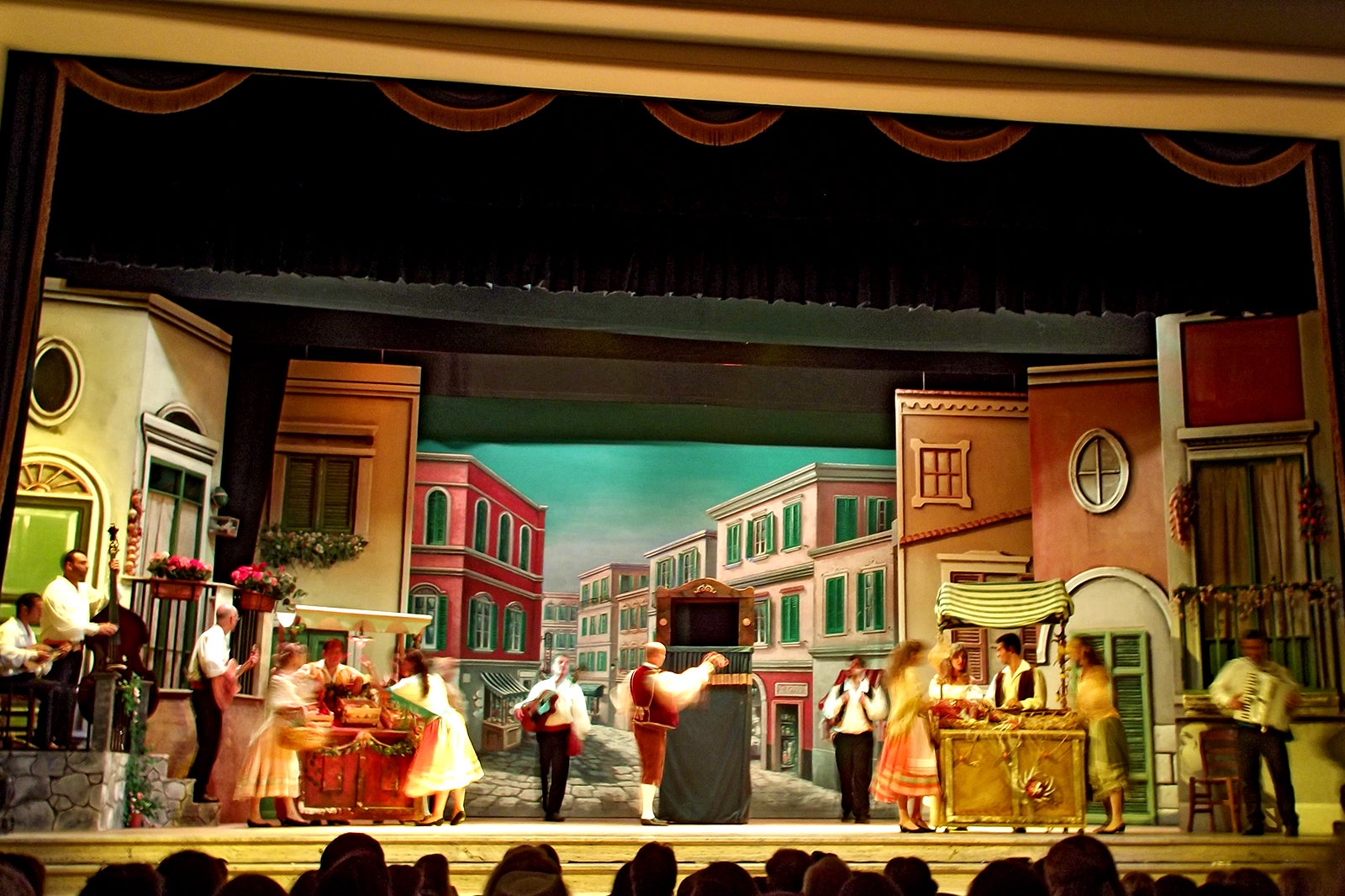 End the day watching Amalfi 839AD, The Epic Musical
An exciting retelling of the history of the Duchy of Amalfi
Amalfi Musical takes place in the vaults of the Museo Arsenale Amalfi, the city's ancient city armoury. The show is about the rise of the First Republic of Amalfi in the 9th century, involving young lovers, court intrigue, and pirate invasions. Be prepared for swashbuckling sword fights, a spectacular light show, and plenty of dramatic singing.
The intimate nature of armoury means you can get really close to the performance, and the medieval building adds to the historic atmosphere of Amalfi Musical. The performance is in Italian with English subtitles.
Location: Museo Arsenale Amalfi, Largo Cesareo Console, 3, 84011 Amalfi SA, Italy
Open: Wednesday and Saturday at 9pm
Phone: +39 392 949 4181
photo by Elliott Brown (CC BY-SA 2.0) modified