10 Great Surf Spots in Bali
Waves Pro Surfers Ride in Bali
Bali is famous for its excellent surfing, and some of the best are on the southern coasts and around the Bukit peninsula. These fun playgrounds are strictly for advanced surfers as they mostly comprise serious reef breaks and large curls. Hazardous for beginners, some of these reefs provide consistent waves that pros love.
Surf spots like Padang Padang regularly host major surfing championships due to their long and consistent barrels, while the legendary breaks of Uluwatu provide an exotic towering temple backdrop with a steady supply of large swells. Check out this guide on the best surf spots in Bali if you're planning to ride world-class waves together with skilled surfers from around the world.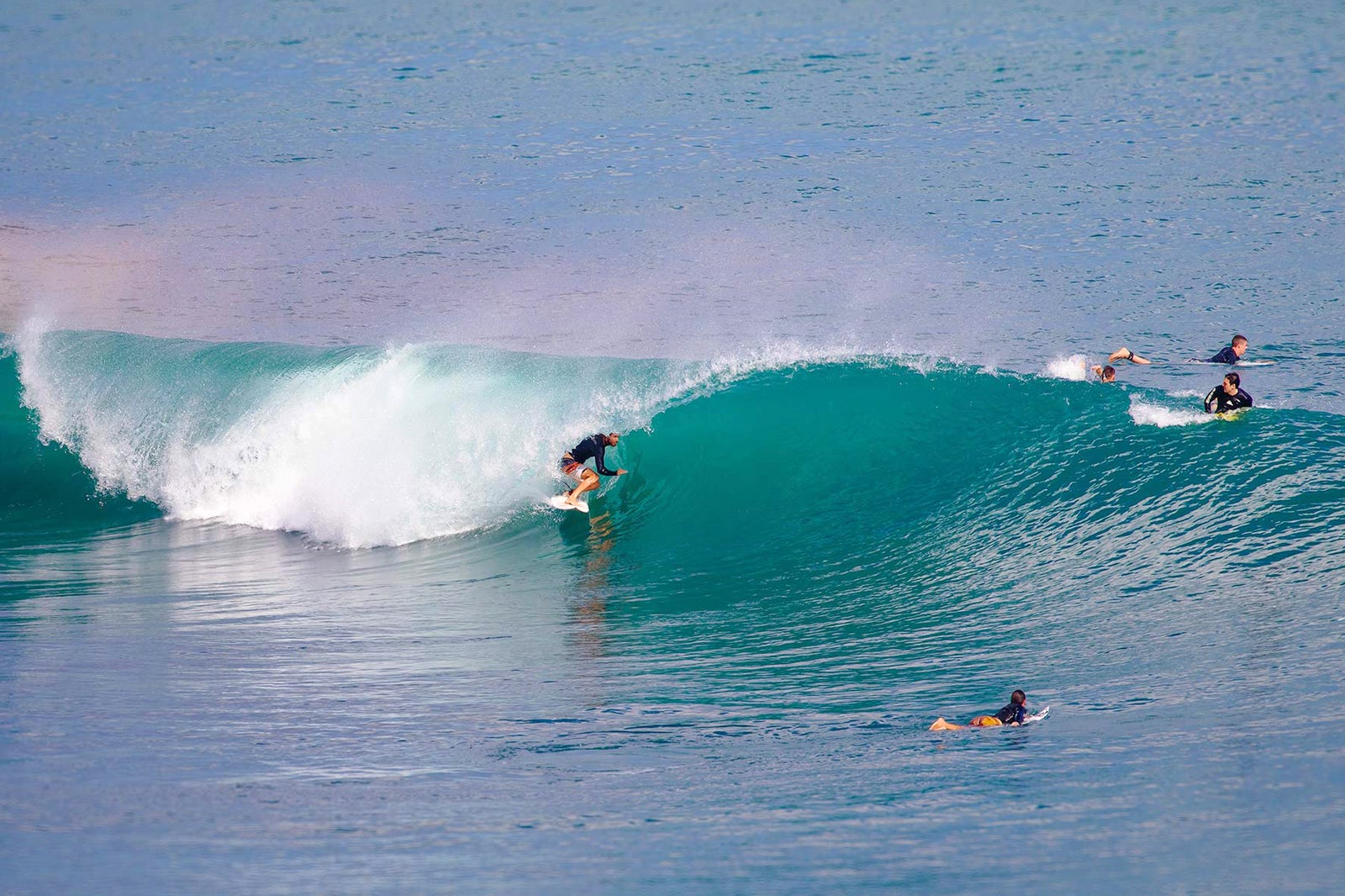 Uluwatu is a surfing classic, famous not only for its top waves but also for its location and the overall experience of surfing with beautiful scenery and Bali's unique temple landmark. Where else in the world can you sit in the line-up after catching a big one and look up on the hill to see an ancient Hindu shrine and magnificent cliff face?
Crowds become a factor when the waves are under 1 metre, but it shines as it begins to produce epic barrels. It's good to refer to tide charts or local knowledge on tide directions. Remember to bring your favourite board, reef booties, and some cash for a great after-surf massage at one of the warungs on the cliff. Beware of tide changes, or you may be swept down to Padang Padang before you know it.
photo by wavehavenbali (CC BY 2.0) modified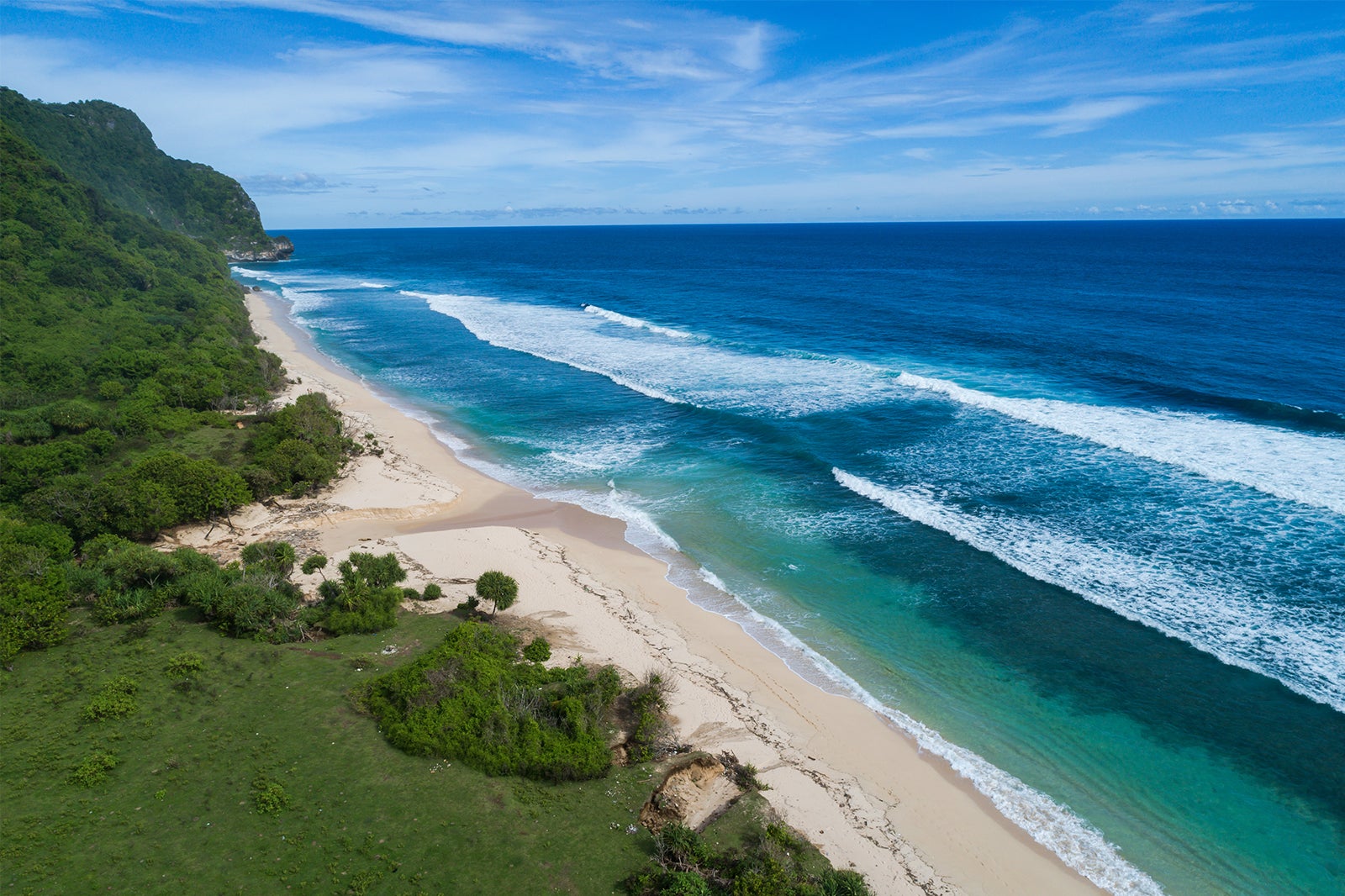 Not far north from Uluwatu is the secluded surfers' paradise of Suluban. Nicknamed Blue Point, this place has its own unique appeal, including a beautiful narrow beach where many sunbathers crowd. Getting to the beach is an adventure down steep staircases and rocky openings that require you to bend down a bit to get through. You must first make your way along the narrow path, down the somewhat treacherous steps and into a cave, then out onto the sand. Suluban in Balinese means to 'crouch under', which is easily understandable.
The main appeal for surfers is its long and powerful swells and consistent barrels. The cliff top is lined with shacks overlooking the thrills and horizon.
Read more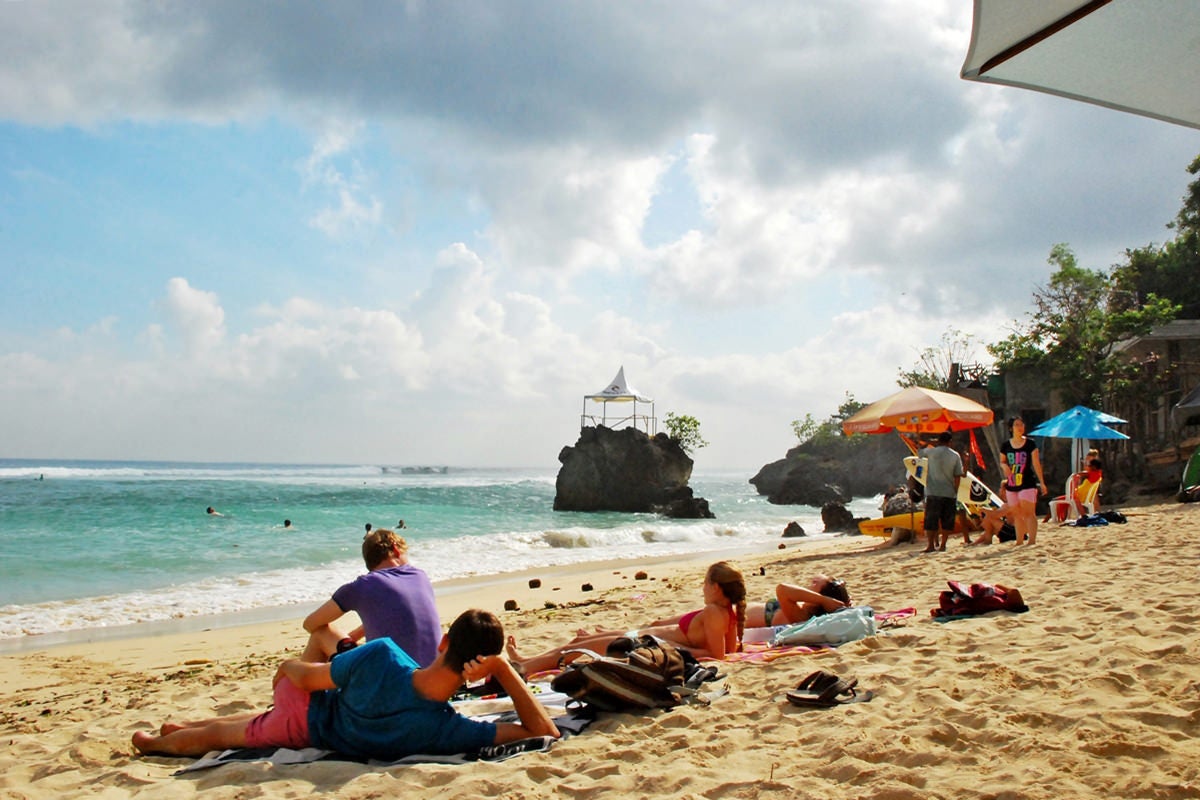 Padang Padang is a favourite spot due to its consistent barrels, and most of all, its accessibility and unique hollow rock entrance that opens out onto an exotic, long, white-sand beach. It's located between Bingin and Uluwatu, and the beach is a regular host for international surfing events, such as the regular Rip Curl Cup Padang Padang.
The powerful and consistent waves are an average of 1 metre and above. Suitable for pros, sharp reefs dwell underneath the beautiful barrels, which occasionally break onto the rocks. Although the waves are strictly for advanced surfers, the beach gets crowded, especially on the weekends.
Read more
Location: Jalan Labuansait, Pecatu, Badung, Bali 80361, Indonesia
This famous spot is between Bingin and Padang Padang, and features a long reef. Its nickname implies that it was once an intimidating break, urging experienced surfers to conquer its waves. Impossibles comprises 3 take-off zones (or peaks), the first of which is accessible via Padang Padang. The 2 others are accessible from the spot's midsection. Here you'll get long and powerful swells with consistent barrels to enjoy. The waves average 0.5 to 1.5 metres. The challenge of searching for the spot and the tough surf pay off with wonderful panoramas of its beautiful beach and irregular rock formations.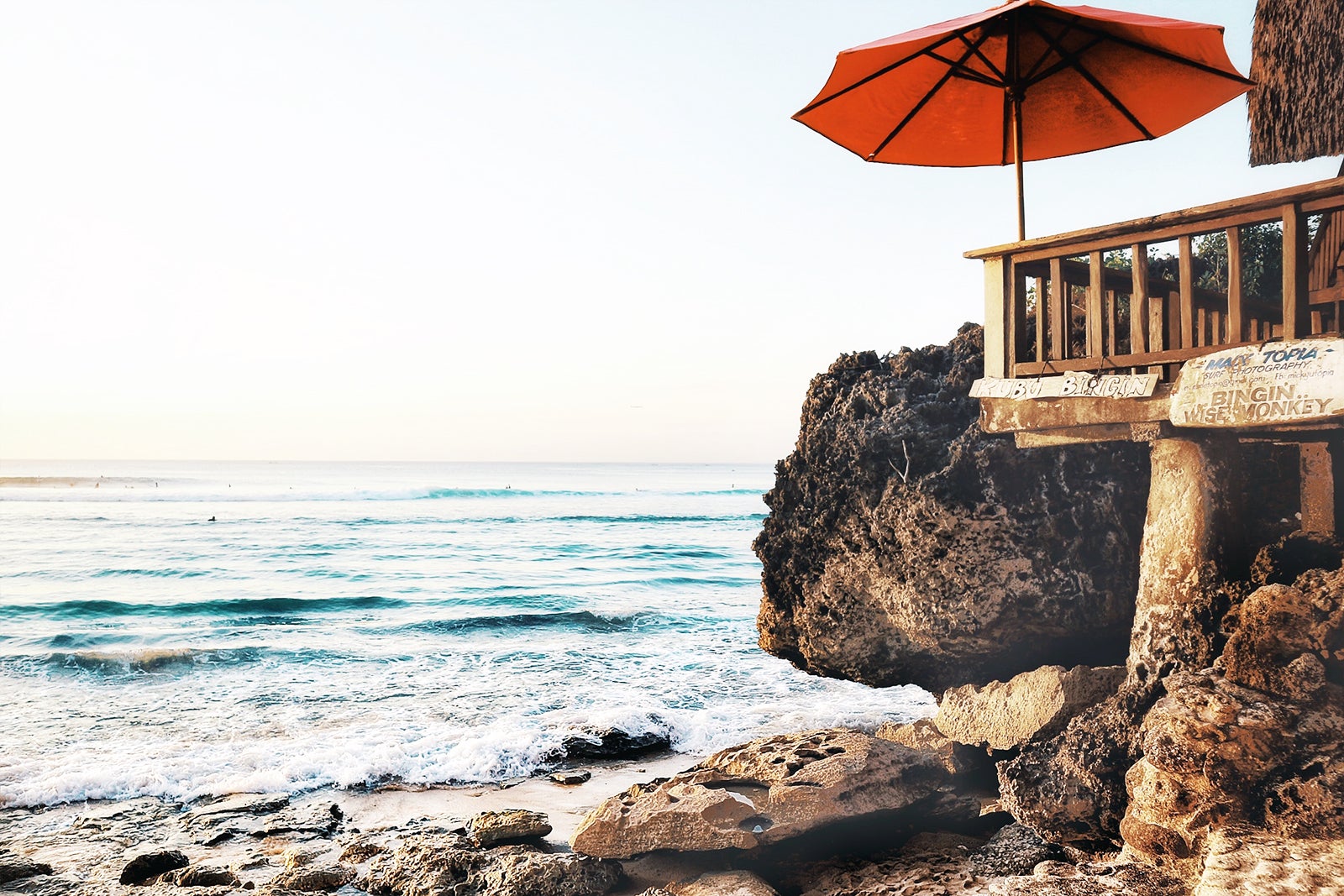 Bingin is an hour's drive down from Kuta, and only minutes north from Uluwatu. The waves here aren't as big as Uluwatu's, but being on the same south-western side of the Bukit peninsula, it shares the same hazardous reef. Bingin's barrels are consistent, much like its neighbour's, but are a little shorter. This makes it a bit of a challenge in catching a good wave in time. Tides similarly play a factor here, so it's good to keep your tide charts handy or ask around some local surfers who know the playgrounds well. Expect more crowds here than Uluwatu, as the waves are less intimidating.
Read more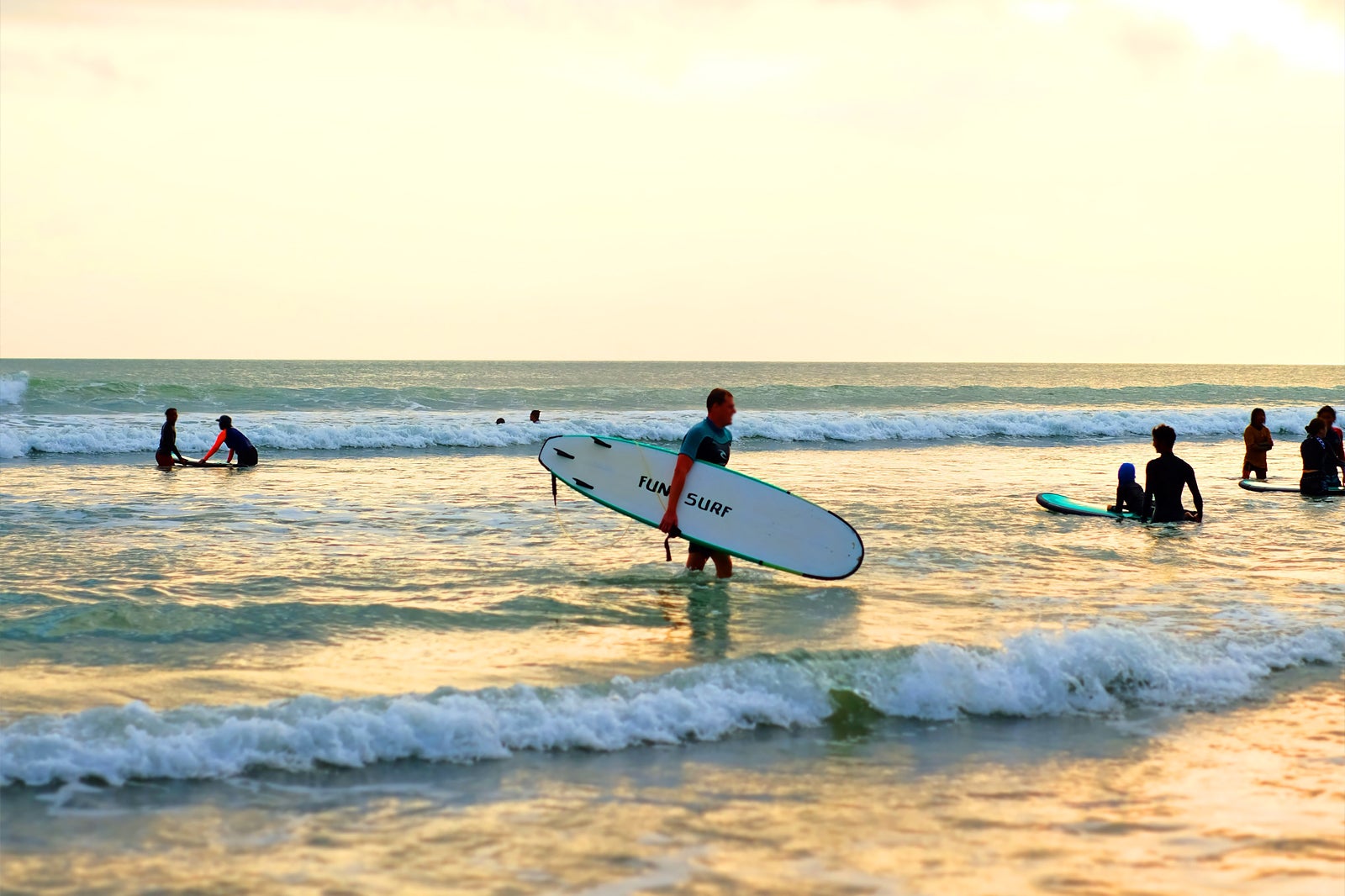 Just north from the crowded and developed Dreamland Beach, Balangan is a surfing paradise with a 1-km-long stretch of white sand and seaweed-covered rocks. The reef is right in front of the beach, and it has southern swells with one of the longest left-hander breaks on the island that range from 1.2 to 2 metres.
Read more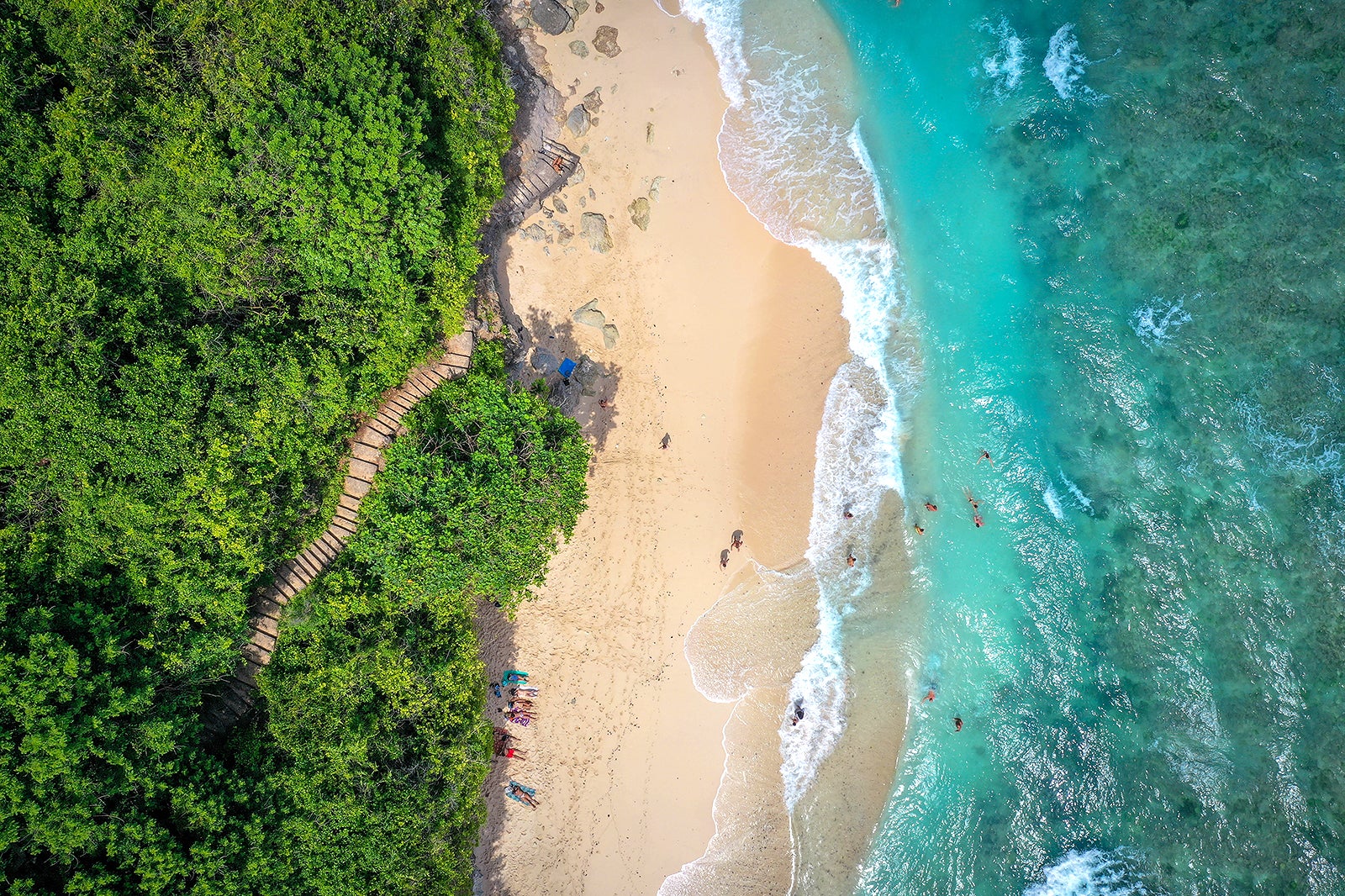 Reaching Green Bowl is an adventure in itself as it's located on the southernmost tip of the island, beside the closed Bali Cliff Resort. The beach appeals to lovers of quiet and exotic shores who don't mind taking hundreds of concrete steps down a cliff face to its secluded beach. At the base are several bat caves that add to its list of unique features.
Green Bowl has consistent swells, as well as the strongest southern ocean currents that move out to sea in unpredictable directions, so it's strictly for experienced surfers. Crowds are a hit and miss, but most of the time it isn't very packed, owing to its far-flung location and tough access.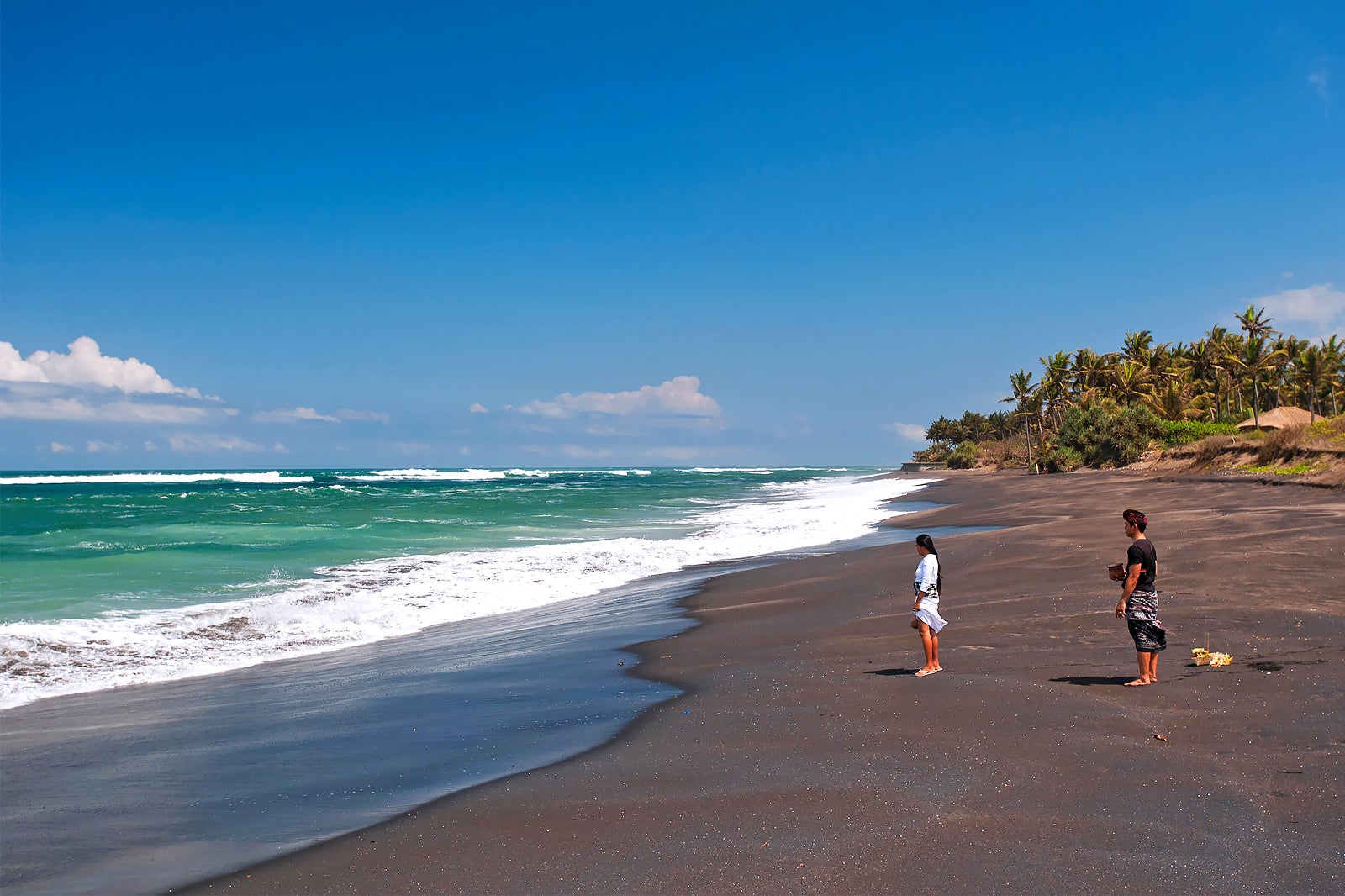 Canggu has many different surf spots. One of the most famous is Pantai Batu Mejan, known by surfers as 'Echo Beach'. The waves here are usually larger than Kuta's, especially in the mornings. The black-sand beach and reef breaks are for intermediate to advanced surfers. Sets tend to shift during the day, and you might find yourself sitting in the line-up waiting for as long as 30 minutes before scoring the right wave. The waves are usually fast, with most preferring the lefts to the rights. You can find more peaks down the coast to the northwest, towards Pererenan Beach.
Read more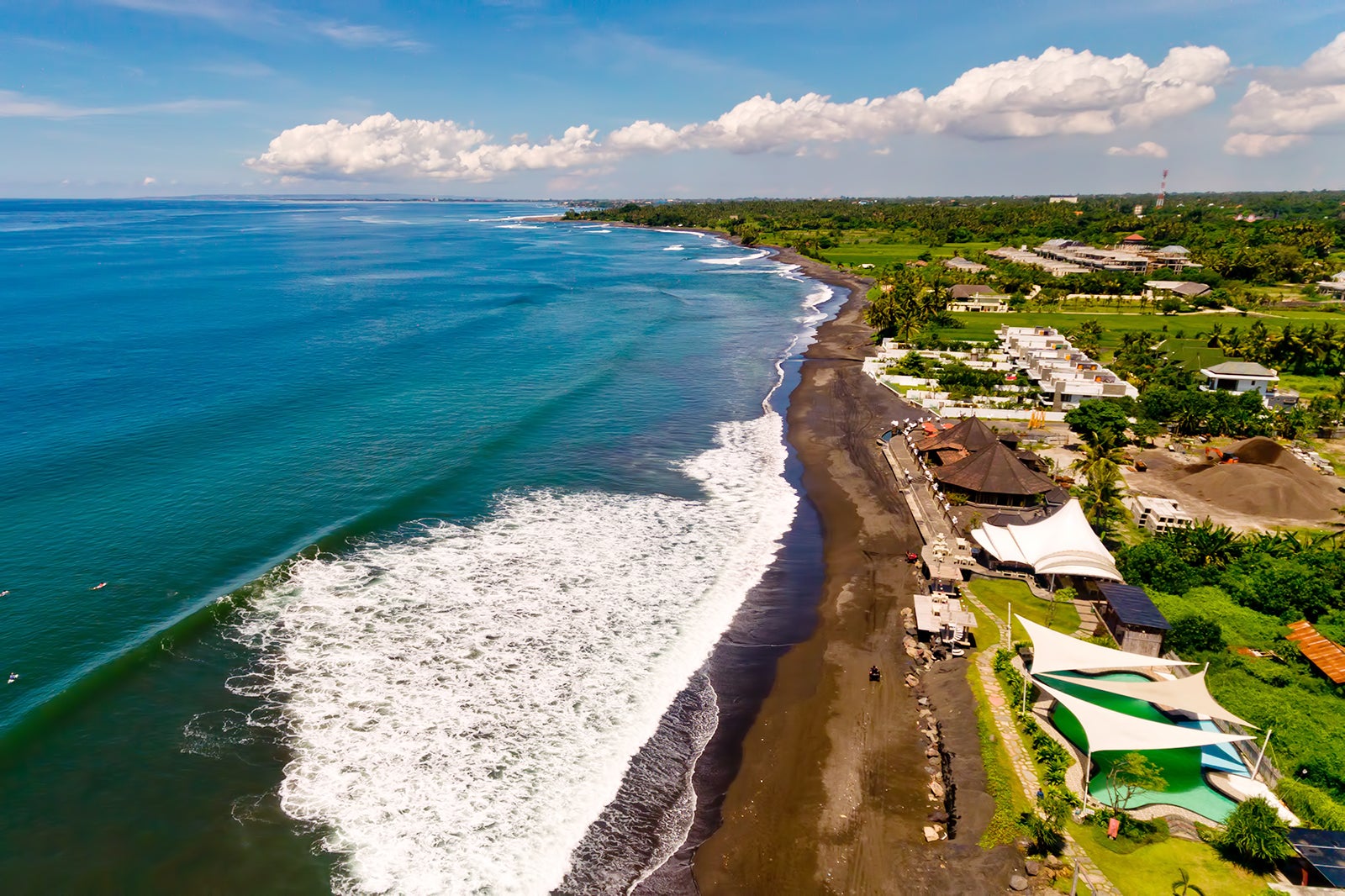 Keramas is a black-sand beach on the island's eastern coast in Gianyar. With a wide-open ocean view facing Nusa Lembongan, the Keramas beach break is home to the Komune Beach Resort & Beach Club Bali, which presents night surfing spectacles – as if day surfing wasn't enough! Eastern swells pick up and break over an uneven lava reef. The waves are mostly fast right-handers and average up to 1.5 metres. Keramas is also a regular host to major pro and grommet events.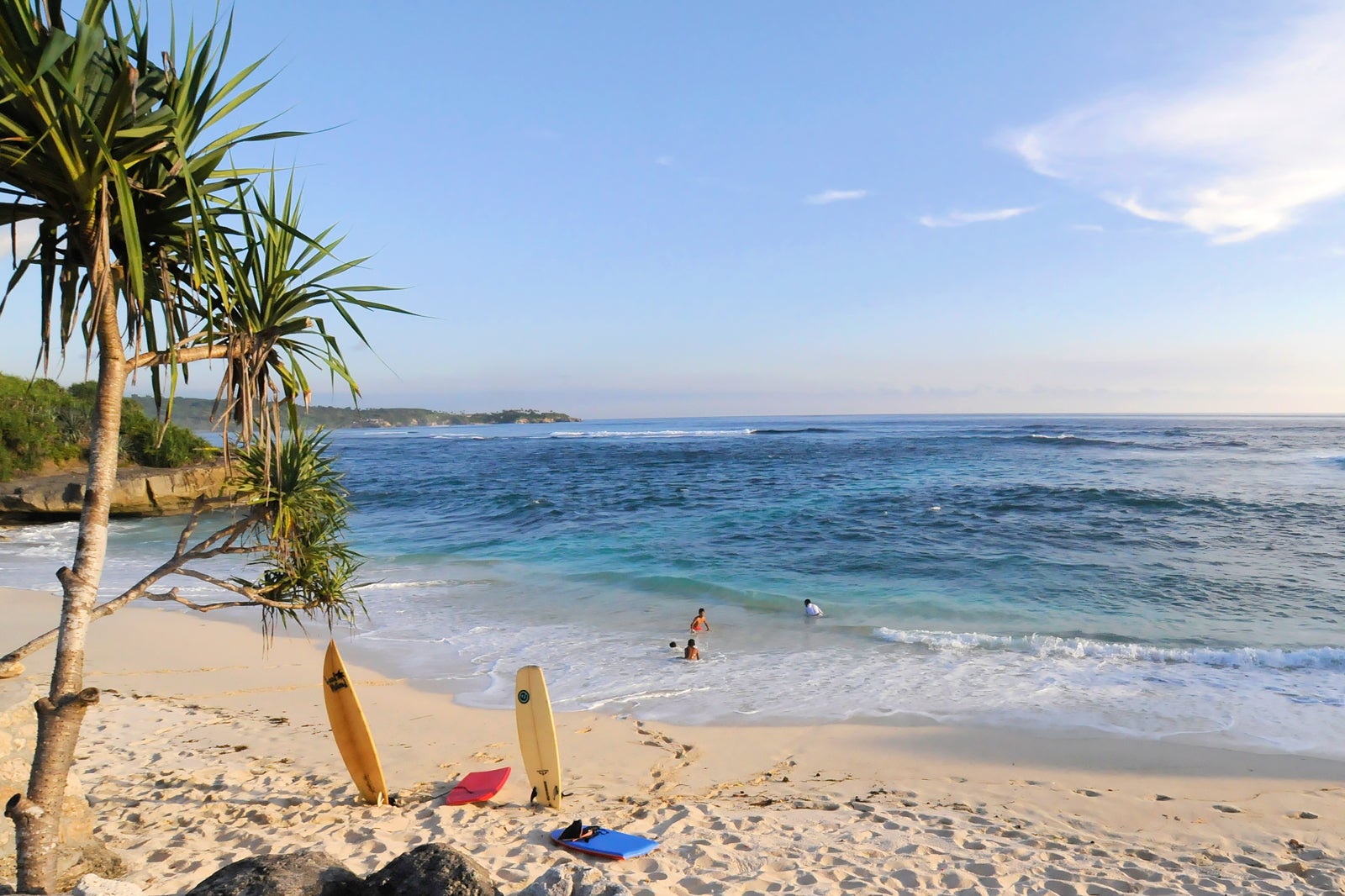 Nusa Lembongan, located southeast of the Bali mainland, has several great breaks. One of them is nicknamed 'Shipwrecks', which is marked by a ship that ran aground on its north-western reefs. This spot gets packed with surfers of all standards, but only the skilled and strong-willed will be able to secure a good barrel.
Surf spots to the south of Lembongan include Lacerations and the smaller swell at Playgrounds, which both break across a shallow reef. The latter is easy to get to and is ideal for beginners. Getting to these playing fields requires a boat ride from Nusa Lembongan's Mushroom Bay.
photo by Selamat Made (CC BY 2.0) modified
Back to top