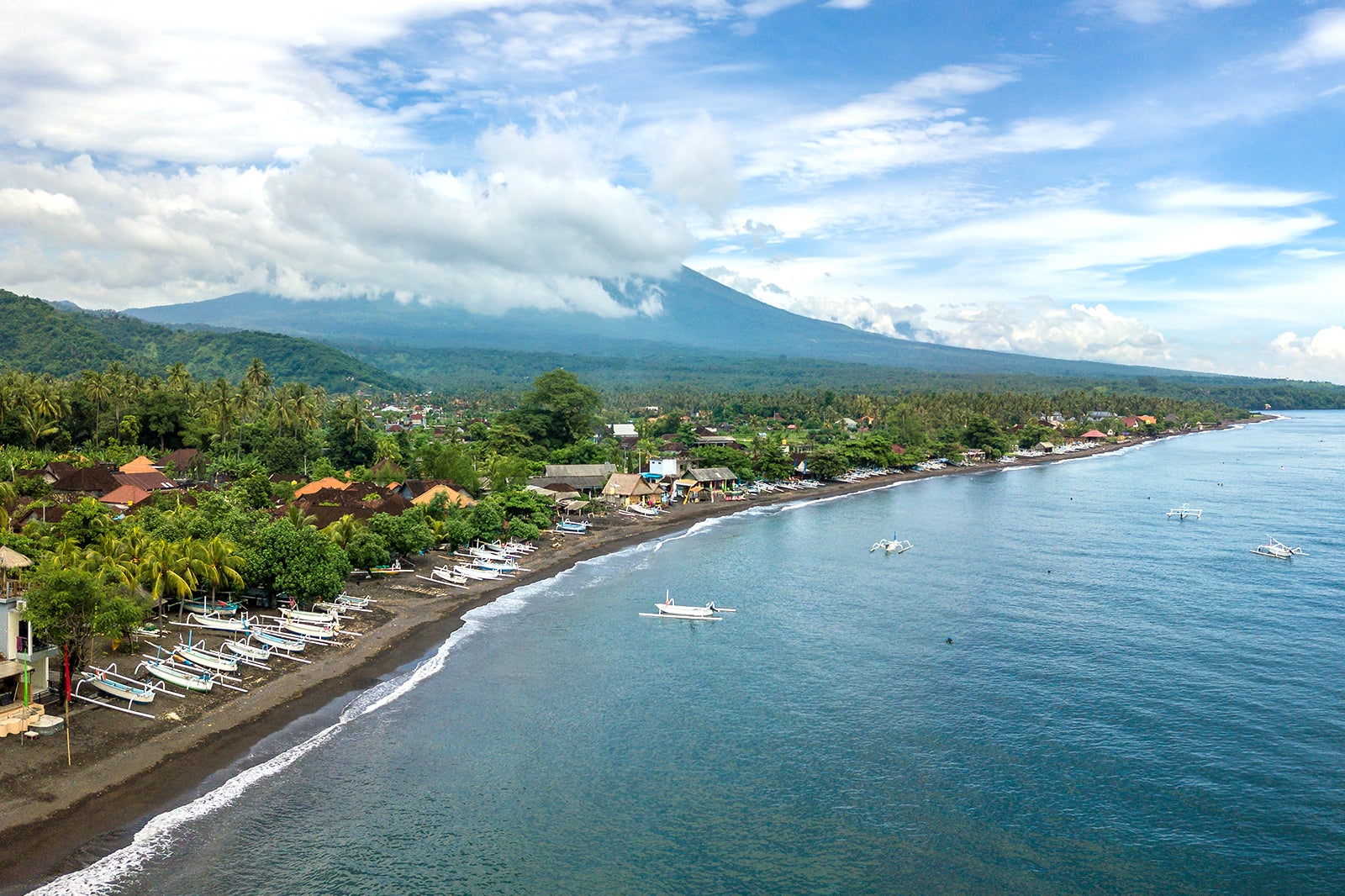 Amed Beach in Bali is most likely already on your travel itinerary if you're a keen diver. The island's eastern shoreline is an underwater playground, with Amed Beach attracting the larger crowd of divers, compared to Tulamben, another dive site located 25 km to the north. Amed Beach in Bali was once best known for its traditional salt farming.
Soon after its beautiful underwater trove was unveiled, with a historical shipwreck adding to its natural features, Amed Beach became a favourite among divers, particularly Jemeluk Bay. Ask for Amed Beach in Bali and you'd be directed to any strip along this coast that spans 7 different seaside villages: Amed, Jemeluk, Bunutan, Lipah, Selang, Banyuning and Aas. All are fishing villages, so you'll often see traditional jukung outriggers lining the coast.
Amed Beach in Bali - one of the highlights of 39 Best Things to Do in Candidasa and East Bali and 11 Secret Beaches in Bali (Read all about Bali here)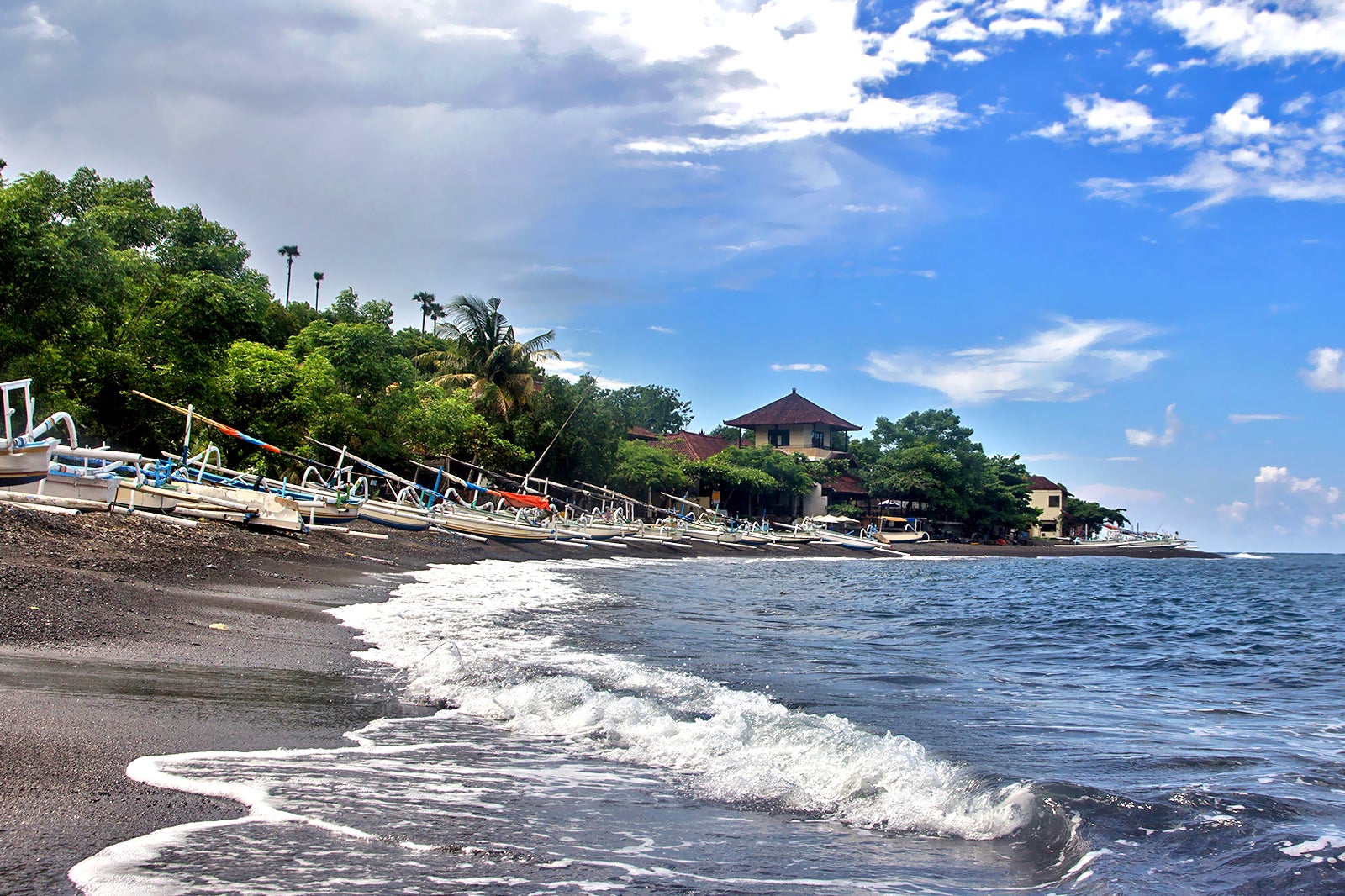 Amed Beach highlights
Amed Beach in Bali is all about 'doze, dine n' dive'. Naturally, plenty of dive operators have set up base here. Accommodation options range from simple homestays to luxury villas, while restaurants serve international and Asian cuisine. Small traditional warung stalls along the village streets can be part of your experience as well. You'll find a rather laidback atmosphere in Amed Beach, excellent for honeymooners of the adventurous type and those looking for a rustic Bali retreat.
Things to do at Amed Beach
Hotels in Amed Beach also serve as a base to enjoy neighbouring Tulamben with its US cargo shipwreck, the USAT Liberty. So, you'll get the chance to experience both prominent dive sites in one convenient stay. Start out in the early morning aboard traditional outriggers. At various points, including the Japanese shipwreck at Banyuning, the teeming marine life here includes various tropical fish, sea turtles, reef tip sharks, rays and vibrant coral gardens. The WWII Japanese patrol wreckage lies about 15 metres from the shore.
Amed Beach in Bali is also suitable for snorkelling as vast reefs span the bay. Traditional Balinese wooden boats called jukung are also available for fishing charters. Freediving, an extreme sport, is a recent addition to the line-up of activities around Amed Beach in Bali. As you finish your day out in the underwater playgrounds, loosen up with a traditional Balinese massage, delivered by skilful local women.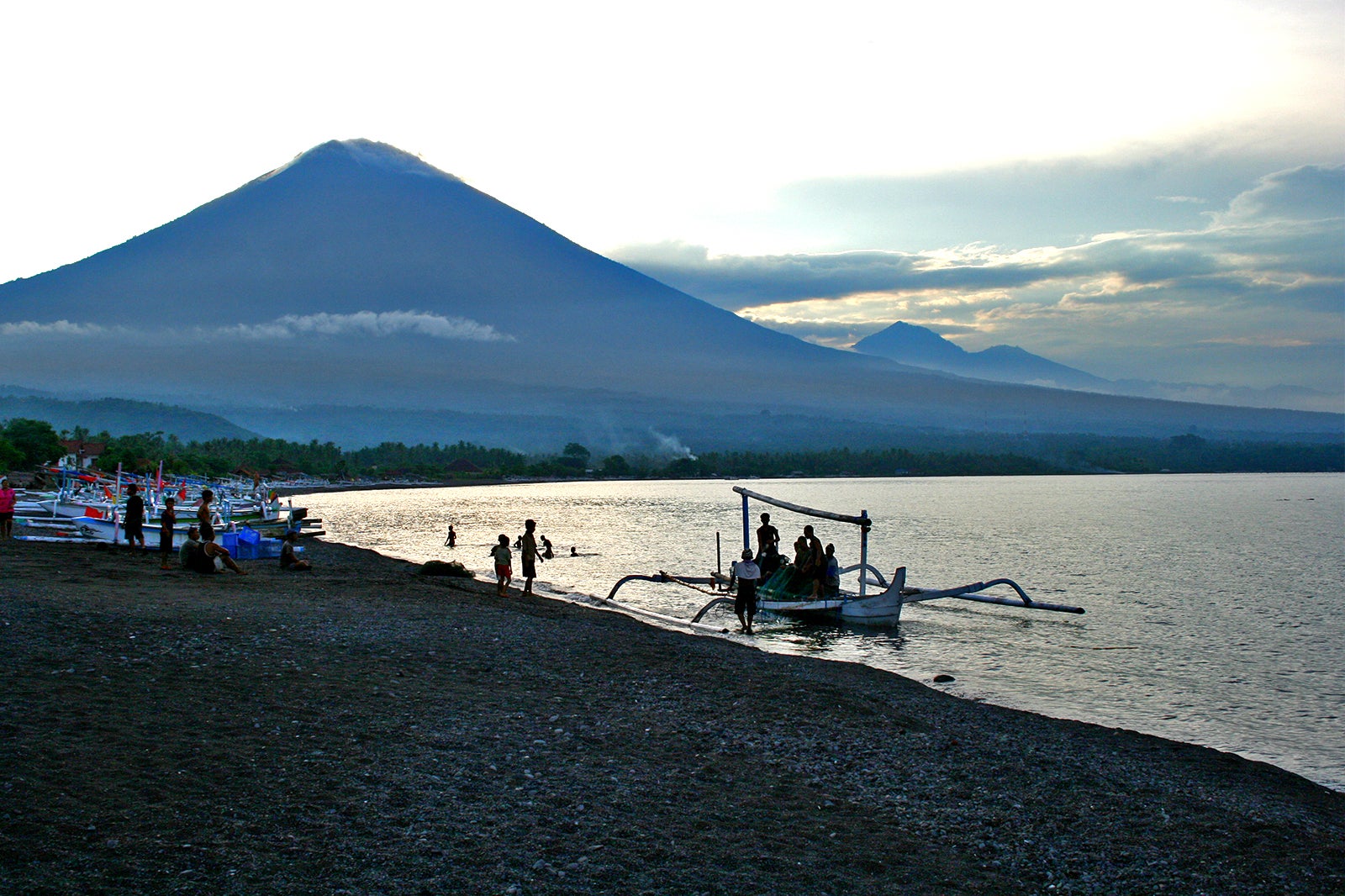 Things to see in Amed Beach
Amed Beach in Bali offers dramatic sunrises that are not-to-be-missed as your outrigger sails out for the morning catch on the glistening waves. Also, one of the overland highlights you can find on your way back from Amed Beach is traditional salt farming in the area of Purwakerti. Filtered seawater is poured into the dugout halves of coconut tree trunks and set to dry under the sun.
Local farmers harvest the remaining bright white salt crystals, which you can purchase in packets as tokens of the trip. A 2.5-hour-long journey back to the south will offer you more viewpoints that are scenic, alongside other attractions in the Karangasem and Klungkung regencies, such as the Tirta Gangga water gardens and Goa Lawah Temple.
Amed Beach in Bali
Location: Jalan Raya Amed, Bunutan, Karangasem, Bali 80852, Indonesia
Back to top