10 Best Things to Do in Annecy
What is Annecy Most Famous For?
The best things to do in Annecy show why this lovely Alpine city, surrounded by mountains and on the banks of a 27-sq-km lake, is a popular all-year-round holiday destination. It is sometimes called the "Venice of the Alps" because of the river and canal that pass through its old town. Staying in Annecy during winter places you minutes away from a choice of ski resorts and, during summer, a wide range of outdoor activities are available in the area.
Besides sporting activities, Annecy Old Town is the main centre of interest in the city. This charming medieval pedestrian area hosts attractions like St. Peter's Cathedral, museums, and lively markets. Visiting Annecy also gives you the chance to discover excellent cheeses and wines. In short, it's a great destination for your next trip to France.
What are the best things to do in Annecy?
1
Annecy Old Town
Take a stroll in the narrow lanes of 'the Venice of Savoie'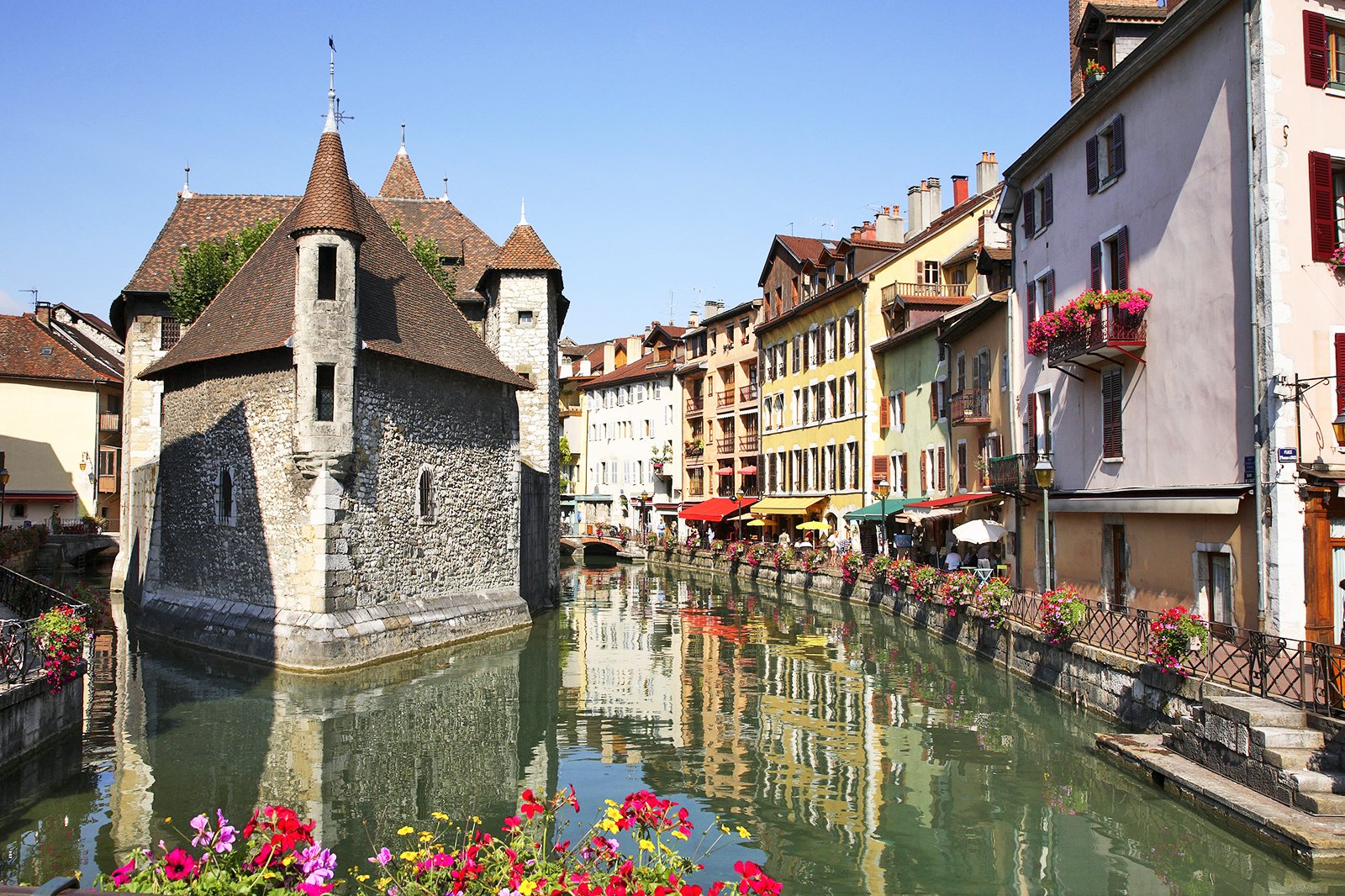 Annecy Old Town offers you a stroll into history. Settled on the banks of Lake Annecy and crossed by the Thiou River and the Vassé Canal, it features colourful Piedmontese-style buildings and notable structures like the Palais de l'Île, a 12th century prison-castle converted into a museum. Due to the narrowness of the lanes, most of the Old Town is pedestrianised. Here, you'll find a range of quaint bars, restaurants and boutiques nestled in arcaded streets and alleys.
Location: Vieille Ville Annecy, Quai de l'Évêché, 74000 Annecy, France
2
Lake Annecy
Swim in one of the cleanest lakes in Europe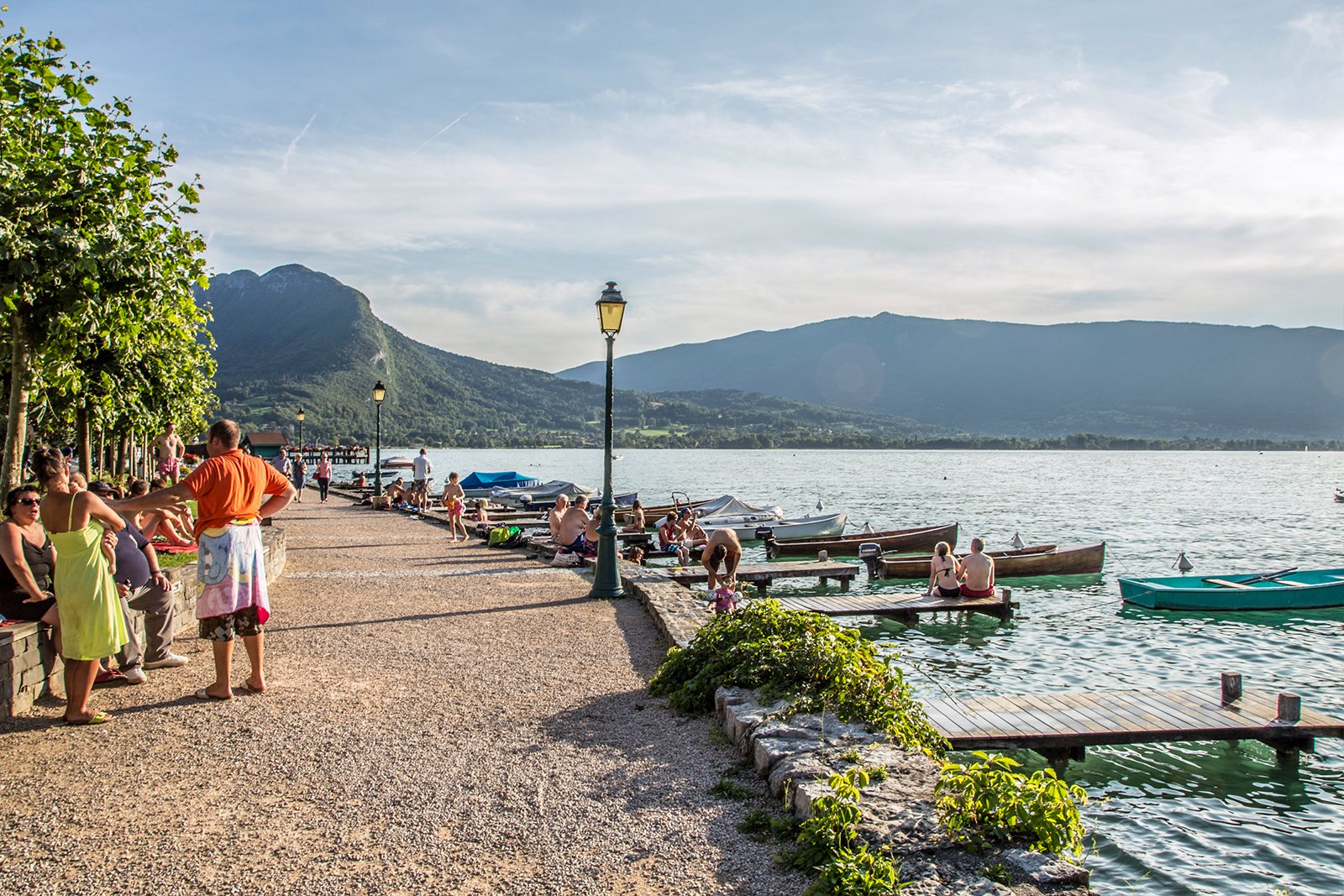 Couples
Families
Photo
Adventure
Known as one of the cleanest lakes in Europe, thanks to a strict environmental regulation dating back to the '60s, Lake Annecy offers you a good choice of beaches to laze and suntan on, as well as nautical activities to enjoy. The 2 closest public beaches to the city are Plage d'Albigny and Plage des Marquisats. Bordered by large grass areas and hosting snack bars and restaurants, these 2 beaches are great places to take a break with children, especially as they have dedicated facilities for young ones.
Location: Lake Annecy, France
3
Annecy Castle
Spend time in the Museum of Alpine Popular Art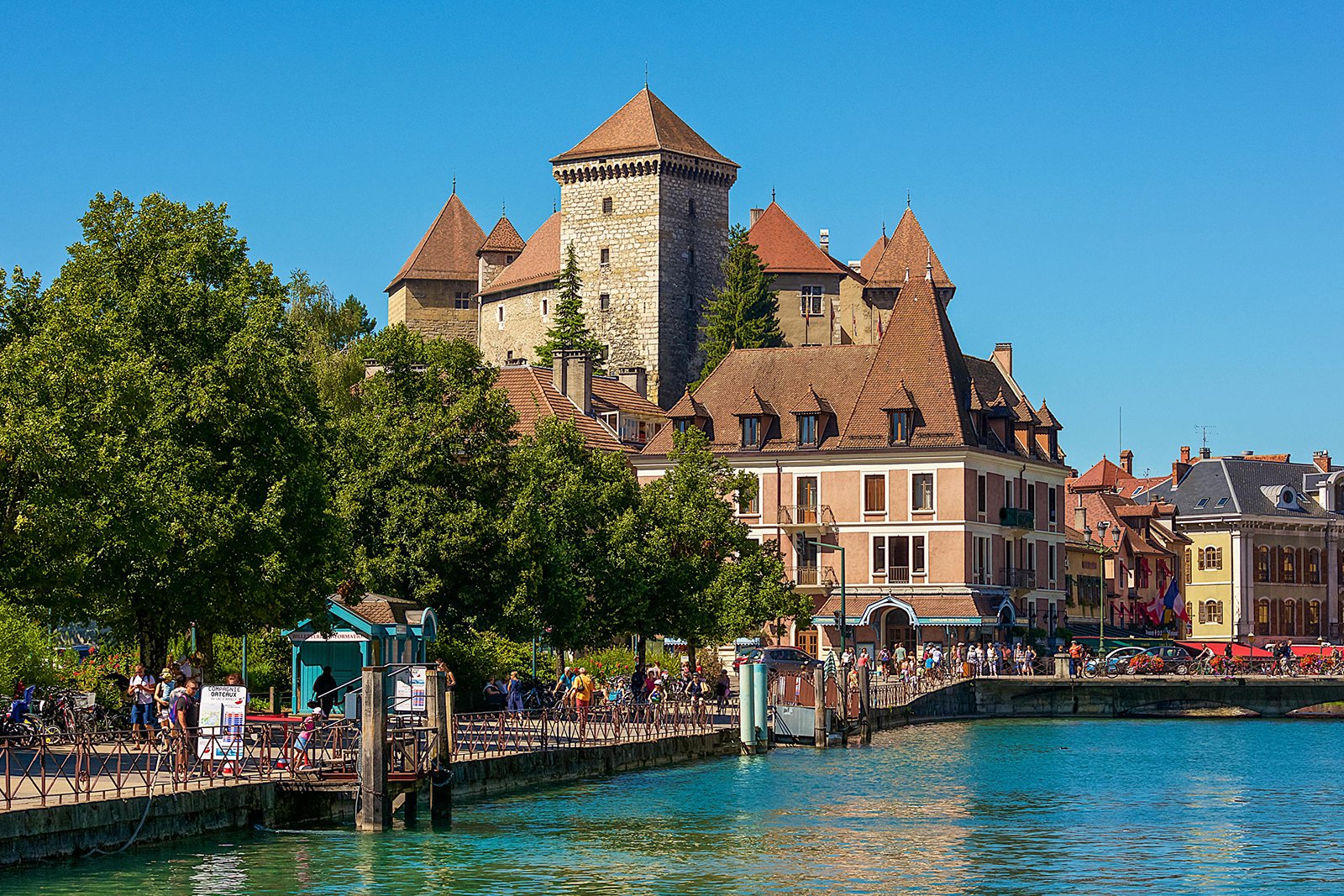 Built between the 12th and 16th century, Annecy Castle is a French Historical Monument that now hosts the Museum of Alpine Popular Art, a museum about the lake that features an aquarium and temporary art exhibitions. The rotating modern art displays in such an old settings gives a pleasant timeless feeling. Roam the rooms and corridors of the castle and do not miss the terrace, which offers a splendid panoramic view of Annecy Old Town and the lake.
Location: 1 Place du Château, 74000 Annecy, France
Open: Wednesday–Sunday from 10 am to 12 pm and from 2 pm to 5 pm (closed on Mondays and Tuesdays)
Phone: +33 (0)4 50 33 87 30
4
Gorges du Fier
Take a walk along one of the natural wonders of the Alps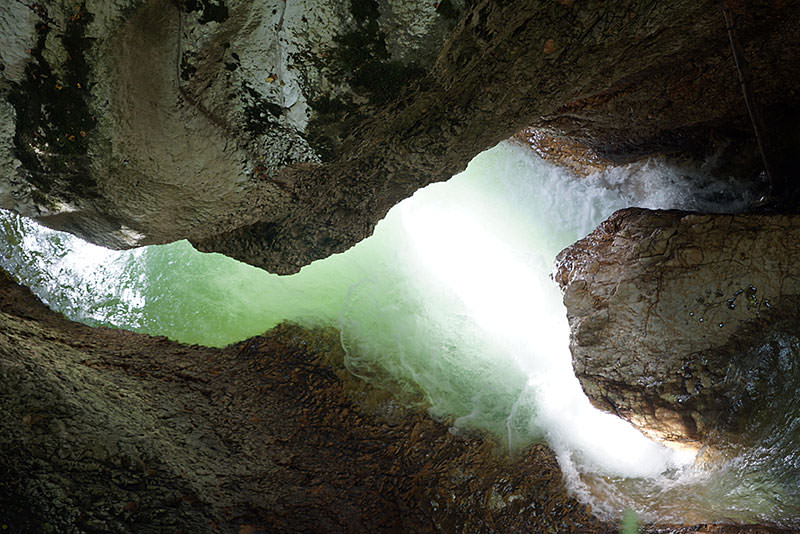 Couples
Families
History
Photo
Adventure
Located just a 15-minute drive west of Annecy Old Town, the Gorges du Fier is a canyon carved through the rocky terrain by the Fier River. One of the oldest tourist sites in the Alps, it features a suspended footbridge built in 1869, which allows you to walk in the narrow gorge, right above the river. The trail is not too challenging and you can spot and photograph giant's kettles and la Mer des Rochers (the Sea of Rocks), composed of boulders of all sizes and shapes. It's best to wear strong walking shoes and to go in the morning to fully enjoy this hike.
Location: 30 Rue du Pont des Liasses, 74330 Lovagny, France
Phone: +33 (0)4 50 46 23 07
photo by NonoSystemPhoto (CC0 1.0) modified
5
Annecy Basilica
Pay a visit to the Church of Visitation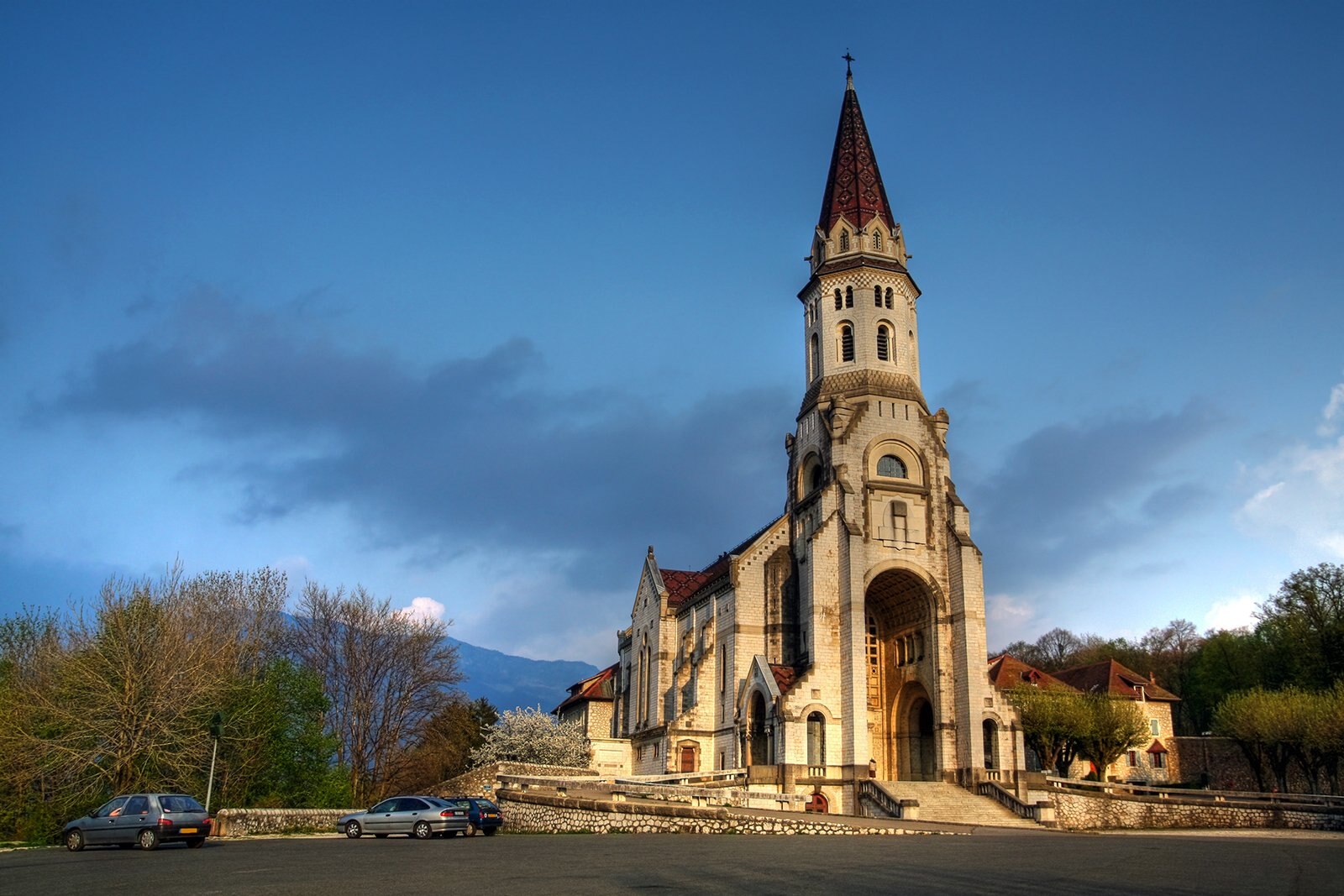 Dedicated to and housing relics of Saint-François de Sales and Saint-Jeanne de Chantal, the patron saints of Annecy, the Basilica of Visitation sits a stroll south of the Old Town. Built in 1930, in a baroque style, it's made of white stone and features beautiful large stained glass windows, lavish decoration and printed information about the 2 saints buried here. The highlight of the Basilica is the 72-metre-tall bell tower, which offers breathtaking views of Annecy and the lake.
Location: 20 Avenue de la Visitation, 74000 Annecy, France
Open: Daily from 7 am to 12 pm and from 2 pm to 7 pm
Phone: +33 (0)4 50 45 22 76
6
Challenge yourself with extreme sports
Experience thrilling outdoor activities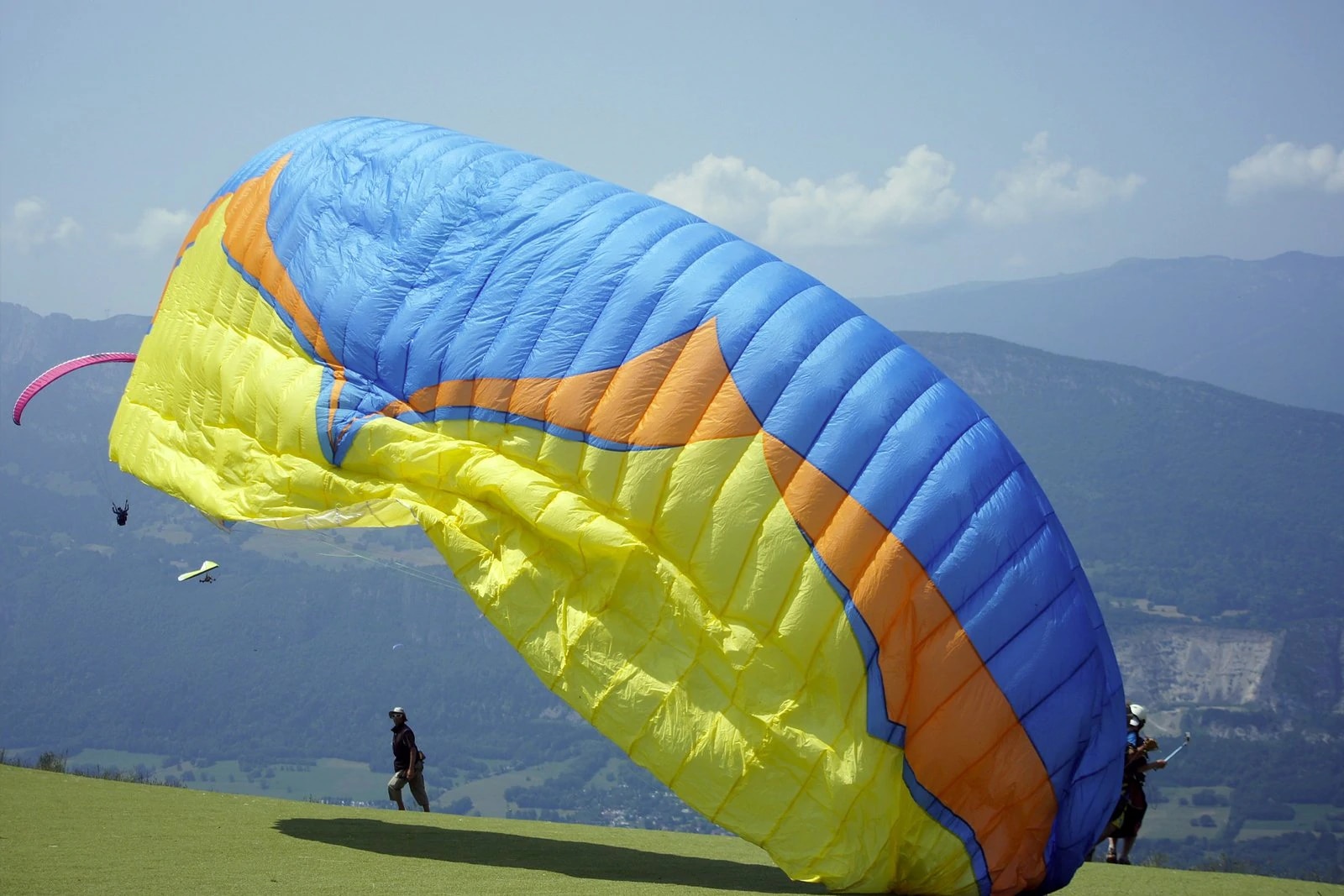 The mountainous area around Annecy and the lake it sits next to provide a great playground of thrilling outdoor activities. You can go paragliding, gorge walking, mountain biking and white water rafting, just to name a few. Many companies offer these exciting sporting activities in the area. Just get to the Lake Annecy Tourist Office on Rue Jean Jaurès to get further info on the many possibilities you have to challenge yourself in a safe and fun way around Annecy.
7
Place Georges Volland
Take in the atmosphere of Annecy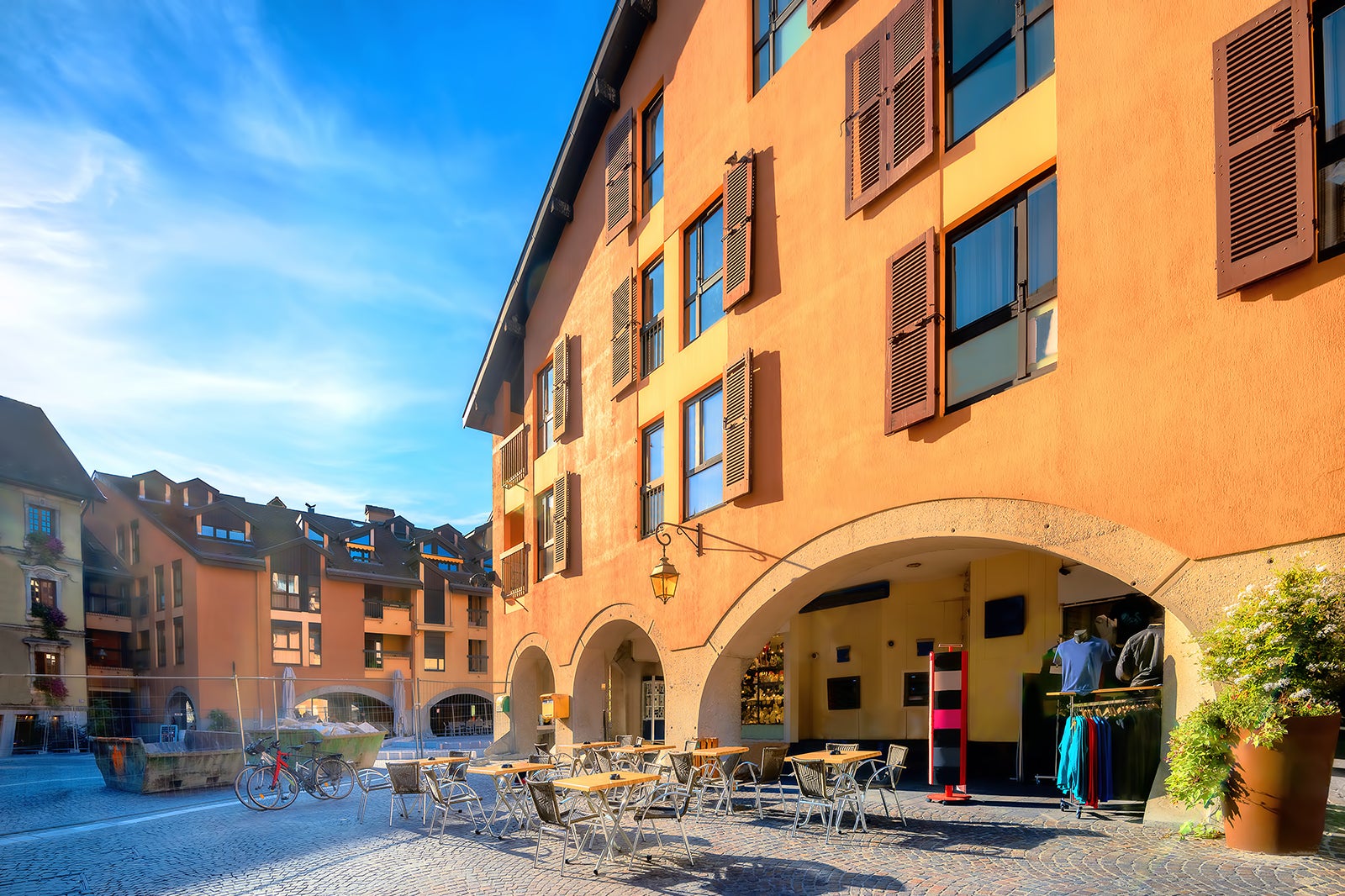 Located on the west side of Annecy Old Town, the Place Georges Volland is a good spot for first timers to take in the atmosphere of the city. Grab a box of chocolates at Philippe Rigollot's pastry shop before taking a seat at the Café de la Place. Watch people passing by, surrounded by the warmly coloured typical old houses of this Alpine region. Place Georges Volland is especially busy on Sundays, Tuesdays and Fridays, as the market is held on these days from 7am to 1pm all through the Old Town.
Location: Place Georges Volland, 74000 Annecy, France
8
Bridge of Love (Pont des Amours)
Visit an iconic bridge
The Bridge of Love (Pont des Amours) is one of the most iconic and romantic bridges in France where you and your partner can traverse an arched and flowered path. The bridge dates back to 1907 when it replaced an older bridge from the mid-19th century.
When you visit this bridge, you'll find it adorned with ornamental railings. The name comes from a local urban legend that states if 2 lovers kiss on the bridge, they'll be united forever. You'll find it crossing Canal du Vassé along the north-western corner of Lake Annecy.
Location: 74000 Annecy, France
Phone: +33 4 50 45 00 33
9
Dine in the Old Town
Check some of the best restaurants in Annecy Old Town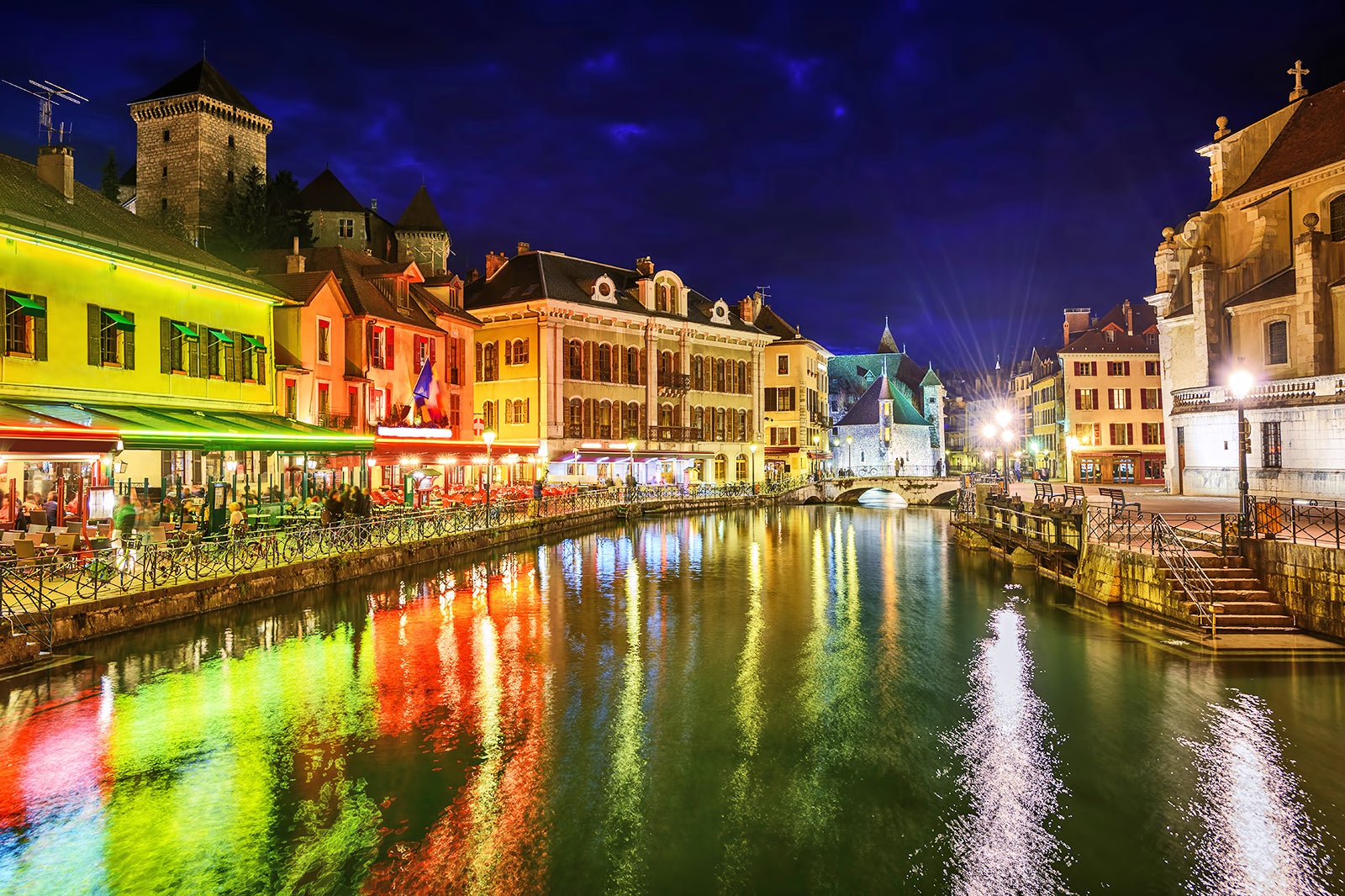 Annecy Old Town enjoys a cool scene of dining venues at which you can sample local food in a quaint vintage environment. Take your pick of the most recommended restaurants in the Old Town: Le Fréti serves traditional food in a classic Savoyan décor on Rue Sainte-Claire. Une Autre Histoire serves fusion cuisine featuring seasonal and local ingredients in a splendid bohemian setting on Rue Royale. l'Auberge de Savoie specialises in classic French gastronomic dishes in a contemporary-style décor on Place Saint-François de Sales.
Location: Vieille Ville Annecy, Quai de l'Évêché, 74000 Annecy, France
10
Nightlife in Annecy
Have a drink in the Old Town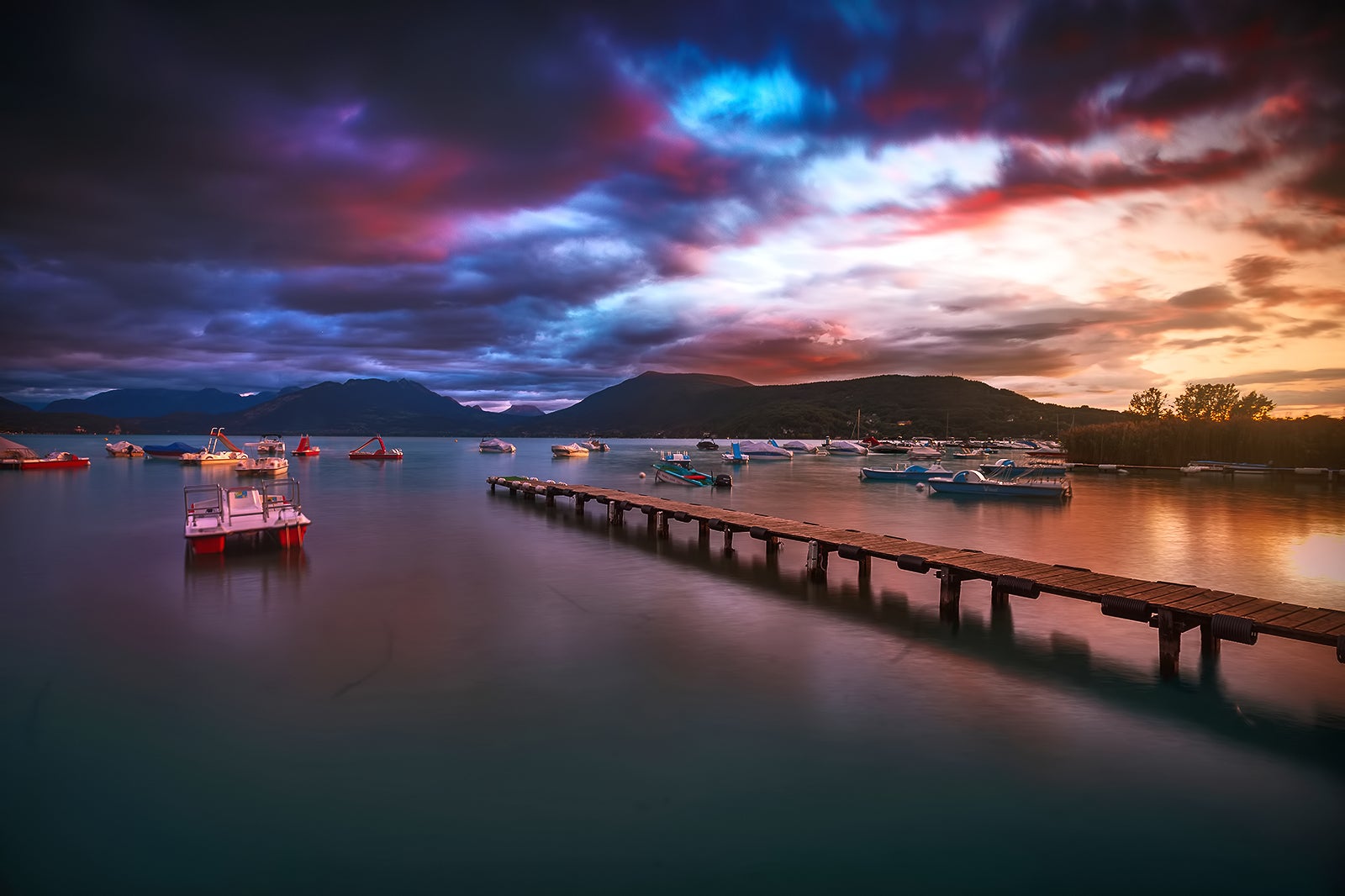 After dark, Annecy Old Town is a pleasant area to hang around for a drink or 2. Try La Queue du Coq, a cool cocktail bar located on Rue Vaugelas, or La Cave, a decently priced wine bar hidden in Passage des Échoppes. If you want to party a bit more seriously, you can head to the banks of Lake Annecy. Pop Plage is a modern discotheque. It's part of La Plage de l'Impérial, a complex that includes a hotel, casino, restaurants, and nautical activities.
Location: Vieille Ville Annecy, Quai de l'Évêché, 74000 Annecy, France
Back to top