11 Best Things to Do in Bruges
What is Bruges Most Famous For?
Our guide to the best things to do in Bruges lets you experience the city's romantic canal-side strolls, traditional local beers, and unhurried shopping among medieval architecture. During your stay in this picturesque city of Old Flanders, you can unwind at medieval rooftops that step up to the sky, learn about its history that spans back to the Vikings, and admire canals that credit the city as one of Europe's "Venice of the North," – the enjoyment expands to every sense.
Flemish masterpieces of art and architecture, quaint cobblestone alleys, chocolate shops on every corner, and, of course, beer. Bruges is an easy place to travel to and you can explore most of this quaint cobblestoned city in just a day – one you will neither regret, nor soon forget.
What are the best things to do in Bruges?
1
Belfry of Bruges
Towering over the medieval town
The Belfry of Bruges soars high above the city's medieval skyline to 83 metres. It's now a veritable icon of the town – just look up and you'll be able to see it from virtually all corners of the old centre. What's more, its location on the main Market Square means it's easy to get to on foot.
Dating back to the 13th century, the mighty tower hides a winding spiral staircase of 366 steps. At its top, sweeping vistas of the town and the countryside beyond unfold. But there are other secrets within, like the old municipal treasury rooms and music rooms. Others will recognise the belfry from the 2008 hit flick In Bruges.
Location: Markt 7, 8000 Bruges, Belgium
Open: Daily from 9 am to 8 pm
Phone: +32 (0)50 44 87 43
2
Basilica of the Holy Blood
A truly lofty relic in Bruges
Couples
History
Photo
Budget
The Basilica of the Holy Blood might be small but it sure packs a punch. Wedged into a tight corner at the southwestern end of De Burg square, it magnetises the eye with its dark Romanesque exteriors, all picked out with filigreed windows and gold statues.
But the real pull awaits inside. This church is best known as the repository of the relic of the Holy Blood, a vial that's thought to contain a cloth stained with the blood of Jesus Christ himself, said to have been brought to Bruges after the Crusades in the 12th century. All that's encased in a seriously grand altarpiece cast in white marble and gold.
Location: Burg 13, 8000 Bruges, Belgium
Open: Daily from 10 am to 5.15 pm
Phone: +32 (0)50 33 67 92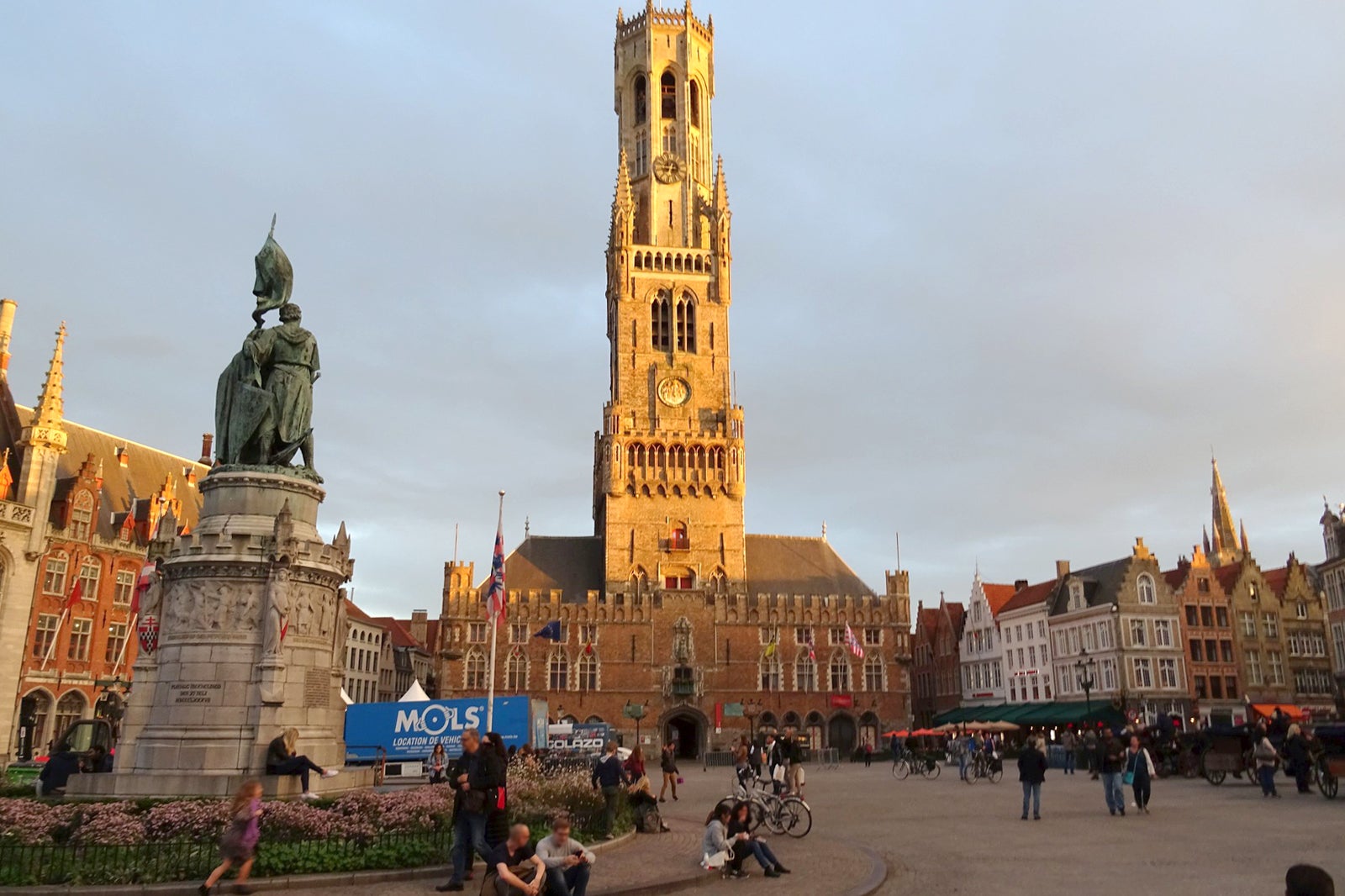 The Belfry of Bruges – known as the Belfort – was built in 1220, with additions in 1240 and reconstruction after it burned down in 1280, 1491, and 1781. Poet Henry Wadsworth Longfellow aptly wrote in a poem titled The Belfry of Bruges, "In the market-place of Bruges stands the belfry old and brown; Thrice consumed and thrice rebuilt, still it watches o'er the town." It looms over the ancient square.
Standing 83 metres high, it is well worth the 366-step climb to view the entire city. On your way up the narrow spiral staircase, you can stop and catch your breath in the different rooms along the way. On a clear day, you can see all the way to the North Sea.
Location: Markt 7, 8000 Brugge, Belgium
Open: Daily from 9.30 am to 6 pm
photo by Sjaak Kempe (CC BY 2.0) modified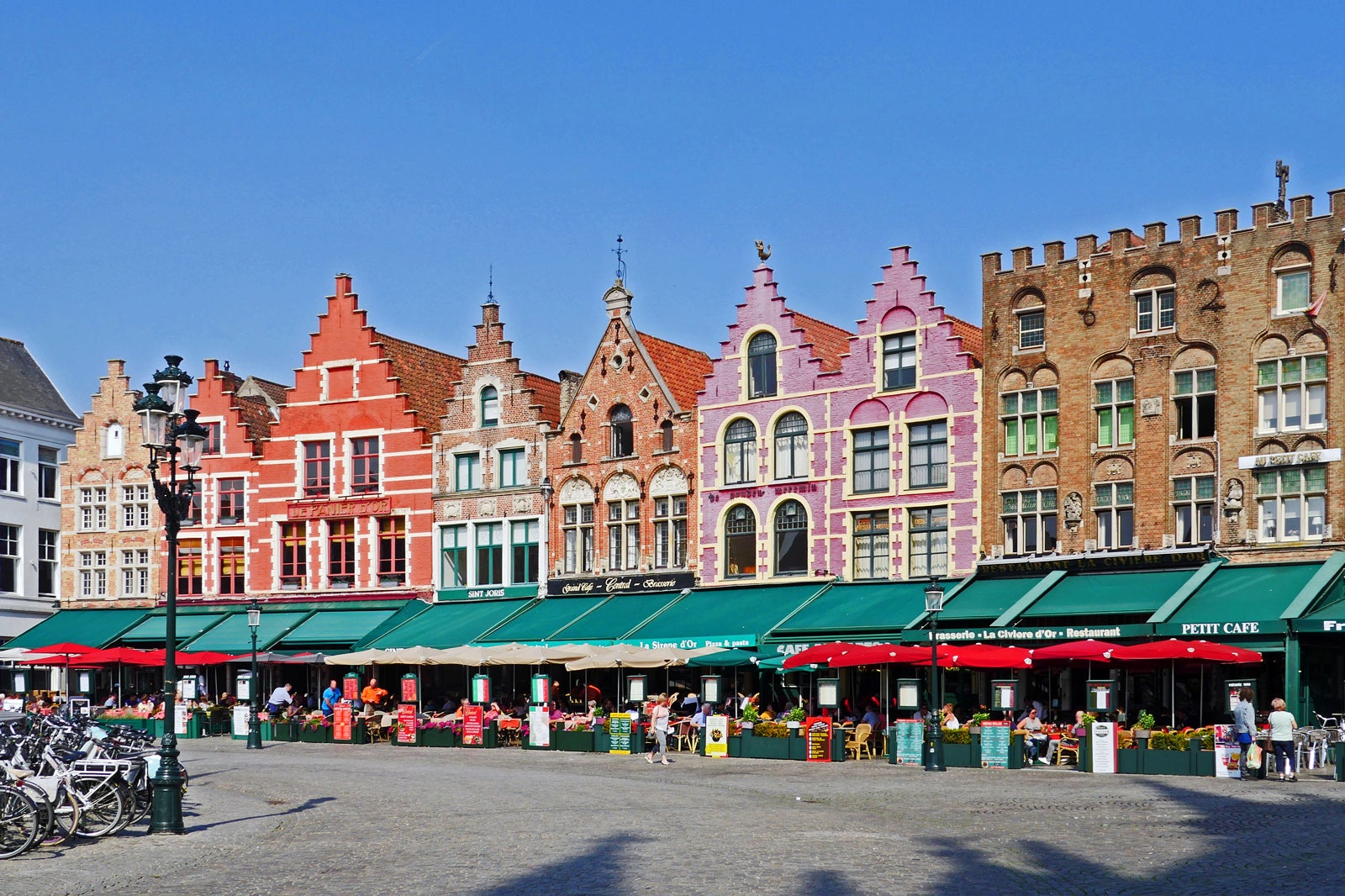 Couples
History
Photo
Budget
The Market Square (Grote Markt) is the heart of medieval Bruges. In the centre is a statue celebrating Jan Breydel and Pieter de Coninc, the heroes of the Battle of the Golden Spurs in 1302, when a French Belgium was forced to recognise the Flemish emancipation. Appreciate the medieval-style houses – their roofs literally look like stairs to the clouds, and the colours are just as warm as the charm.
You can find various hotels with restaurants on the ground level that extend into the square. You can enjoy essential Belgian delights like fries, fresh mussels, local beer, and donuts. These restaurants do cater to tourists, so don't expect the best prices in town but certainly enjoy the ambiance. The square is free of cars, but keep your eyes open for bicycles, mopeds, and buses.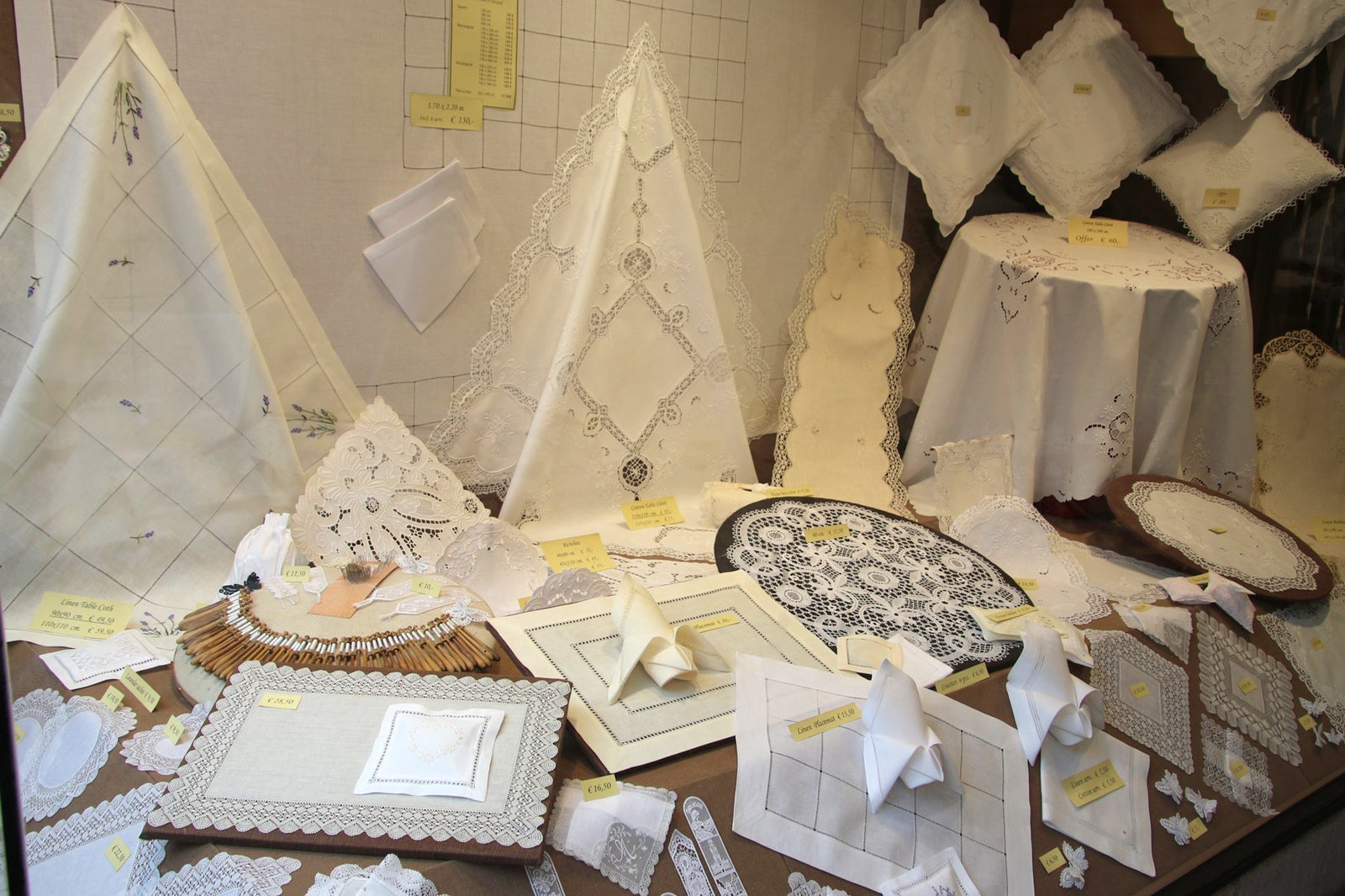 Traditional lace-workers sell their wares at Kantcentrum, while boutiques like Point de Bruges sell delicate embroidered lacework in Sint-Anna Quarter. You'll also find about 50 chocolatiers inviting you to sample Bruges' most famous treat.
2 local breweries are open for visits, tastings and sales – or just call in at any supermarket and take home some fine Belgium beer. Dozens of antique shops offer treasures, with bargains at the weekend market on the Dijver canalside.
6
Church of Our Lady Bruges
An art lover's dream
The Church of Our Lady Bruges is arguably the most striking architectural feature in Bruges. Tucked behind a bend in the city canals (about a 6- minute walk from the main Market Square), the gorgeous structure is marked out by its grand flying buttresses and 115-metre-high belltower. You can't miss it.
Inside, you can see a marble sculpture of Madonna and child by none other than the legendary Michelangelo – certainly the most prestigious piece of art in town. Add in paintings by Sir Anthony van Dyck and moody altarpiece triptychs and it's easy to see why this is one of Bruges' must-sees.
Location: Mariastraat, 8000 Bruges, Belgium
Open: Monday–Saturday from 9.30 am to 5 pm, Sunday from noon to 5 pm
Phone: +32 (0)50 34 53 14
7
Bruges City Hall
A relic from the 1400s
The Bruges City Hall is a piece of history in the heart of the Bruges Old Town. It stands as one of the oldest city halls in the whole of the Low Countries region, rising above the canals on the eastern edge of Burg Square, within easy walking distance of anywhere in the historic core.
Dating back all the way to the 1420s, the building showcases some of the grandest Gothic features of any municipal building on the continent. Check the vaulted domes of the interiors and the highly carved windowpanes outside. Within, there are also murals painted by Albrecht De Vriendt that depict stories from the history of the city itself throughout the Middle Ages.
Location: Burg 12, 8000 Bruges, Belgium
Open: Daily from 9.30 am to 5 pm
Saint John's Hospital (Hospitaalmuseum) was built in 1188 as a hospital for pilgrims and passersby in need of medical and religious attention before their deaths. Nuns and monks ran it from the 9th to 19th centuries, when a proper hospital was built.
Fortunately, the old one remains open for visitors and displays works of some of the best Flemish artists. The audio tour is free, as are the little chairs. Make yourself comfortable and pay attention to the painting of the original hospital, which gives you an inclination of what public healthcare was like in the past.
Location: Mariastraat 38, 8000 Brugge, Belgium
Open: Sunday–Saturday from 9.30 am to 5 pm (closed on Mondays)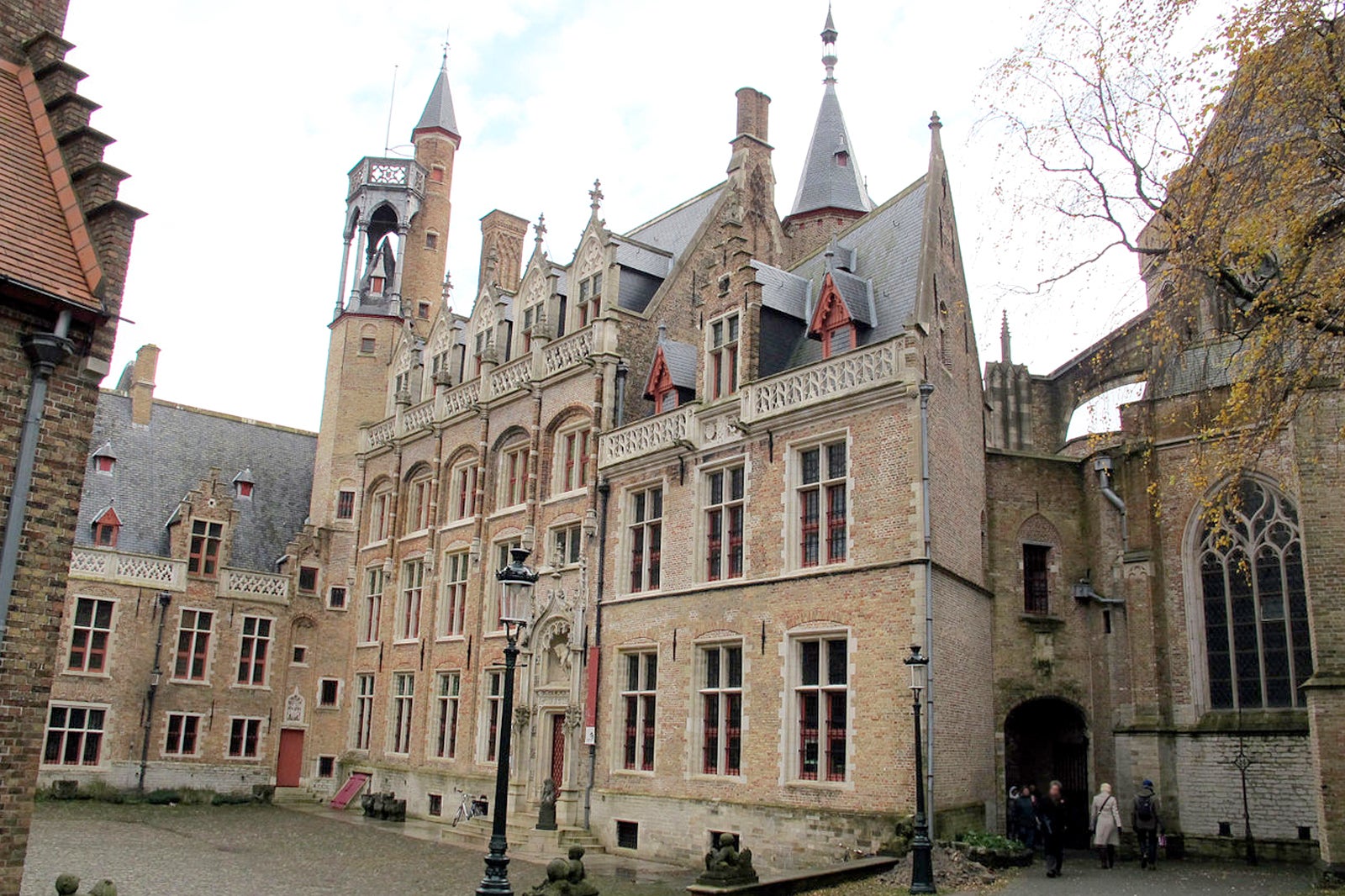 The Gruuthuse Museum (Gruuthusemuseum) is a mansion that once belonged to the Gruuthuse family, one of the richest in Bruges. The Gruuthuse's held quite a monopoly over the beer brewing market, and the house still holds many of their treasures from as far back as the 13th century. Audio tours in several languages are available for free at the front desk.
There's a 3-piece oil painting on the altar that is worth spending some time in front of, and there are small folding chairs available for just that reason. Outside, listen for the harp player in the square. Located in medieval Bruges, Gruuthusemuseum is within a 5-minute walk of Belfry of Bruges.
Location: Dijver 17, 8000 Brugge, Belgium
Open: Sunday–Saturday from 9.30 am to 5 pm (closed on Mondays)
Phone: +32 (0)50 44 87 43
photo by sailko (CC BY-SA 3.0) modified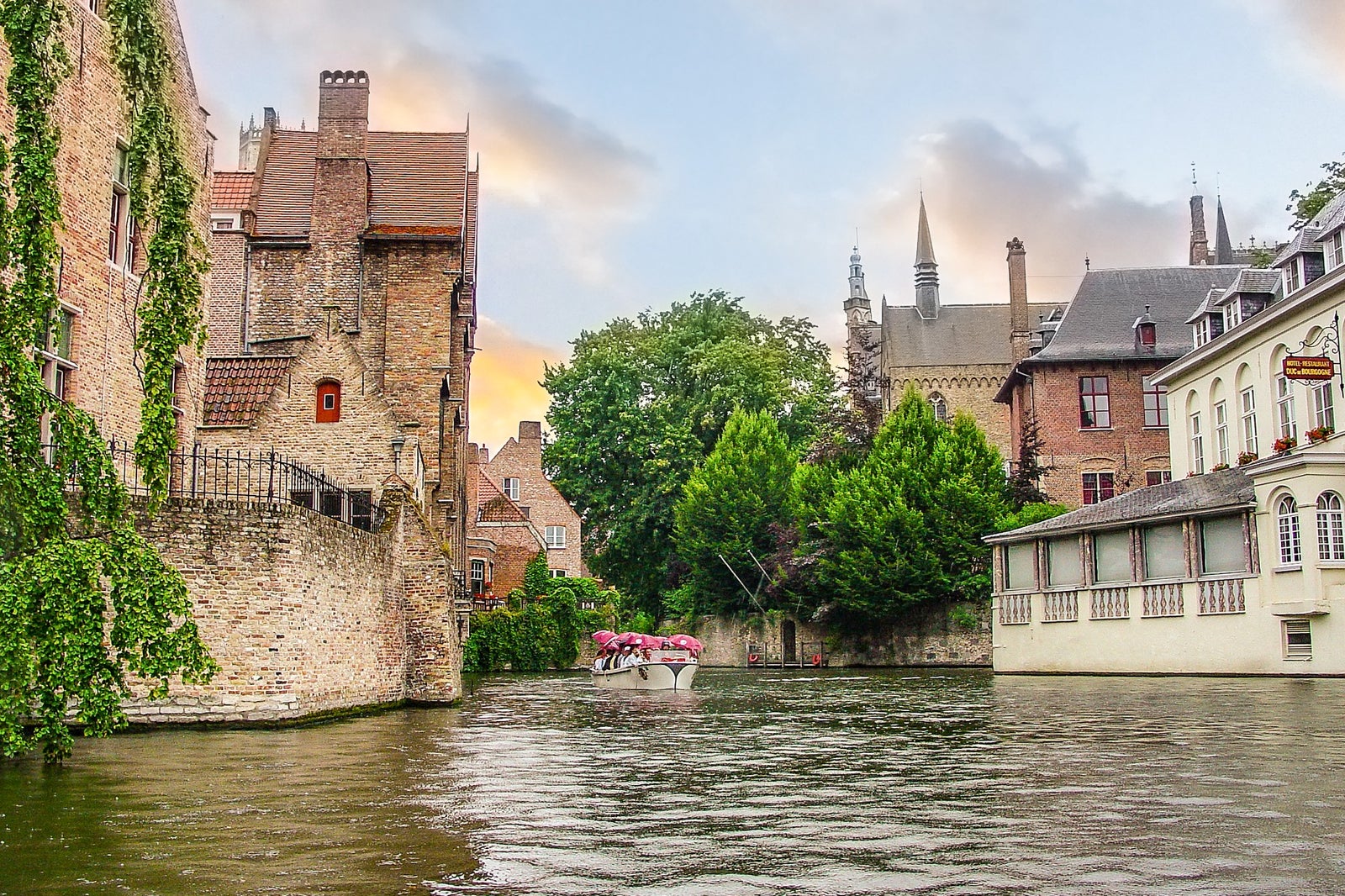 Bruges' cobbled lanes, canal bridges and main squares Markt and Burg have a fairytale-like scenery throughout the day (and night). Swans often glide along city centre canals like Dijver. The biggest attraction of a Bruges city break is simply wandering its beautiful old streets, admiring medieval mansions, art galleries, and tempting chocolate shops. Dine on specialities like waterzooi stew and moules-frîtes (mussels and fries), or linger over strong coffee or local beers at one of the many pavement cafés.
11
Bruges' windmills
Visit St. John's House Mill and Koelewei Mill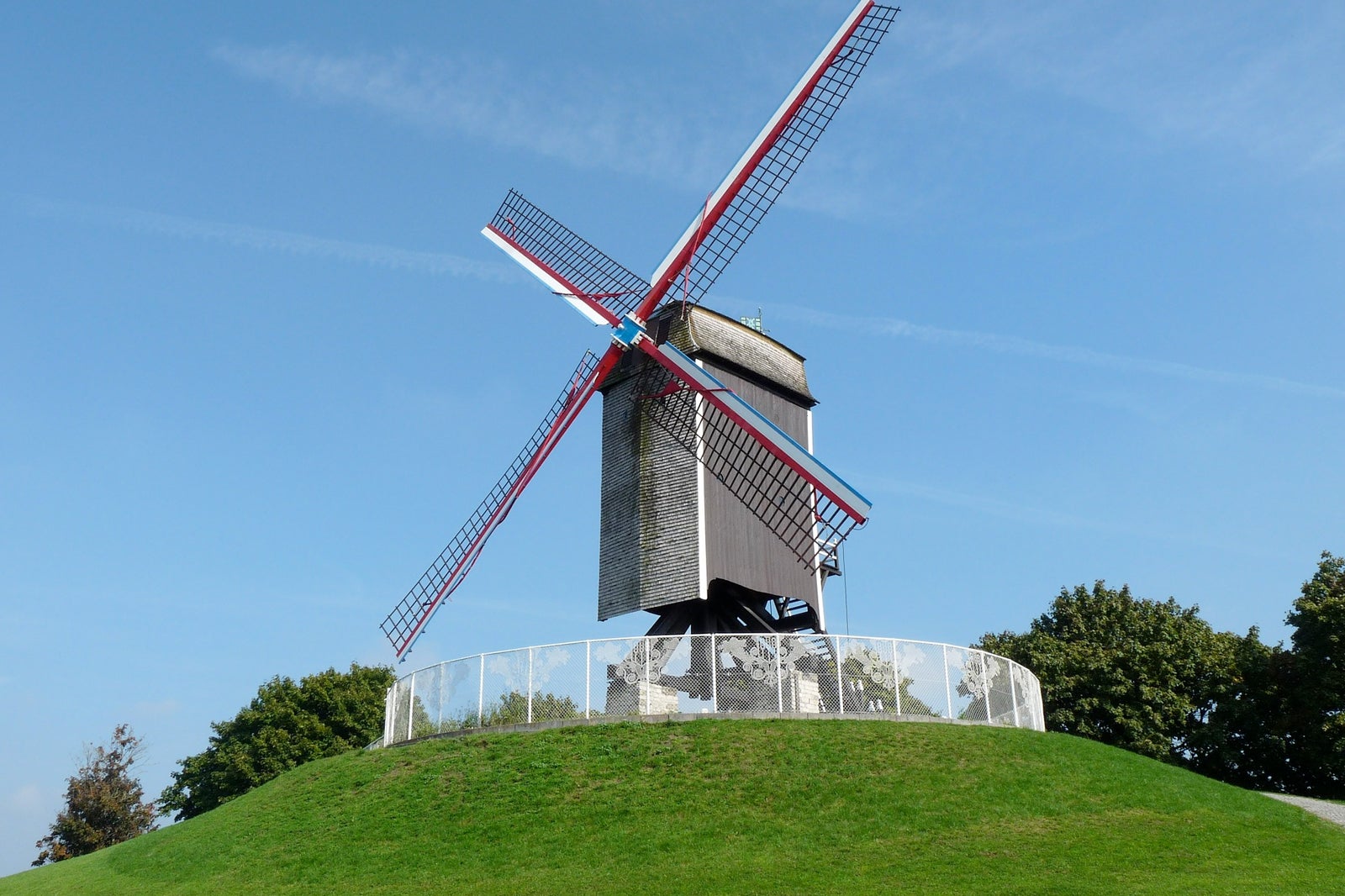 St. John's House Mill and Koelewei Mill (Sint-Janshuismolen and Koeleweimolen) are just 2 of the 4 windmills along the park and river that encircles the city. Both structures are about a 12- to 15-minute walk from any point in central Bruges. Built in 1770 and 1765, they're functioning grain mills and museums that can be visited.
Saint John's House Mill is on a hill that offers a beautiful panorama of the city. Take a stroll along the river and decide which of these 4 windmills is your favorite. The main square on 'T Zand has a modern red building which holds a tourist information center. They are very nice, speak English, and sell a 3-museum pass, which will likely save you some euros even if you only plan on visiting 2 museums. They also include a drink and a one-day bike rental!
Back to top