Hotels in Bangsar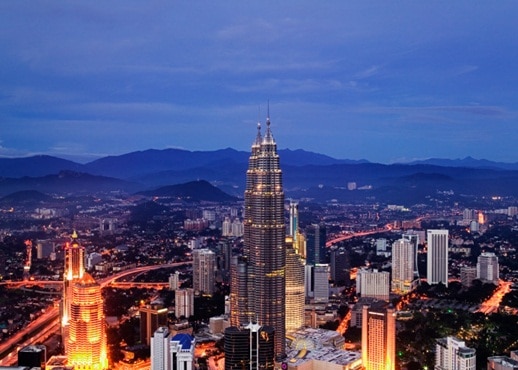 Find out more about Bangsar
Discover Bangsar
It comes as no surprise that Bangsar has among the best high-end eateries and vivacious nightlife spots in Kuala Lumpur. Whether it's to catch up with friends by the panoramic view of KL city skyscrapers on luxurious rooftop bars, clubbing haven for social butterflies or quirky café enclaves, every areas of Bangsar is full of buzzing atmosphere from day to night. Flowered with prominent shopping areas surrounding this urban neighbourhoods and interconnected with the KL Sentral, Malaysia's largest integrated transit hub, Bangsar is literally, the most convenient point for you to access anywhere in Malaysia.
Where to go in Bangsar
Very few neighbourhoods emits a local vibe amidst a lively atmosphere like Bangsar. Also popular for its unique artisanal bakeries, home recipe foodies, independent boutiques and artsy pop up stores among urbanites, regardless where your interest lies, Bangsar has something for everyone. We've handpicked some of the best attraction sites not to be missed in Bangsar.

Little India, Brickfields: To get a wholesome Indian culture experience, Little India got you covered. What's better than embarking on the Brickfields Heritage Walk, where each trails offers a unique sight, smell and taste of the purest Indian heritage attractions. Discover the mighty 100 years old Madras-style Sri Ramalingeswara Eswarar temple, get carried away by the blooming scent of colourful flower garlands along the streets or marvel at trays of pretty indian sweets as you go. Put your bargaining skills to test at the Indian-centric bazaar brimming with unique bejeweled gold accessories, beautiful saris and music CDs.
Bangsar Village I & II Malls: Two reputable sisters shopping hub of Bangsar that has expanded from a single mall (Bangsar Village I) housing delectable food restaurants and Village Grocer, a premium grocery outlet to a second retail mall (Bangsar Village 2) housing hipster cafes and international label boutiques. The malls also hosts abundant of parental and child bond building activities, ranging from sports, music and art playland for kids and fitness centre-cafe for a one-of-a kind experience for both mother and child.
Upstage Lounge: If the idea of an all-exclusive private entertainment with a French twist excites you, this place is jam packed with exciting events, fun activities and irresistible daily promotions regardless whichever day of the week you are at. Indulge in delicious traditional French cuisines at the famous restaurant "Rendez-Vous", it's as though you have been teleported to France. Ascend one floor up to Upstage Lounge where you will truly experience of what makes the phrase "night is still young". Get ready to be moved to tears to the sound of world class music performed by talented artists world-wide, burst out laughing to quirky catches of stand up comedians, and sing along to the best of Jazz with a glass of house specialty cocktails and wineries that emits an unctuous mouthfeel of haven.

What to eat in Bangsar
Bangsar offers fusion restaurants, day cafes-turned-night pubs and irresistible dessert quarters that soothes the pickiest soul. From award-winning vegetarian indian cuisines at WTF Restaurant, the best banana leaf rice at Devi's Corner at Jalan Telawi, to heartwarming Sin Kee's "Mun Fun" (steam rice) and pork chop, to sumptuous full course Malay buffet at Rebung, there are plenty of local gastronomic delights that has kept visitors coming back for more.

And if you are looking for great places to celebrate special occasions, Dancing Fish Malay-Indo Cuisines is perfect for family dinner gathering and we say, why not pamper everyone else with delicious ice cream at Inside Scoop before heading to Mantra Rooftop Bar for an exclusive view of the the city light? If street food is your thing, the Bangsar Sunday Market will sure to delight!
Where to stay in Bangsar
If you are looking to experience the best dining and extravagant nightlife in Malaysia, Bangsar is undoubtedly a much sought-after social hang out and accommodation spots for both local and international tourists alike. Be it a luxurious stay in a 4-star Aloft Kuala Lumpur Sentral, best family stay in Ascott Sentral Kuala Lumpur or budget-friendly Signature Hotel KL Sentral in Bangsar. Hotels.com offers both quality and comfortable accommodation in Bangsar, Malaysia.
Hotels.com is an ideal place for value-conscious travellers who seek for convenient stay in Bangsar. Hotels.com recommends strategic location & budget-friendly accomodations perfect for both business & leisure travellers. Travel worry-free by choosing from 7 excellent hotels with 37 genuine reviews on Hotels.com .
Check out for our promo code available on your favourite hotel and don't miss out on last minute offers again. Make your reservation online on Hotels.com today!