Urban Buzz in Newcastle Upon Tyne - Nightlife, Art, and History in Northeast England's Biggest City
Urban Buzz in Newcastle Upon Tyne - Nightlife, Art, and History in Northeast England's Biggest City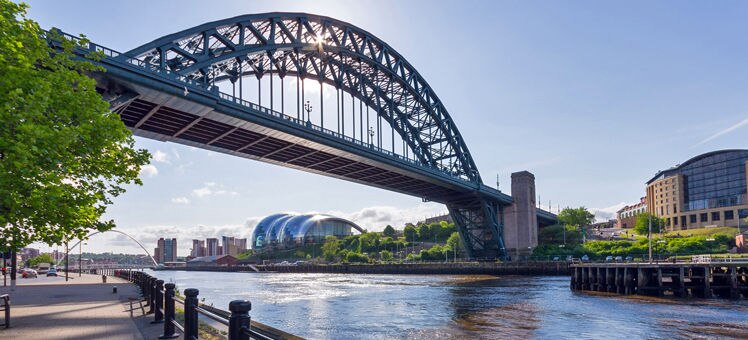 Hoping for a lively city break with a dash of culture, vibrant street life, and perhaps a breath of fresh sea air? You're going to like Newcastle Upon Tyne. You'll find renowned contemporary art venues here, plus classical music, shopping, and very lively nightlife. There are Roman ramparts and medieval castles nearby. North Sea beaches and the wild moorlands of Northumbria are on your doorstep.
Central Newcastle Upon Tyne
Newcastle Upon Tyne's city center is a medley of medieval and modern sights and attractions. The hub of the oldest part of town is 12th-century Newcastle Castle, the stronghold that gives the city its name. The eclectic Great North Museum:Hancock has galleries dedicated to everything from natural history to Roman Britain and ancient Egypt. North of the Castle, you'll see clusters of stylish Victorian buildings around Grey Street and Grainger Market. Dozens of bars, cafés, restaurants, and clubs liven up Bigg Market neighborhood, hub of city nightlife.
Newcastle Castle, Castle Garth, Newcastle NE1 1RQ; Tel: +44 191 230 6300; Website: Newcastle Castle

Great North Museum:Hancock, Barras Bridge, Newcastle NE2 4PT; Tel: +44 191 222 6765; Website: Great North Museum:Hancock
Newcastle Quayside
On the banks of the River Tyne, Newcastle Upon Tyne's Quayside is a lively, regenerated neighborhood. It's packed with places to eat and drink. In earlier ages, this was the city's merchant quarter. You can glimpse what life was like in 17th-century Newcastle by visiting Bessie Surtees House, once the home of a local noblewoman. For the best view of 7 iconic bridges that span the Tyne, take a 2-hour cruise with a company like River Escapes.
Gateshead
Cross the River Tyne to Gateshead for a taste of cutting-edge art. The BALTIC Centre for Contemporary Art, a remarkable venue within a former industrial building, has placed this neighborhood on the south bank of the Tyne on the cultural map. So has artist Antony Gormley's Angel of the North, an airliner-sized steel statue that towers above the A1 highway on the outskirts of Gateshead. Nearby, the huge metallic shell of the Sage Centre hosts concerts and shows.
South Shields and Jarrow
Two historic attractions make the short journey from central Newcastle Upon Tyne to South Shields worthwhile. A visit to Arbeia takes you back in time to the heyday of the Roman Empire in Britain. Built almost 2,000 years ago, this legionary fortress has been carefully and colorfully recreated. Nearby, Bede's World is another time-trip. This visitor center focuses on the early missionaries who brought Christianity to this part of the world in the 7th and 8th centuries.
Newcastle's seaside and aquarium
Newcastle Upon Tyne's seaside starts north of the mouth of the River Tyne. Kiteboarders and windsurfers head for sandy beaches such as Longsands at Tynemouth. A stroll along the sands here is guaranteed to blow away any cobwebs left over from late-night partying in town. For a taste of the Dark Ages, you can find tumbledown ramparts and the remains of an early Christian settlement at Tynemouth Priory and Castle. Nearby, seals swim in an outdoor pool at Blue Reef Aquarium, which is also home to a plethora of other marine creatures.
Discover
Find your perfect holiday in Newcastle-upon-Tyne
From 360 hotels.