Essential Guide to Oulu - The City, the Culture, the Great Outdoors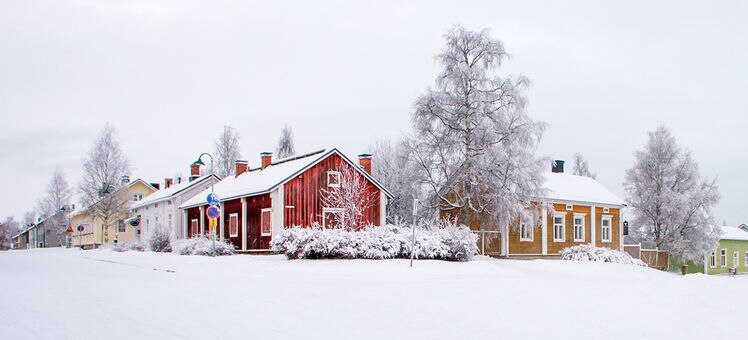 Oulu is a vibrant city with a lively seaside market square, a neoclassical cathedral, and architecture ranging from traditional to avant-garde. In the warmer months, Oulu's sandy beaches are great for soaking up the rays, and when temperatures plummet, you can hit the family-friendly ski slopes and tracks.
Shops and nightlife
You'll find plenty to tempt you in Rotuaari, a bustling pedestrian shopping district, and in Stockmann, an upmarket department store. The bar scene is particularly well-suited to karaoke enthusiasts, and there are a couple of nightclubs to put those dancing shoes to good use. The Oulu City Theatre on Oulu River offers a busy program, including international classics, musicals, and opera.
Oulu Stockmann, Kauppurienkatu 10, Oulu; Tel: +358 20 711 2831; Website: Oulu Stockmann

Oulu City Theatre, Kaarlenväylä 2, Oulu; Tel: +358 0300 472 333; Website: Oulu City Theatre
Sporty outdoors activities
The long Nallikari beaches are less than 4 km from the city center. Should you wish to do anything more than relax on the sandy shores, you can hire a range of sporting equipment, including bikes, SUP boards, kitesurfing kits, and pedal cars. In the winter, you can stay just as active with options ranging from snowshoeing and ice fishing to skiing and sledging. Biking is a great way to discover Oulu, which has a 600-km network of cycling roads.
Culture and tradition
Oulu displays its traditional side in the island neighborhood of Pikisaari, where wooden buildings dating from the mid-18th century and an active artisan community create an atmosphere of old-world charm. For local art and history, you can head to Northern Ostrobothnia Museum and Oulu Museum of Art, both in the lush Ainola Park on the Hupisaaret islands.
Day trips from Oulu
Surrounded by water, Oulu is an ideal starting point for nautical trips. You can head out to sea, or cruise down Oulu River to take in city sights and wilderness views. Depending on the season, the island of Hailuoto can be reached by ferry or via an ice road across the frozen sea. Oulu's unspoiled surroundings create ideal conditions for bird watching, hiking, and peaceful swimming in summer, while in the winter there's fun to be had with snowmobiles and skis.
Science and souvenirs
The 150 interactive exhibits at Tietomaa Science Centre provide hours of entertainment for the whole family - and you can whizz up in a glass elevator to a 45-meter viewing platform to take in views of Oulu. The old Market Hall in the city center is a treasure chest of souvenirs and delicacies from northern Finland. Reindeer meat, Kalakukko fish pies, fur hats, and felted mittens are among the goodies you may find there.
Discover
Find your perfect holiday in Oulu
From 40 hotels.