Arts and Culture in Philadelphia - Dance, Music, and Museums
Arts and Culture in Philadelphia - Dance, Music, and Museums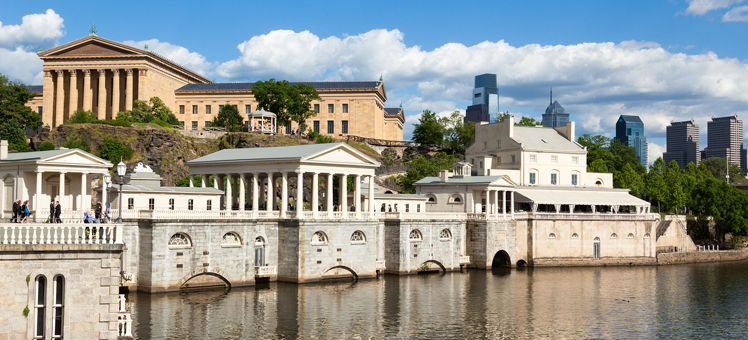 Arts and culture thrive in Philadelphia. Leave room on the itinerary for a trip through the Parkway's museums, a stroll down Avenue of the Arts, and at least one live performance in a city full of creative attractions. Music venues span the spectrum from grand orchestral halls to intimate jazz cafés, and public artworks turn the city into a free open-air gallery.
Museums and art
Philly's modern sculptures and civic murals make public masterpieces accessible to all visitors. The Philadelphia Museum of Art's renowned collection covers everything from Rubens to Warhol. You'll find works by newer notables in the intimate Institute of Contemporary Art in University City. Old City's galleries tend to focus on established artists, while artist-run collectives in farther-flung neighborhoods promote up-and-coming talents.
Philadelphia Museum of Art
Whatever art period or style you're into, you're sure to find it well represented in one of the U.S.'s largest art museums. Along with the permanent galleries and exhibitions, there are fun dining and shopping options dotted around the imposing building.
2601 Benjamin Franklin Parkway, Philadelphia 19130Tel: +1 215 763 8100
Philadelphia Museum of Art website
Institute of Contemporary Art
This free, open and light-filled museum hosts a handful of daring art installations every year.
118 South 36th Street, Philadelphia 19104. Tel: +1 215 898 5911
Institute of Contemporary Art website
Dance: ballet to hip-hop
Philly draws dancers from around the world to its vibrant performing arts scene. The Pennsylvania Ballet puts on classic shows like The Nutcracker at the venerable Academy of Music. A homegrown dance company, Philadanco's modern moves evoke African-American traditions. Boutique companies showcasing hip-hop, salsa, and postmodern dance appear at University City's Annenberg Center for the Performing Arts.
Academy of Music
Halfway between an opera house and a concert hall, the American Academy of Music is a National Historic Landmark and a grandiose setting for big-name musicals and shows.
240 South Broad Street, Philadelphia, PA 19102. Tel: +1 215 893 1999
Academy of Music website
Annenberg Center for the Performing Arts
Located within the University of Pennsylvania, this is a popular venue for contemporary dance shows and live music from all over the world.
3680 Walnut Street, Philadelphia, PA 19104. Tel: +1 215 898 3900
Annenberg Center for the Performing Arts website
Classical music, opera, and jazz
In the city that gave rise to the Curtis Institute of Music and many of jazz's greatest legends, you'd expect a full line-up of concerts - and you'd be right. The Kimmel Center for the Performing Arts hosts the Philadelphia Orchestra, as well as jazz, pop, and chamber music groups. Opera Philadelphia typically appears at the Academy of Music. The ongoing Ars Nova series is staged at various venues in Philadelphia.
Kimmel Center for the Performing Arts
A 150-foot glass arch rises atop this gorgeous brick building, which hosts the Philadelphia Orchestra, Opera Philadelphia, and other groups. The 2,500-seat Verizon Hall is the main stage, while the 650-seat Perelman Theatre hosts more intimate productions.
Broad and Spruce Streets, Philadelphia, PA 19102. Tel: +1 215 893 1999
Kimmel Center for the Performing Arts website
Plays and musicals
If you enjoy original theater, Philadelphia is the place for you. Local companies abound, from the intimate Pig Iron Theatre Company to the mid-sized Wilma Theater. Touring Broadway musicals appear at the Walnut Street Theatre, while the edgy Fringe Festival occurs every September. Many of the mainstream theater venues are clustered along Avenue of the Arts, a.k.a. Broad Street.
Walnut Street Theatre
America's oldest continuously operating theater offers a busy program of musicals and concerts. As well as a large main stage, it has an intimate 80-seat studio and a theater specially for kids.
825 Walnut Street, Philadelphia, PA 19107. Tel: +1 215 574 3550
Walnut Street Theatre website
Wilma Theater
This iconic 300-seat theater features productions ranging from contemporary takes on Shakespeare plays to family-friendly comedies.
265 South Broad Street, Philadelphia, PA 19107. Tel: +1 215 893 9456
Wilma Theater website
Small theaters
Philadelphia's only purely comedic theater, 1812 Productions, is a good place to check out talented local comedians. Worth the short drive, Bristol Riverside Theatre is known for developing original works in addition to presenting more classic plays and concerts.
Bristol Riverside Theatre
Originally a movie house, this 300-seat regional professional theater wins kudos for attracting renowned performers, including Gregory Peck and Susan Powell. The theater is located in Bucks County, just northeast of Philadelphia along the Delaware River.
120 Radcliffe Street, Bristol, PA 19007. Tel: +1 215 785 0100
Bristol Riverside Theatre website
1812 Productions
Operating mainly out of the Christ Church Neighborhood House Theater, the company combines its own original works with comedies by other playwrights and artists. Its annual political satire piece, "This is the Week That Is," takes comedic aim at current events.
20 North American Street, Philadelphia, PA 19106. Tel: +1 215 592 9560
1812 Productions website