Nightlife Guide - Movies, Shows, and Clubs in Newcastle Upon Tyne
Nightlife Guide - Movies, Shows, and Clubs in Newcastle Upon Tyne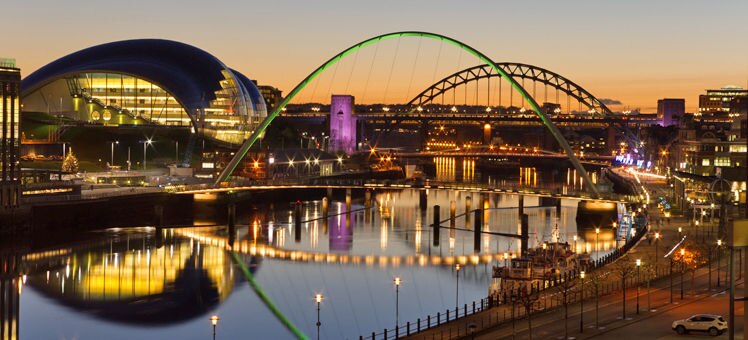 When it comes to after-dark entertainment, Newcastle Upon Tyne has it all. Multi-screen cinemas show the latest blockbusters and stadiums host the biggest names in rock and pop. High-energy dance clubs attract those who plan to dance until dawn. For less intense nightlife, you can seek out quieter venues where the playlist leans towards jazz and easy listening.
Leisure centers and cinemas
You'll find half a dozen cinemas in Newcastle Upon Tyne's city center. Most have several screens, and all show newly released mainstream movies for all age groups. For a night that can include dining, cocktails, dancing, and casino gaming all under one roof, visit one of the city's big leisure centers, where you'll find all of these and more.
The Gate
This enormous leisure center offers cocktail bars, restaurants, a piano bar, casino, and Newcastle's biggest cinema, with 16 screens.
Newgate Street, Newcastle Upon Tyne NE1 5TGTel: +44 191 223 5000
The Gate website
Arenas and stadiums
Newcastle Upon Tyne's biggest venues attract adoring fans in their thousands when the greatest stars of the music world come to town. You can join the crowd at modern arenas and stadiums such as Metro Radio Arena and St. James' Park. You can also watch boxing, wrestling, basketball, and other sporting events at these venues.
Metro Radio Arena
Metro Radio Arena is Newcastle Upon Tyne's premier venue for massive rock and pop events. This 11,000-seat arena has hosted names like David Bowie, Guns 'n' Roses, and Elton John, and shows such as Riverdance and Cirque du Soleil.
Arena Way, Newcastle Upon Tyne NE4 7NA. Tel: +44 844 493 6660
Metro Radio Arena website
St. James' Park
Big names in rock and pop music perform at this huge stadium, which is also home to Newcastle United Football Club.
Strawberry Place, Newcastle Upon Tyne NE1 4ST . Tel: +44 870 444 1892
St. James' Park website
Music bars and clubs
Bigg Market is the rowdy epicenter of Newcastle Upon Tyne's bar-crawling scene. At weekends, the neighbourhood is crammed with young locals intent on having a good time. If you prefer less chaotic nightlife, you'll like clubs such as O2 Academy, or music bars where the playlist is geared to a more mature audience.
O2 Academy Newcastle
O2 Academy serves up live gigs by indie acts and tribute bands, and club nights with resident and visiting DJs.
Westgate Road, Newcastle Upon Tyne NE1 1SW. Tel: +44 191 260 2020
O2 Academy Newcastle website
Jazz Café
This lively café-bar hosts performances by local jazz musicians and visiting performers from all over the world.
25-27 Pink Lane, Newcastle Upon Tyne NE1 5DW. Tel: +44 191 222 9882
Jazz Café website
Musicals, cabaret, and comedy
Newcastle Upon Tyne's city center theaters offer a packed calendar of musical shows and cabaret. Some productions come fresh from London's West End. The city also has a well-earned reputation as a hotbed of alternative and stand-up comedy. Newcastle has spawned some of Britain's funniest men and women. They frequently return to home-town venues like Newcastle City Hall and Tyne Theatre and Opera House.
Newcastle City Hall
You can expect to find stand-up comics, stage magicians, and stars from the golden age of 1960s pop music on stage at this venerable venue.
Northumberland Road, Newcastle Upon Tyne NE1 8AF. Tel: +44 191 277 8030
Newcastle City Hall website
Tyne Theatre and Opera House
Despite its grand name, this historic Victorian venue no longer hosts opera. Instead, its playbill features comedy, cabaret, and tribute acts.
117 Westgate Road, Newcastle NE1 4AG. Tel: +44 844 2491 000
Tyne Theatre and Opera House website
Discover
Find your perfect holiday in Newcastle-upon-Tyne
From 360 hotels.