Steeltown Reborn - Pittsburgh's Culture, Nightlife, and Arts
Steeltown Reborn - Pittsburgh's Culture, Nightlife, and Arts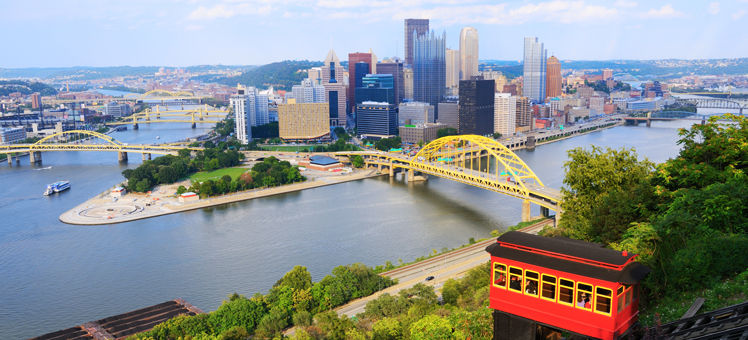 Once more famous for its gritty steelworks than for high art, Pittsburgh has reinvented itself. As a center of culture and entertainment, it offers a heady mix of world-class museums, restaurants, shopping, and a lively nightlife scene. Even its natural setting - at the confluence of two mighty rivers, overlooked by a steep escarpment - is a sight worth anyone's time.
Downtown dining distractions
Hemmed in at the rivers' confluence, Downtown Pittsburgh is known as the "Golden Triangle." It's a thriving district where you'll find many of the top-end hotels. It's also packed with skyscrapers. Predominantly office space on the upper levels, the lower floors of these high-rise giants house some of the city's favorite eating spots. These include ultra-cool gastropub Meat & Potatoes, and upmarket Italian eatery Vallozzi's. Downtown is also where you'll find many of the city's more exclusive shopping outlets.
Meat & Potatoes, 649 Penn Avenue, Pittsburgh, PA 15222; Tel: +1 412 325 7007; Website: Meat & Potatoes

Vallozzi's Pittsburgh, 220 5th Ave., Pittsburgh, PA 15222; Tel: +1 412 394 3400; Website: Vallozzi's Pittsburgh
Riding Mt. Washington's Inclines
Looking down on Downtown from the south is the Mt. Washington neighborhood, which rises sharply above the south banks of the Monongahela and Ohio Rivers. There was a time when the upper plateau was served by a dozen cable car railways. Today only 2 remain. The Duquesne and Monongahela Incline were both built in the 1870s, but you can ride them to the top, and be rewarded with panoramic views of the rivers and the city skyline.
Duquesne Incline, 1197 West Carson St, Pittsburgh, PA 15219; Tel: +1 412 381 1665; Website: Duquesne Incline
Carnegie's steel legacy
When Scottish-born industrialist Andrew Carnegie sold his Pittsburgh steel company, he spent his fortune on philanthropic acts, supporting social projects and the arts. Pittsburgh was among the places to benefit most. His generosity paid for the Carnegie Museums of Pittsburgh in the Oakland university district, east of Downtown. Here you'll find no fewer than 4 separate establishments under a single roof. Further west, in North Shore, is the Carnegie Science Center, featuring more than 200 hands-on exhibits, plus a World War 2 submarine.
Pittsburgh's contemporary art
Pop artist Andy Warhol may be most famously associated with New York City, but Pittsburgh - his birthplace - also upholds his memory. The Andy Warhol Museum, located in North Shore, celebrates his life, and houses some of his finest creations. More recent artists, both established and up-and-coming, also get to show off their work in around a dozen contemporary art spaces. You'll find most of these in northern Downtown and The Strip. Among the more prominent is Wood Street Galleries. This focuses on new media-based art, and hosts solo exhibits and themed shows throughout the year.
Andy Warhol Museum, 117 Sandusky St, Pittsburgh, PA 15212; Tel: + 1 412 237 8300; Website: Andy Warhol Museum

Wood Street Galleries, 601 Wood St., Pittsburgh, PA 15222; Tel: +1 412 471 5605; Website: Wood Street Galleries
Day trips from Pittsburgh
Pittsburgh is a convenient jumping off point for visiting the region's manmade and natural wonders. Chief among the former is Frank Lloyd Wright's domestic architectural masterpiece Fallingwater - built in the 1930s for the Kaufmann family as a summer retreat. Its remarkable setting, built over a waterfall, seems completely in harmony with nature. If you prefer to communicate directly with nature, Ohiopyle State Park is also an easy drive. It is also an outdoors enthusiast's paradise. You can go whitewater boating, rock climbing, slide down a natural water slide, or head out down miles of hiking and biking trails.
Fallingwater, 1491 Mill Run Road, Mill Run, PA 15464; Tel: +1 724 329 8501; Website: Fallingwater

Ohiopyle State Park, Ohiopyle, PA 15470; Tel: +1 724 329 8591; Website: Ohiopyle State Park