Where to eat in Los Angeles – a food and dining guide
Where to eat in Los Angeles – a food and dining guide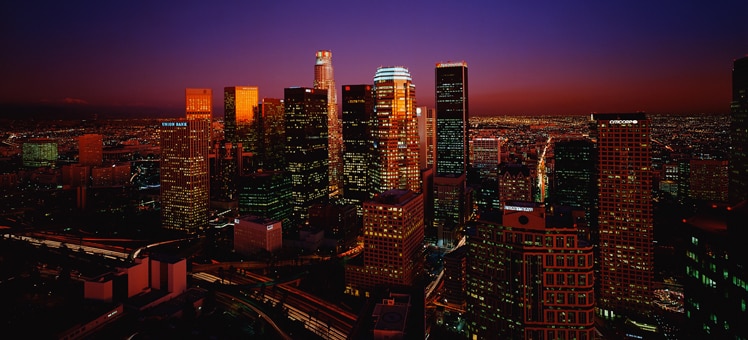 The 'City of Angels' is renowned for its multicultural flavors and Californian spin on the classics. With a penchant for embracing ethnic dishes and traditional American classics you can go from sushi to Thai green curry and Peking duck to southern fried chicken in the blink of an eye. Health food fanatics will also be in their element as organic farm produce is easy to come by and specialist diets are catered for with ease.
Typical dishes in LA are not easy to define since the region offers a huge variety of cuisines from Thai, Chinese and Italian to Mexican. In addition, you can grab a burger at a drive through franchise or American diner or choose to nibble your way around a whole food farmers market. Gourmet food trucks are a popular trend and offer up quick, satisfying and unique food wherever they happen to park up.
West Hollywood
For those who want to dine in style and rub shoulders with the A-list, West Hollywood is prime restaurant territory. Celebrity-owned restaurants are thick on the ground here; Ago Restaurant offers an upscale Italian dining experience masterminded by film legend Robert De Niro, while Crossroads is a vegan eatery opened by Oprah's favourite chef. Of course, it's not all fine dining and expensive bills; Pink's Hot Dogs is a popular Hollywood fast food landmark and well worth seeking out for its legendary chilli dogs.
•
Ago Restaurant
, 8478 Melrose Ave. Tel: +1 323 655 6333.•
Crossroads
, 8284 Melrose Ave. Tel: +1 323 782 9245.•
Pink's Hot Dogs
, 709 N La Brea Ave. Tel: +1 323 931 7594.
Third Street Promenade
Found a few blocks away from Santa Monica Beach, the pedestrianized Third Street Promenade is where hungry people head for a lavish selection of top city restaurants. Grab an outdoor table and indulge in a spot of people-watching – Loteria Grill serves up flavorful Mexican classics, while if you wander a little further you'll come across Wolfgang Puck Express, an eclectic eatery serving cheap yet gourmet fast food. Recommended dishes here are the fennel sausage pizza and meatloaf sandwich.
•
Loteria Grill
, 1251 3rd Street Promenade. Tel: +1 310 393 2700.•
Wolfgang Puck Express
, 1315 3rd Street Promenade
The Original Farmers' Market
There are numerous farmers' markets scattered all over Los Angeles, but the market held at 'Third and Fairfax' was the original first opened in 1934. Begun by farmers during the depression, Farmers' Market is now a historic L.A. attraction - an outdoor eating and shopping area where local entrepreneurs sell some of the best food in the city. Niche speciality stores – often selling just one thing, such as hot sauce – jostle here with eateries serving up every cuisine under the sun. It's not cheap, but it's definitely unique.
•
The Original Farmers' Market
, 6333 W 3rd Street. Tel: +1 323 933 9211.
San Gabriel
A few miles east of Downtown in the metropolis of Los Angeles lay the San Gabriel Valley, a place where nature meets urbanization. Savoury Taiwanese and Hong Kong cuisine is served in the most luxurious Chinatown in North America. Wander down Atlantic Boulevard and devour yummy Chinese food from many roadside market stalls or visit San Gabriel's bounty of delectable Chinese restaurants. After banqueting to your heart's delight, take a stroll around the Descanso Gardens and sweetly smell the musky aromas of the blooming flowers that are a prime attraction of the neighborhood.
•
Elite Restaurant
, 700 South Atlantic Boulevard, Monterey Park, 91754. Tel: +1 626 282 9998.
Little Tokyo
As the center of early Japanese immigration, Little Tokyo has turned into a thriving community filled with cinemas, traditional restaurants and exciting sightseeing opportunities. Known as 'J-Town' by the locals, is buzzing at weekends and evenings serving sushi to eager visitors after sightseeing First Street, the district's most historic area, where the Japanese American National Museum is based. Catch a play featuring the enthusiastic East West Players at David Henry Hwang Theatre, America's first Asian American theatre.
•
Sushi Gen Restaurant
, 422 E Second St, Los Angeles, CA 90012. Tel: +1 213 617 0552.
KoreaTown
The KoreaTown Galleria at Olympic and Western offers breath-taking city views of the City of Angels that you can enjoy as you tuck into scrumptious Korean-style Bento boxes in one of the tasty restaurants. This most populated district in the city celebrates in style with the Korean Festival and Parade in the city park of Seoul International where you can relax with a refreshing milkshake. Booming in KoreaTown is the rise of the Latino influence that has developed delectable Mexican Food with Korean ingredients.
•
Yong Susan
, 950 S Vermont Ave, Los Angeles, CA 90006, United States. Tel: +1 213 388 3042.
Discover
Find your perfect holiday in Los Angeles
From 1400 hotels.