Where to stay in Slovenia - from hotels to shepherds huts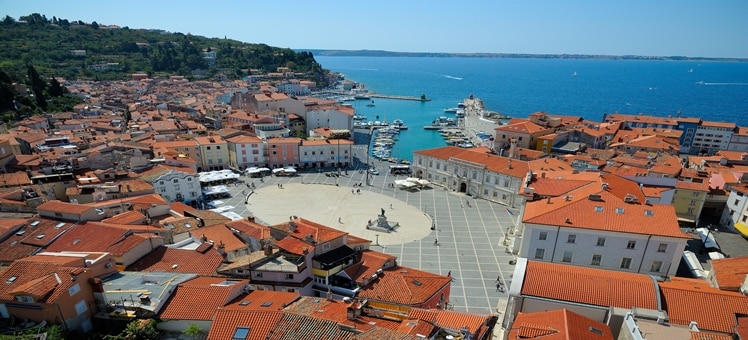 Who doesn't like a room with a view? And lucky for you, Slovenia offers some pretty spectacular views. Whether you want to wake up to glistening sea, Slovenian Alps, wild forests, or sparkling lakes, there's something to suit every budget and taste.
Traditional
Most visitors like to embrace the traditional culture of Slovenia on their visits and there is plenty of authentic accommodation on offer. Antiq Palace Hotel is a unique place to rest your head in the city. While newly refurbished the hotel is located in a 16th century palatial city residence and has bagged one of the most prestigious addresses in Ljubljana. Inside you can see the décor reflects the historic building and surrounded by boutiques, cafes and restaurants it's an ideal location for exploring the city. If you fancy something slightly more rustic in its authenticity, then why not stay at the traditional shepherd's huts just outside of Ljublijana. Made from natural materials and furnished in a traditional manner, you'll be transported back in time to the life of a shepherd. The huts area a great location for skiing in the winter and hiking in the summer and once you've spent the day exploring, you can watch the sunset on the terrace in the evenings.
Luxury
If you're looking for something fancy during your stay, then Posestvo Pule is a luxury, elite apartment complex set out in the peaceful Slovenian countryside of Trebelno. All suites are decked out with natural materials, unique furniture and a cosy fireplace to snuggle up next to in the winter. As well as this, there is an on-site spa allowing true relaxation of body and mind. The surrounding area is perfect for cycling and hiking and they even have horses on site for visitors to explore the area or drive round with a carriage. In Novo Mesto, the Otocec Castle Hotel is located out on an island on the Krka River and is one of the most glorious castles in Slovenia. Surrounded by glistening water, the castle walls hide an undulating past. The property was originally in ownership of the knights but come the 15th century, it was taken into the hands of the aristocracy and carefully looked after. If you're looking for a place to feel truly majestic, then this is ideal. Hisa Raduha is another luxury option where guests can stay in a range of rooms, including a luxury tree house. The onsite restaurant is excellent.
Alternative
If you fancy something a little different, then why not try one of Slovenia's vineyard cottages? The charming cottages are peaceful and cosy, set in the quiet countryside of Slovenia. With their own wine cellars coupled with outstanding views they're a truly unique and relaxing location. The Rangus Estate in Novo Mestois a cosy two bedroom vineyard cottage. The owners welcome you with a smile and serve traditional culinary delights to make you feel right at home. Alternatively, Krivic Vineyard Cottage in Trebelno is ideal for the summer months when you're minutes from waterfalls, cycle routes, picnic spots and a number of museums. Škatlar Vineyard Cottage is another good choice, beautifully decorated and fully equipped it's got great views and the owner is attentive and willing to personalize his service to each and every guest. If the outdoors is more your scene or you're travelling on a budget, then during the summer Kamp Podzemelj could be the ideal accommodation for you. The campsite is situated by the Kolpa river which is great for swimming. Staying here allows a great selection of activities including kayaking, canoeing, rafting, fishing, mushroom picking, horse riding, and organised cycling trips.