From castles to ski slopes – what to see and do in Slovenia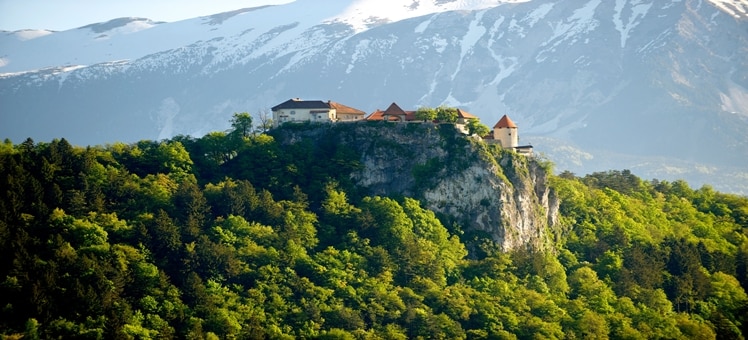 Due to the variation in geography, Slovenia has a vast array of outdoor and indoor activities, cultural hotspots and sporting adventures to keep any traveller endlessly entertained. Whether you're a thrill seeking snowboarder, a culture vulture looking to soak up some of Slovenia's intriguing past, or simply fancy pottering round a museum of an afternoon, there is plenty to keep you occupied.
Snow Sports
During the winter, Slovenia is a haven of ski resorts, ideal for skiers of any standard and providing endless slopes to whizz down. In terms of choice, the options are endless and you're guaranteed to find the ideal resort for you. Just a few miles from Ljublijana, Velika Planina is a high plateau of slopes, sprinkled with herdsmens huts and holiday cabins making it a traditional and cosy resort. Right in the middle of the action, you'll easily be able to take a trip to the capital and get a true feel of what Slovenia has to offer. Vogel Ski Resort is up in the Triglav National Park and has great views of Lake Bohinj. Come here for well-maintained slopes, good facilities and a natural beauty that's hard to rival.Rogla is another of the most important ski resorts in Slovenia and covers an impressive 90 hectares. If you looking for a day trip to the slopes or you're visiting Slovenia without access to a car, Kobla in Bohinjska Bistrica is the only snow resort reachable by train. They have a snowmaking system, which has been active since 1993, meaning there's artificial snow throughout the season. If you're travelling in a group with mixed skiing ability Mariborsko Pohorje in Maribor is suitable for all levels with a variety of slopes. That way it's attractive to enthusiastic alpine skiiers, cross-country skiiers, snowboarders, hikers and parachutists as well as the beginner skiier.
Outdoor activity
Aktivni Planet, an outdoor activity company in the Soča Valley, is beautifully surrounded by the Soča River, with transparent turquoise waters lapping at the golden sand making it look almost tropical. However, despite the divine scenery, most people visit here for the adrenaline rush. Aktivni Planet is home to the biggest zip line in central Europe, as well as offering rafting, kayaking, canyoning, caving, and hydrospeeding; guaranteed to get your heart beating. However, if you're looking for an exciting activity without the danger factor, why not peruse Slovenia's natural beauty from 1,000 feet above the ground. Grab a bird's eye view with Balloon Club Letimo, who take visitors on panoramic hot air balloon flights to satisfy all the senses. They fly from a number of places meaning you can choose what you'd like to see. Ideal for a romantic surprise, a birthday gift or a family adventure, the rides are suitable for up to 4 people and include an hour-long flight accompanied by a glass of sparkly. Lipica Stud Farm is a must for any horsey types of those looking to catch a glimpse of these beautiful Lipizzaners. As Europe's oldest stud farm not only can you ride the horses and interact with these pure-bred creatures but you can tour the estate, dine in the hotel restaurant, cycle the grounds, enjoy a round of golf or even get wed here.
Castles
With Slovenian territory belonging to a number of different countries in the past, the land is littered with castles, built as palaces for the nobility to live in luxury. Nowadays, they provide a beautiful setting to explore the country's intriguing past. Ljublijana Castle lies above Slovenia's capital and offers spectacular views of the city. It's possible to get there by the funicular railway, which takes all but 60 seconds and can be accessed from the old part of the city centre. Once up there you can explore the mysterious chambers, walk the castle walls or discover Slovenian history in one of their exhibitions. Bled Castle in Bled is Slovenia's oldest castle which German emperor Henry II gave to the Archbishop Albuin back in 1004. Set on the cliffs edge the views provide a great backdrop to explore the courtyards, knight's hall, chapel, art gallery and even wine cellar. Otočec Castle is sat on a tiny island in the Krka River and the only water castle in the country. As well as visiting you can even stay here since the castle has been converted into a hotel.
Museums
If it's ever rainy, cold or you simply fancy the shelter of the indoors, Slovenia has an unbelievable amount of museums to browse. The national museum of Slovenia is the oldest and largest Slovene museum, assigned solely to Slovenian culture. It houses a rich collection of valuable objects like the oldest musical instrument, the 55,000 year old Neanderthal flute. The Slovenian museum of natural history displays national, European and worldwide collections to show the change in biodiversity and the development of natural history, ideal for all members of the family. There are also a number of specialist museums well worth a visit like the motorcycle museum in Vransko, the museum of underwater activities in Piran and the railway museum in Ljubljana. The Slovene Ethnographic Museum is another to add to your list – as well making Slovenian history come alive through it's exhibitions it's also one of the most influential museums in the country.