Kyoto Entertainment Guide - For fun, recreation, and relaxation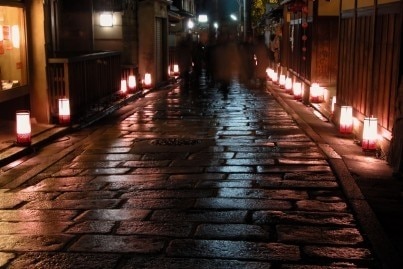 Kyoto is mainly about shrines, parks and gardens, yet there are also options for getting active or enjoying the nightlife. Cultured evenings are particularly good here and can be enjoyed at Gion Corner, which is a popular theater. For a spot of geisha ogling, this area is also a must.
You can, of course, find hostesses and bars in Kyoto although it is not nearly as bustling as the likes of Osaka on this front, yet shopping and dining can be done to excess. Those into more relaxing pursuits, such as meditation and being pampered in spas, will be most at home.


Gion and Gion Corner
Gion is the main entertainment district of Kyoto. You can see geishas on the street (but won't be able to enter their houses) and can take a ride on a rickshaw. The arts are alive and well at Gion Corner, a superb theater complex that puts on Kyoto-style dance, puppet plays, and other traditional Japanese arts.
Uzumasa Movie Village
Movie buffs should definitely make a beeline for Japan's answer to Hollywood, the Uzumasa Movie Village. It is the prefect counter to endless shrines and museums and is loaded with samurai and ninja film sets. It also comes with a fun theme park.


Bathing at Funaoka Onsen
Everyone should try out a traditional Japanese bath house on a visit to the Far East. It is the epitome of Japanese spa experience and Funaoka Onsen has one of the best settings and facilities. There is an outdoor bath in stunning grounds along with a sauna and herbal bath as well as single-sex indoor pools.


Meditation
There are many options in Kyoto to have a session of this traditional Japanese practice. Taizo-in and Shunko-in temples in northern Kyoto both offer Zen meditation sessions. They also teach all about meditation and the experience is authentic.



Ryoanji Temple garden
The Ryoanji Temple is impressive in its own right, although its Zen rock garden is the main feature and one of Japan's best done. It dates back to the 1400s and features 15 rocks and is the perfect setting for a spot of meditation, after which visitors can amble about the garden.


Nightlife
Most bars are in Central Kyoto around Kiyamachi, where the best shopping and dining can also be had. If you're not sure where to go, this area has most options and it is easy to find somewhere to relax here. Hostesses can also be found here. There aren't that many pumping nightclubs in town although one or two of the top-end hotels have options.
Discover
Find your perfect holiday in Kyoto
From 2320 hotels.