A Niagara Falls travel guide – spectacular tumbling water, alfresco dining and peaceful strolls
A Niagara Falls travel guide – spectacular tumbling water, alfresco dining and peaceful strolls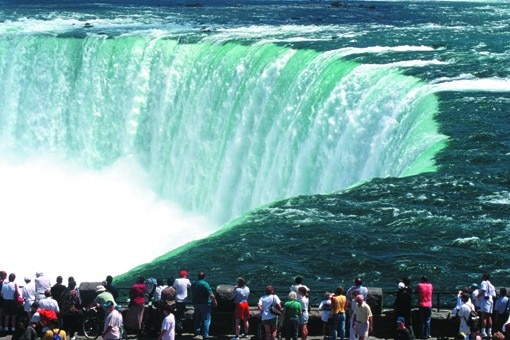 See the Falls up close, taste regional wines and immerse yourself in history on a Niagara Falls vacation in Niagara. Book a Niagara Falls hotel in Niagara and take home lasting memories.
Family fun
A Niagara Falls family vacation starts with a visit to the Falls. Get sprayed by the rushing waters on the Maid of the Mist, which sails close to the Falls. Back on land, take the kids to Marineland and watch killer whales and sea lions frolic. Or listen to the flutter of some 2,000 butterflies at the Niagara Parks Butterfly Garden. History buffs can wander among cannons at the 18th-century Fort George.


Romantic excursions
Book a suite at a Niagara Falls hotel on Fallsview Avenue for a nighttime view of the Falls and its ever-changing colors under the stars. Set the mood with the clip-clop of a horse-drawn carriage ride through the leafy 19th-century streets of Niagara-on-the-Lake. Head to Pellar Estates or Vineland Estates for romantic ice wine with dinner on the candlelit terrace, watching the sun dip below the vineyards before you.
Getting outside
Put on a waterproof poncho and feel the spray of the Falls from the Hurricane Deck at the Cave of the Winds. Away from the Falls, paths fringed with lush flora draw hikers to the Bruce Trail. Bikers pedal along The Niagara River Recreation Trail, stopping for a picnic on the grass. The sweet scents of the herb garden at Niagara Parks Botanical Garden make for a peaceful stroll.
Eating and drinking
Enjoy grilled scallops paired with Niagara riesling in a stylishly contemporary dining room at Niagara-on-the-Lake, or marvel at local artists' paintings while digging into curry-spiced lamb in an intimate Edwardian town house. Stop for a Best Blonde Premium Ale at a brewpub, or try a flight of Niagara whites on a winery tour.